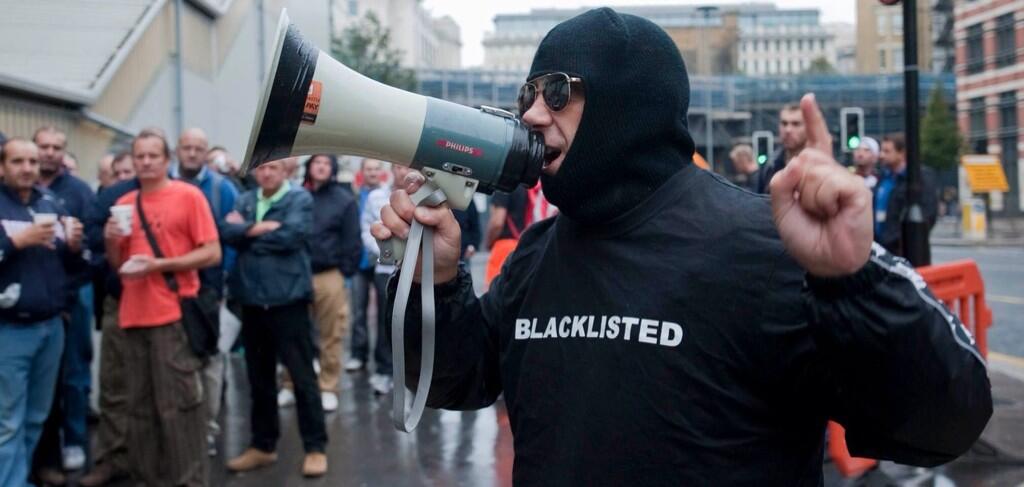 If you work for a living, or are looking for work, or you expect to do so in the future, and you've ever done anything you wouldn't want an employer to know about, you should be concerned about blacklisting, the practice of secretly keeping lists of workers who are to be denied jobs. I don't think it's too much an exaggeration to say that the struggle currently taking place against blacklisting in the construction industry is of interest to us all – if the construction bosses are made to pay a heavy price for having been exposed as blacklisters, then it'll serve as a warning to other employers who might be tempted to do the same thing, if they get off with a slap on the wrist then it'll encourage companies everywhere to feel they can get away with it.
There's a national day of action against blacklisting on Wednesday 20th November, but despite having TUC backing it doesn't seem to have attracted that much interest so far. Events I know of are:
London, 7am, the Cheesegrater, Leadenhall Street:
One of the most high profile building sites in the UK is being targeted because Laing O'Rourke and their wholly owned electrical subsidiary Crown House are both proven subscribers to the Consulting Association blacklist.
Laing O'Rourke are a defendant in the High Court claim being brought by Guney Clark & Ryan solicitors on behalf of blacklisted workers and supported by the Blacklist Support Group.
Crown House was one of the major electrical contractors that attempted to cut electricians wage rates by 35 per cent when they pulled out of the JIB national agreement during the failed BESNA fiasco in 2012.
7.30am – Meet at John Smith House, Glasgow.
8.45am – transport to Edinburgh(Contact vicki.thomson (at) unitetheunion (dot) com)
10.30am – Meet in Edinburgh with East coast activists.
12 noon – Demonstrate at Scottish Parliament.
Cardiff
12:00 WTUC event – Senedd media briefing room. Speakers include Andy
Richards Unite, Nick Blundell UCATT, Martin Hird GMB and Jane Hutt the
finance minister.
Anyone wishing to attend contact: ghathway (at) tuc.org.uk
Manchester
7:15am – Manchester Town Hall protest against NG Bailey – organised by BSG
– speakers include blacklisted workers: Graham Bowker, Colin Trousdale,
George Tapp
If you can't find anything happening in your area, you could contact the Blacklist Support Group on facebook or via blacklistSG (at) googlemail (dot) com to see if there's anything going on, or for advice about organising something yourself. The BSG seems to be led by rank-and-file blacklisted workers instead of professional representatives, and the fight against blacklisting has achieved some impressive victories recently, so the day of action on the 20th seems worth supporting.
Also coming up and worth supporting is the Boycott Workfare national week of action against sanctions and workfare from the 2nd-8th December. Like the Blacklist Support Group, the campaign against workfare is organised by some of the people most directly affected, and it's also managed to achieve some notable successes in a time where there hasn't been too much good news to go round. If we keep the pressure up, we can win.