For various reasons, it's been a while since I've been able to post much on here. I still don't have a huge amount to write about at the moment, but I thought I'd throw together a few links to things that look interesting:
Internationally, 60,000 Chinese workers at the world's largest sports shoe maker have walked out, and in the US, prisoners in Alabama are organising towards a strike, a project that's being supported by the IWW, although the latest news I've seen suggests that they're experiencing difficulties. Still, Chinese garment workers and the forced labour of American prisoners both play a hugely important role in the economies of their respective countries, and both countries are pretty central to the global order as a whole, so it definitely sounds like the situation's worth keeping an eye on.
Closer to home, low-paid workers at the Ritzy cinema in London have launched a campaign of strike action, and care workers in Doncaster are waging an incredibly determined struggle against a 35% pay cut, and have taken 20 days' worth of strikes so far, with a further two weeks planned for May. Messages of support can be sent to their facebook page, and the strike has attracted the support of other care workers from as far away as Port Talbot, where a similar strike is brewing. From my own personal experience, care work seems like a field where anarchists and other radicals appear to be disproportionately concentrated, so there could be strategic potential here.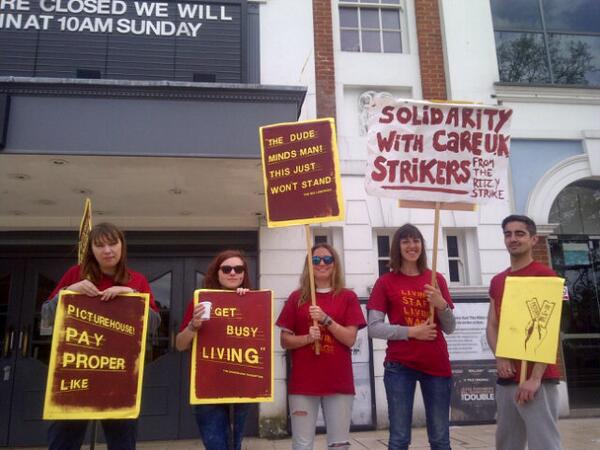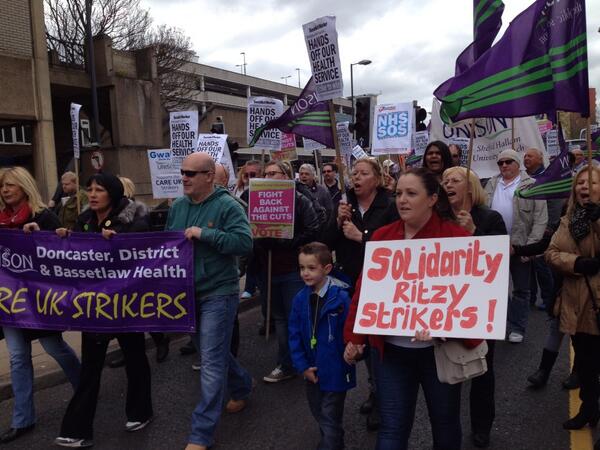 Away from the workplace, struggles over benefits and housing are still a live issue: the Focus E15 Mothers are continuing with their campaign, and the hard, unglamourous but hugely important work of appealing against the bedroom tax is still producing a continuous trickle of small victories, including one on human rights grounds that could set a precedent for a huge number of wins by disabled people.
Workers' Memorial Day is coming up soon, the international day of remembrance for all those killed by their jobs, (Harpymarx writes movingly here about the importance of health and safety in the workplace) and it'll be closely followed by May Day. May Day events around the country include one organised by Solfed in Newcastle, a Teeside Solidarity Movement event in Middlesbrough, a 3-day anti-fascist music festival in Manchester, and a carnival starting from Senate House in London.
Finally, a look at recent developments among anarchists and the left: Brighton Solidarity Federation report that a campaign of direct action was able to force a multinational hotel chain into coughing up unpaid wages, Plan C have recently published a brilliant article about anxiety which is well worth reading and discussing, and the London-based Angry Workers of the World have got itchy feet and would like to go wandering this summer and maybe visit your town for a discussion about what they – and you – have been up to. Speaking of you, the Kate Sharpley Library would also like to hear from you – if you want to tell them your life story, they'd be happy to hear it.
And finally, a few more contentious issues: the Marxists Internet Archive have been ordered by Fisher & Wishart, who hold the copyright on Marx & Engels' collected works, to take down all material they own the copyright on. Of course, you can remove material from a single site, but it's a lot harder to remove it from the internet, so those of us who want to keep radical theory freely available can and should share other ways to access the relevant material – for instance, by posting up zip files like this one, or this archive copy of the MIA Marx-Engels page before the copyright order was served. And, much more seriously, the Trade Union and Socialist Coalition have decided to select Steve Hedley as a candidate in Newham in the upcoming local elections, despite his ex-partner publicly accusing him of assault and the Crown Prosecution Service only deciding not to prosecute due to the amount of time that had passed between the original incident and the allegation being made, a loophole that's been seized on by his supporters to try and clear him of all blame, along with other incidents of sexist behaviour. There's a petition you can sign if you don't think it's OK for Hedley to pose as a public face of the working-class movement with this kind of record.
That's all for now. Happy May Day, everyone!