Another round-up of upcoming events and the like:
Following on from the bookfair, there are at least two speaking tours happening with anarchist speakers visiting the country: scott crow will be speaking at various locations on creating power from below up until the 28th, and the Cuban Anarchism Speaking tour will be visiting Brighton, Bristol, Edinburgh and Glasgow. The post-bookfair No Borders demo at St Pancras also sounded pretty impressive.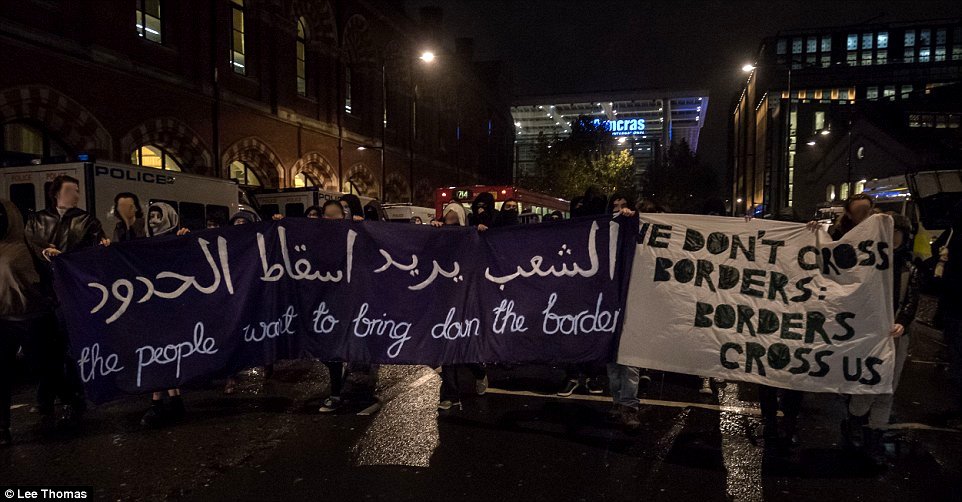 This week also saw the charges against Lisa McKenzie being thrown out of court. We can only hope for similar results in the ongoing political prosecutions of Bahar Mustafa, who's due in court on Nov 5th, Tony Cox (who's due back in court on 18th November to face two charges, having had the charge of threatening behaviour dropped), and Shilan Ozcelik, whose next hearing is on the 16th.
Elsewhere, Coventry Against the Bedroom Tax campaigners successfully prevented an eviction in the Holbrook area, and the blacklisting battle continues through the courts – just days after offering a "full and unreserved apology" for their role in blacklisting, construction firm Carillion have submitted a claim for three and a half grand in legal costs against a blacklisted worker, and it sounds like there'll be more street action against the blacklisting firms on November 20th in Liverpool. In other news, Bradford anti-fascists are getting organised ahead of the EDL's impending visit there.
Finally, some quick pieces of news from South Africa: anarchist comrades there are reporting that they're facing intimidation and threats of violence, and the anti-fees movement there is celebrating a major victory having just defeated a fee hike, and planning their next steps. One student protester is quoted as saying "We want more now, not just a 0% increase. We want free education." For more background on the situation in SA, South Africa: A Reader has a tremendous amount of further information, and is updated regularly.