It's been a busy week or so.
Down in London, the suspension of union rep Sandy Nicoll led to the School of Oriental and African Studies being closed by a wildcat strike of both staff and students, a struggle that has now ended in victory with Sandy's reinstatement.
This week in education has also seen the dropping of the ridiculous charges against Bahar Mustafa, as well as a big student march for free education meeting very heavy-handed police treatment, with at least 18 arrests reported, and rumours of people being arrested solely for wearing black bloc gear. The National Campaign Against Fees and Cuts are also calling for a national day of action in support of international students on November 17th, and a national student strike in early February.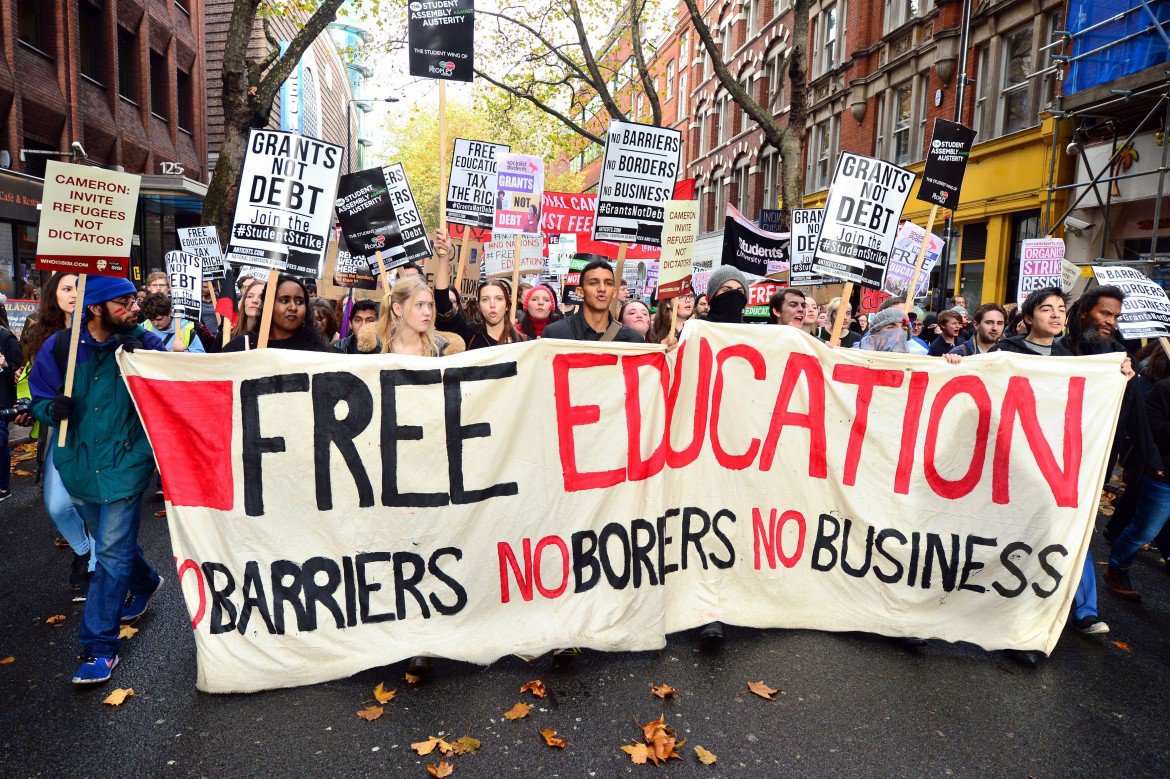 Central London's actually seen two big rowdy protests in two days now, as last night's Anonymous "Million Mask march" also seems to have kicked off a bit. In less dramatic, but equally important, news, the United Voices of the World union and Boycott Workfare have been keeping up the fight for a living wage and against workfare and union victimisation at the Barbican. UVW and the Unite Hotel Workers Branch are co-hosting a service sector social on November 14th if you fancy dropping by and saying hi, and Union Solidarity International has a good article on the rise of new syndicalist-type unions like the UVW, as well as similar unions overseas.
Speaking of syndicalist unions, the newly-reformed Leeds Industrial Workers of the World branch recently won over £200 for a worker who'd been cheated out of their back pay, and Liverpool Council have just dropped plans for a "Public Space Protection Order" that would have criminalised homelessness and political activity, shortly after Liverpool IWW announced their plans to demonstrate against it. And on the subject of criminialising homelessness, although the five activists jailed for opening up an empty bank building as a homeless shelter are now free, five more are now being tried just for passing food and water to those inside the building. Staying up North, tomorrow the 1 in 12 Club in Bradford is hosting a full day of anti-fascist activities as part of the run-up to the EDL's visit to the city on the 14th.
Saturday the 7th will also see a national demo at the Yarl's Wood detention center, with transport being arranged from London, Birmingham, Nottingham, Oxford, Leeds, Doncaster, Lancaster, and Bedford. Wrapping up the round-up of UK news, it's interesting to see that this week has seen the government offering some kind of concession on two fronts, as the anti-trade union bill has been watered down and Jeremy Hunt's tried to buy off doctors with promises of an 11% pay rise, although doctors have been quick to point out that in real terms it's still actually a pay cut, and doesn't get to the heart of what the dispute's about anyway.
Finally, two quick pieces of international news: there's been another crackdown on anarchists in Spain, with another series of raids leading to nine comrades being arrested, including one who's still being held in prison. You can write to Quique at:
Enrique Costoya Allegue
CP Madrid V Soto del Real
Ctra M-609, km3,5 Módulo 15
28791 Soto del Real (Madrid)
Spain
Repression is also continuing in Ireland, as one of the largest political trials in decades sees 35 water charge protesters being dragged before the courts, following the prosecution of 7 teenagers whose cases started last week. If they're hoping to break the movement against water charges, it's not had much of an effect, judging from the continuing direct action that's still preventing water meters from being installed across the country.