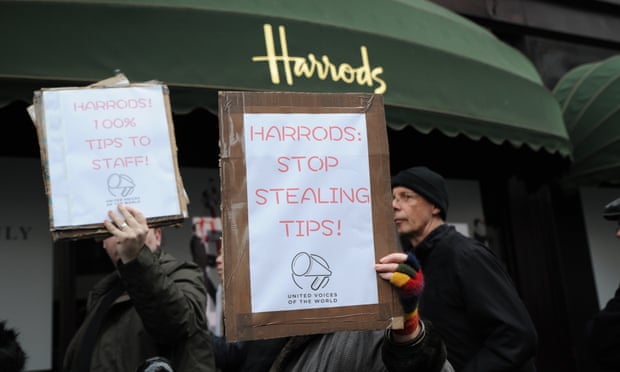 The United Voices of the World union report that Harrods have totally backed down in the face of the campaign for their staff to keep their tips. In their words:
"BREAKING NEWS: VICTORY! VICTORY! VICTORY!
We have beaten Harrods, the richest and most prestigious department store in the world! 100% of the service charge will now go to staff!
Thank you to everyone for your support and a big congratulations to the resilience and courage of our members, the Harrods restaurant workers, who have achieved this victory by joining United Voices of the World, getting organised and standing up to their employer's outrageous practices.
Bit of background:
After Harrods' chefs and waiters joined UVW we immediately submitted a claim for 100% of the service charge to go to staff. Harrods had previously been taking up to 75% for themselves, without admitting the exact percentage, or around £5000 per worker per year.
After helping the chefs and waiters build towards a potential strike and mobilising 100s of people including staff, for a massive demonstration which ended up shutting down Knigtsbridge and much of Harrods, and threats of regular and even bigger demonstrations to come, Harrods finally gave in and agreed to give over 100% of the service charge to staff.
They also agreed to our other demands of appointing an independent tronc master to administer the service charge and allowing staff to sit on the tronc committee.
This victory sends out a clear message to the rest of the restaurant and hospitality industry that workers are no longer going to accept anything less than 100% of the tips and trade unions are ready to help them get organised and fight.
The success of the campaign at Harrods offers a powerful model to follow for other workers across the industry.
We will now continue to push Harrods to improve the conditions and pay of their workers and demand proper union recognition."
There's more information in a report from the Guardian here.