A quick round-up of ongoing workplace issues across a few different areas and sectors:
In Brighton, Deliveroo workers are still counting down the days to see if management will agree to their demands or if they'll have to take further action. As ever, those of us not in Brighton or London can still help to encourage the spread of Deliveroo workers' self-organisation by helping distribute the Rebel Roo bulletin to keep staff elsewhere informed about what's going on. Similarly, the Angry Workers of the World collective are always looking for help getting the word out to other ready-meal factory workers about what they've been up to.
Today sees a co-ordinated strike for the London Living Wage across four Picturehouse Cinemas, with workers at Crouch End, Hackney, Picturehouse Central, and the Ritzy in Brixton all picketing despite the cold.
Cleaners at King's College London have been striking as part of an ongoing dispute with contractor Servest recently, and cleaners at the London School of Economics are currently balloting for action through the fighting grassroots union UVW.
In the public sector, the PCS union is fighting against the shocking no-notice sacking of 10 staff at the Equality and Human Rights Commission, and the government is threatening to close 78 jobcentres – certainly, no-one who's ever spent much time in a jobcentre could have much love for it, but this won't make life any easier for claimants who'll end up having to travel further to waste their time jumping through hoops. Hopefully there'll be some kind of co-ordinated response between claimants and staff at the threatened jobcentres. If you're interested to know what's going to happen to your local jobcentre, there's a huge list in PDF form you can check here.
South London SolFed have appealed for solidarity with a strike against bullying and sexual harrassment on Woolwich Free Ferry, although the latest news is that the strike's currently suspended for negotiations.
There's a national day of action in solidarity with migrants planned for February 20th, although it remains to be seen whether it'll involve any actual workplace action – hopefully we'll know more after the Transnational Social Strike Assembly's had a chance to make a few plans.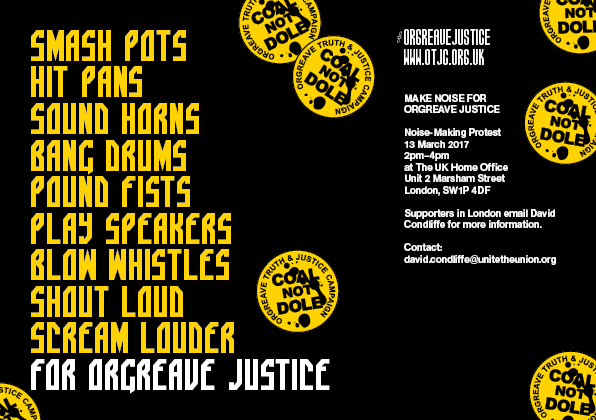 For anyone interested in what's happened when workers' struggles have run up against the might of the state, the Grunwick "Strikers and Spycops" event on February 15th and the Orgreave justice campaign demo in mid-March both look very worthwhile.
Finally, a quick plug for an interview on the other side of the Atlantic: the website It's Going Down has been getting better and better as a source for news and information from North America, and their podcast arm has just done a great in-depth interview with workers involved in two ongoing IWW organising campaigns, at Burgerville in Portland and at the musical-themed restaurant Ellen's Stardust Diner in New York. By the way, the Stardust Diner union story would make a really great class-struggle musical.