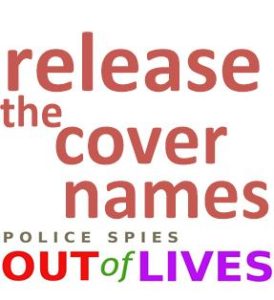 Passing on this call from the Police Spies Out of Lives campaign – I know I'm extremely late in sharing it, but in case anyone can make it along at this short notice, better late than never:
"Join us to demand disclosure on political policing abuses in the UK
Where? Royal Courts of Justice
When? 9-10am April 5th 2016 – on the first day of the hearing
What? Demonstration- bring banners, & placards
Who? Anyone who cares about our democracy
It is over six years since the undercover policing scandal broke, creating shock that the police could commit such abuses against social, animal, and environmental justice campaigners in our country. Women have been deceived into abusive intimate relationships, miscarriages of justice have been perpetrated, families fighting the police for justice have been spied on, trades union activists have been blacklisted. They, and we, need to know what has happened and why, so that we can repair the damage done to our lives and our democracy.
Public outrage at the scandals around undercover policing led to the Public Inquiry into Undercover Policing. Two years in, it is still in its preliminary stages, beset by police delaying tactics, and applications for secrecy. In the inquiry and the associated court cases, the police have so far avoided giving any information about their abusive activities. People who have had their lives turned upside down by infiltration are no nearer to knowing the truth. We are no nearer to knowing the extent of the ongoing abuse of our democracy.
"It's been almost a year, to the day, since we had that apology made in public by the Metropolitan Police and despite them saying they're sorry, it hasn't resulted in any  disclosure  of information about what happened to us. I'm sure any victim of abuse will tell  you, that knowing what's happened, is as important as being, being told  that the people responsible are sorry.  Until we get full  answers about exactly what happened to us (Were we  targeted? How we were  targeted? Were we listened to? What information  was gathered on us?),  I don't think  we'll ever be able to  put this behind us". Lisa speaking in November 2016.
On April 5th & 6th, there is an Inquiry hearing resulting from the latest police delaying and avoidance tactics, applying to delay the Inquiry further, and to restrict the scope of the Inquiry.
We demand that the Inquiry starts to serve the people  who have been affected by undercover policing, and does not allow the abusers to get away with delaying and denying disclosure on what has happened.
We demand that the Inquiry release the cover names of the officers now, so that the full extent of the undercover policing scandal can be revealed. We demand the release of the files held on all the core participants affected by undercover policing.
It is public pressure and outrage that brought about this Inquiry. Right now we need to show that it is still high on our agenda to prevent the police hiding the truth any further. All people involved with campaigning for progressive change in our society have been, and are at risk of infiltration and abuse at the hands of these shady political policing units.
It is people like you, taking a stand for your right to campaign for positive change without being abused by the state, that will change history, making sure these abuses come to light and are prevented from ever happening again. Without public support, the police may get away with hiding what has happened, and be able to continue their abuses.
What can you do?
· Come along to the demonstration and stand with the core participants to support their demands.
· Attend the hearing, and hear first-hand what is going on.
· Can't make it on the day?
– Support us by talking about it on social media. Share the face book event
– Take a solidarity selfie (see below)
Solidarity selfie?
WHEN between NOW and the secrecy hearing on April 5th & 6th
WHERE anywhere, or go somewhere prominent in your local area – your town hall, local landmark, village sign, train station
WHAT hold up a sign or a banner demanding the #spycops Inquiry releases the names and opens the files, and take a photo. If you've got a landmark in, it's #Yourtown demands #spycops Inquiry releases the names & opens the files!
SHARE on social media – use #spycops
Do it as soon as you think of it, go with your mates, go with your group after your latest meeting, go with your kids or your gran. No gesture too small."