Another round-up of upcoming events across a few different fronts:
Two ongoing disputes, where things are happening very quickly, are at SOAS and Picturehouse Cinemas. At SOAS, the Justice for Workers group occupied the directorate in response to job cuts, but have just been driven out by a fire alarm being set off – the situation's likely to develop further, so keep an eye on their fb and twitter for more news. At Picturehouse, three more staff have just been sacked for union organising at the Ritzy Cinema. Workers responded with a demo this weekend, and it seems likely that there'll be more to come – see A Living Wage for Ritzy Staff for updates as they come in.
Coming up on Tuesday 20th June, Plan C London are hosting a post-election discussion on what happens next. On Thursday 22nd, security officers at the University of London organised through the IWGB are taking strike action over pay and contracts again. In other IWGB news, the second episode of their podcast, Unworkable, is out now, taking a look at workplace surveillance. Meanwhile, up in Scotland, that day will see a discussion of "Disability, Benefits and the Capitalist State" in Glasgow and a presentation by Castlemilk Against Austerity in Dundee. On Friday 23rd, there's a demonstration in support of Kate Wilson, one of the women who was tricked into a relationship with an undercover cop, as the police are applying to have the entire case held in secret. Also happening that day, the Angry Workers of the World will be holding the next of their transatlantic conversations, with Scott Nappalos of the IWW and the Recomposition blog, along with his comrades Monica and Juan, talking about low wage struggles and workers' experiences in the US. You can see some preliminary reading here, along with a written version of the text from the previous talk.
That weekend will see a whole load of antifascist events across the country – up in Manchester, the antifascist 0161 Festival will be running across the whole weekend, and Saturday 24th will see Britain First try to march through Birmingham and the EDL in London. Then the Scottish Defence League will be making a nuisance of themselves in Edinburgh on Sunday 25th. Antifascism has taken on a renewed urgency in the wake of the surprisingly successful far-right demo in Manchester, as reported on by Plan C and the AFN. Also on the topic of antifascism, Michelle Smith, the Liverpool comrade who was jailed for confronting nazis in Dover last year, is interviewed on the most recent episode of the No Prisons podcast – the interview starts at around 40 minutes in if you don't have the time to listen to the full thing.
Speaking of prisons, June 28th should be an international day of solidarity with anarchist prisoner Eric King, if you fancy sending him a nice postcard or something.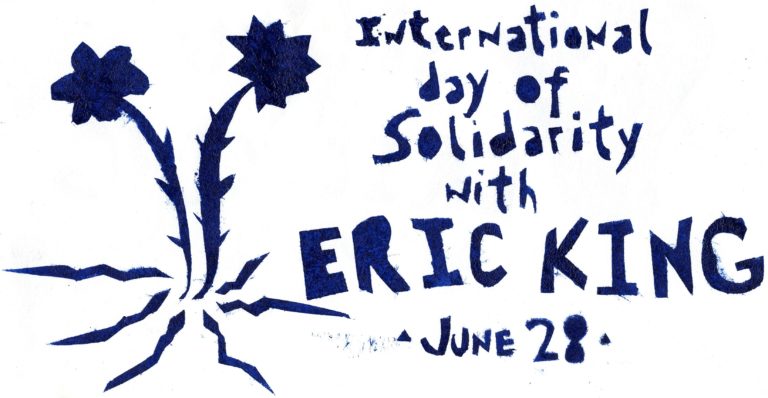 The week of the 23rd-30th is supposedly a Scottish week of action over disability benefits, although I've not seen much in the way of specific details so far. That week will definitely see an important demonstration against evictions in Edinburgh on Thursday 29th.
Looking into July, BA cabin crew will be striking again for two weeks from the start of the month, and cleaners at Barts Health have voted to strike – there's not too much detail available so far, but according to the NSSN bulletin "It will be the largest strike in the NHS this year of almost all migrant workers, mostly female from East and West Africa.  Key dates – 1. 4 July when we will have a demo in front of the Barts hospital when the strike starts (24 hour strike) 2. 11 July – a large march from RLH to Barts a week later when the all-out strike begins." There's also the fortnight of action against IPP (indefinite) sentences running from 9-23 July.