As ever, there's a lot going on. In workplace news, the Picturehouse Cinema strikes are continuing, with Hackney and Central out from the 11th-14th, and then all five London sites out on the 15th. As ever, check the local Central, East Dulwich, Hackney, Crouch End and Ritzy (Brixton) campaign pages for more specific updates. Lewisham Momentum are suggesting a "night of the living wage" spoopy Friday 13th event at Picturehouse Central, which might appeal to anyone who's into both horror films and workplace organisation.
Cleaners organised through the grassroots union UVW are gearing up to take action against the HR Owen luxury car dealership and Templewood cleaning agency after they suspended two cleaners involved in organising over low pay. You can donate to the strike fund here, email HR Owen/Templewood management at info@hrowen.co.uk; Denise.Grimston@hrowen.co.uk; info@templewoodsecurity.co.uk; Sharon.Stuart@templewoodgroup.com to tell them to reinstate Freddy and Angelica, and keep an eye on the UVW page for other ways to get involved. Meanwhile, tube cleaners will be holding a "Justice for Tube Cleaners" demo on Thursday 12th to highlight their ongoing struggle for decent treatment.
Up North, the Durham teaching assistants are currently voting on another offer from the council – the Lions of Durham blog has published posts arguing both for and against accepting the deal, while their FB page says "Despite yesterday's notice from Unison advising Durham TAs to accept this latest offer, please be aware, this is NOT the advice of the majority of the County Durham Teaching Assistants Action Committee. A statement will be released soon."
Earlier this year, a similar dispute in Derby was suspended for negotiations carried out by Unison, but those negotiations have now broken down, and Unison is looking at carrying out a ballot for industrial action in some schools. In an interesting piece of wording, Unison say "You will be aware that we had invited each school to enter into discussions directly with UNISON to seek a resolution to the dispute. Regrettably, these schools have chosen to not respond to this invitation. It is for this reason that UNISON will now enter into consultative ballots for further industrial action in these schools only." I don't know much about the internal workings of Derby Unison, so I can't really say if this represents some workers wanting to sack Unison off in favour of something more autonomous like the Durham action committee or what.
In other mainstream union news, Royal Mail staff just voted by 89.1% for strike action on a 73% turnout, so a national post strike over pensions, pay, working hours and future job security seems likely soon.
In education, Leeds UCU are out on strike from 11-13 October in response to plans that'll make it much easier to fire staff on undefined grounds, and they've organised a brilliant-looking "teach out" programme of alternative education activities for those days, with sessions such as "No borders no nations? Anarchy, asylum and border politics in revolutionary Spain, 1936-37", "How to strike when you don't have a workplace? Students and the university in and against capitalism" and "Ruins of Blarism: A critical geography of contemporary Leeds". University of Manchester staff are also set to walk out over potential job losses on October 23-24 – no idea if they'll be doing anything similarly interesting during that time.
There's a few ongoing disputes that Unite's involved in, especially in Manchester: bus drivers at Rusholme and Bolton depots are striking every Monday in October over a pay dispute, while low-paid cleaners employer through Mitie at Manchester airport have also just voted for strike action over pay, and housing maintenance workers at Mears/Manchester Working are now balloting for further action in a dispute over pay and attacks on terms and conditions.
Elsewhere, at Sellafield nuclear plant, GMB members are already striking over pay, and Unite members have now voted to join in. Workers at Fujitsu are voting on taking action against new plans that are seen on an attack on union reps, and there's complaints that specific reps are being targeted – see the Unite Fujitsu site for more.
In terms of more general social struggles, there's a few things happening on October 14th. If you're in London, there's going to be a silent walk to Grenfell Tower, which the Radical Housing Network are helping mobilise for. In Coventry, Ricky Tomlinson from the Shrewsbury building workers (and being on the telly), blacklisted construction worker Dave Smith, and McLibel defendant/spycop target Helen Smith will be talking on the extraordinary lengths to which the 'secret state' will go to defend the Establishment. In Ramsgate, Kent Anti-Racism Network were organising against a planned Britain First demo, but BF have now bottled it, so the day will just be going ahead as a celebratory anti-fascist carnival.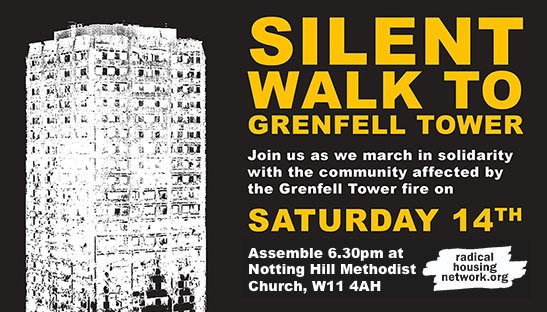 Further ahead, local health service campaigners will be holding events in defence of Huddersfield Royal Infirmary on the 21st and Barnsley Hospital on the 28th. As previously noted, there's also court dates for people facing charges for anti-arms trade action in Burnley on the 24th and an anti-fracking campaigner in Preston on the 27th. Then on Hallowe'en the Orgreave Justice Campaign are holding their "Death of Justice" event in Sheffield – they're now flogging benefit t-shirts to help with the event, so if you can't be bothered to think of a Halloween costume you can buy a scary Thatcher t-shirt and help the Orgreave campaign out. Going into next month, the next national demo to close Yarl's Wood detention centre will be on November 18th.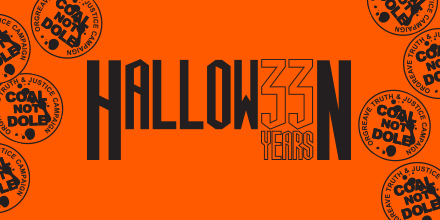 Finally, to close on two genuinely good pieces of news from across the Atlantic: Herman Bell, the elderly Black Panther/Black Liberation Army prisoner who was brutally beaten by prison guards last month, has now been released from solitary confinement after the amount of outside solidarity he received made the prison authorities give up on their attempts to charge him with having attacked staff, and he's written a really lovely thank-you letter. And the singing workers who organised through the IWW at Ellen's Stardust Diner in NYC have now won reinstatement for the 31 workers who were fired in an attempt to break their union – I still think there's potential for a really great class-struggle musical in this story.