A few upcoming events around the end of October:
On October 27th, some of those affected by undercover spycops, along with friends and supporters, will be holding a "We refuse to be haunted" ghost-themed tour around sites related to the past actions of spycops. They'll be meeting up in the Cock Tavern in Euston at 5:30, before moving off at 6pm sharp.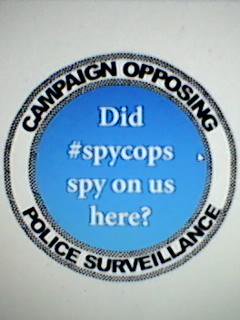 The next day sees the London anarchist bookfair, which will also see a three-part session discussing spycops and undercover police from the 19th century to the present day, as well as various other worthwhile-sounding events like an introduction to the IWW/AWW organising drive in West London warehouses. The 28th also sees the United Friends and Families annual procession through London in memory of all those killed by the police, while up in the North-East there's going to be a conference about blacklisting in Newcastle, featuring various blacklisted workers as speakers. The Angry Workers are keeping busy that weekend, as on Sunday 29th they'll also be hosting a discussion with a San Francisco comrade on struggles in the Bay Area and the logistics sector.
On Hallowe'en itself, London IWW and the Angry Workers will be co-hosting a screening of the film "Until Victory", about struggles in the Italian meat industry. It's not really a horror film in any conventional sense of the word, but being partially set in slaughterhouses and meat processing plants means that there is at least a fair bit of butchered flesh on film, as well as police violence, which I guess sort of counts. If you can't make it, you can still watch the film online here (45 minutes), or indeed use the video to organise a screening where you live with people you know. Also on Hallowe'en, and continuing with the theme of being haunted by the past, will be the Orgreave "Death of Justice" rally in Sheffield.