In workplace news, housing maintenance workers employed by Mears in Manchester have just voted for an extensive programme of strike action as part of their long-running dispute over pay and conditions, with a total of 49 days' strike action planned between now and February unless the dispute can be resolved. According to Unite: "Workers at Mears in Manchester and at Manchester Working will undertake a series of 48 hour strikes on the following dates: November 13, 16, 20, 23 and 27, December 4, 7, 11, 14, 18, 21, 28, January 4, 8, 11, 15, 18, 22, 25, 29, February 1, 5 and 8. The same workforce will also take part in 24 hour strikes on November 30, December 1, January 2.
The new industrial action is being taken as a result of Mears' failure to: meaningfully negotiate on pay and conditions, the detrimental treatment of workers during the previous dispute, attacks on workers' holiday entitlement, allocation of work to sub-contractors, inappropriate allocation of work to apprentices, trainees and improvers and proposed unilateral changes to working hours and conditions for some of the affected workers."
Over in Sheffield, as part of the bizarre situation where a national programme of jobcentre closures has been fought as a purely local issue, staff at Eastern Avenue jobcentre are still on their indefinite strike, and there's a push to get people along for the very last day before it closes entirely, on Friday 17th.
The Picturehouse cinema strikers are taking their show on the road, and will be stopping off at Nottingham on Wednesday 15th, Leeds on Friday 17th, and Sheffield on Saturday 18th to discuss how they've organised to challenge their conditions. The Leeds event will also have a McDonald's striker speaking.
Down in London, there's going to be a fundraiser for the Whipps Cross Hospital strikers on Tuesday 14th, the strike and demo by/in support of outsourced workers at the University of London on Tuesday 21st, and then a fundraiser for the Picturehouse and McDonald's strikers at the Bread & Roses pub in Clapham on Thursday 23rd (hosted by lefty-Labour mag the Clarion).
In more general social struggle news, Smash IPP are asking people to take a few moments to email the probation service to help make sure that IPP prisoner John Rumney is released to a hostel in Bury, near his family, and not just sent to a programme in Liverpool where he would be completely isolated and at a much higher risk of reoffending. Brighton SolFed have published a round-up of recent victories for tenants organising over damp, deposit theft and repairs.
Down in Whitechapel, Sisters Uncut disrupted a Tower Hamlets council meeting last week as part of their continuing "don't lose hope" campaign to save Hopetown women's hostel. On a similar note, the campaign to save the South Yorkshire Women's Aid centre will be back at Doncaster Civic Building to continue their fight against the council on Monday 13th, and every Monday after that until the service is saved. Also in South Yorkshire on the 13th, some people will be holding a discussion about setting up a Sheffield Plan C group.
In migration-related news, the Glasgow Unity Centre are fighting a mass deportation to Jamaica, and there's a protest scheduled outside the Jamaican High Commission in London on Monday 13th to ask them to end their cooperation with these flights. On Saturday 17th, there's due to be another demonstration against the Yarl's Wood detention centre – there's been a fair bit of controversy about the organisers recently, but I don't think there are any calls to boycott the demo itself. One detainee support group, the unfortunately-named SDS, have said "Though we acknowledge that these demonstrations have been made bigger and louder with the help of MfJ organisers, both inside and outside Yarl's Wood, we also feel that these demonstrations are not about, or for, MfJ. These demonstrations are about the women in Yarl's Wood. They are about showing solidarity with their struggle. These demonstrations are spaces where we can visually and vocally show that we stand with the women inside; that we admire their courage and strength; that we are listening. We feel that to not turn up on the 18th would be a huge disappointment for the women inside Yarl's Wood. It should not be these women who suffer the consequences of a group's harmful actions. SDS will therefore be heading to Yarl's Wood to show solidarity with the women inside just as before but will be taking alternative transport to MfJ's buses, details about this will be coming out soon." Which seems like a fair enough take. Or if you're in Scotland, you could go up to Dungavel instead.
Speaking of the SDS, the public inquiry into undercover policing is still slowly dragging on, and participants are still fighting to stop the whole thing being a complete whitewash – they're asking people to join them outside the Royal Courts of Justice on Monday 20th, to "stand with the core participants to support their demands that the Inquiry releases the cover names, and opens up the files on people who have been spied upon."
In anti-fascist news, the German antifa speaking tour is still going on, Merseyside AFN are hosting a discussion on the contemporary UK alt/far-right on Tuesday 14th, and anti-fascists in the North-East are mobilising against an upcoming demo in Durham by the North-East Infidels, on Saturday 25th.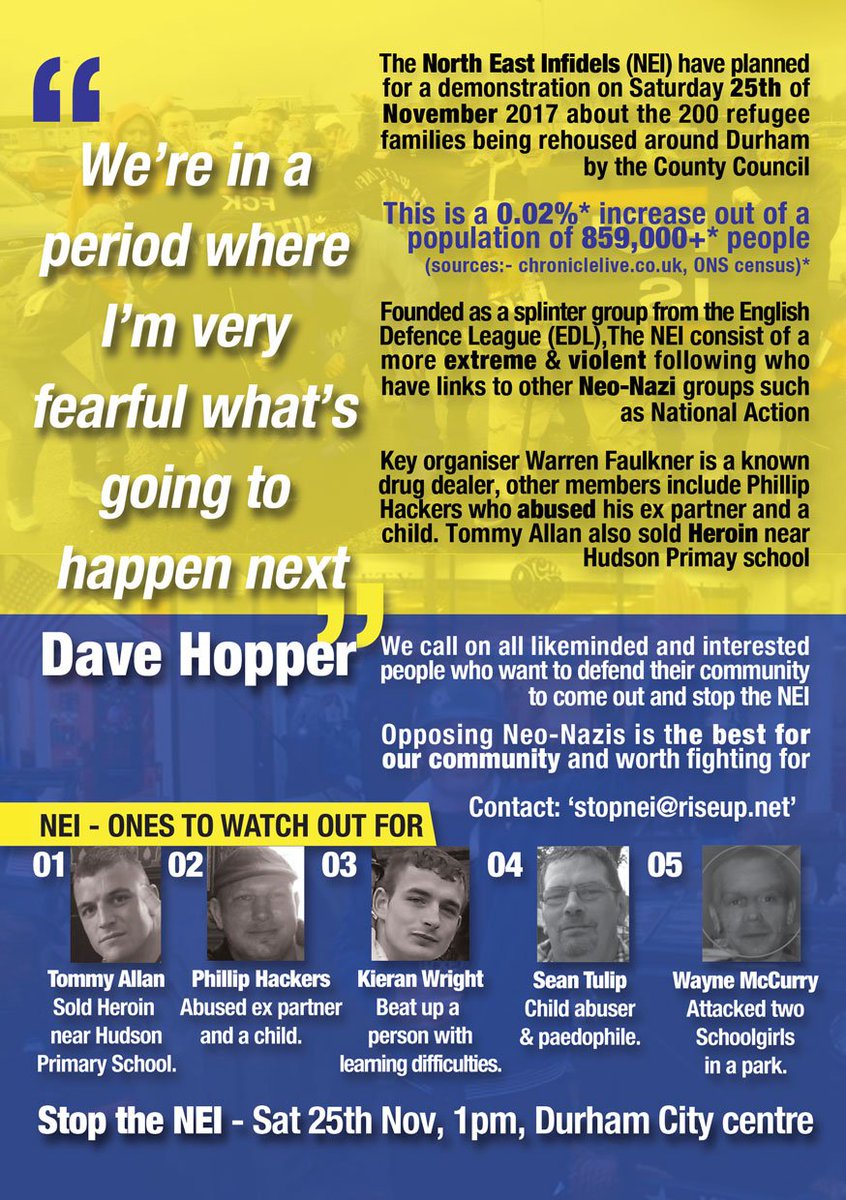 Finally, the Manchester & Salford Anarchist Bookfair will be happening on Saturday 2nd December – fingers crossed that none of David Davies' mates turn up to start shit and spark off an endless round of self-escalating confrontations and drama.