A call from the Hamburg G20 defence campaign, which doesn't seem to have been translated into English anywhere else yet:
United we stood! Together against repression and authoritarian formation!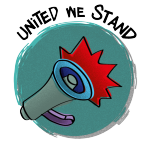 In the summer of 2017, we met internationally in Hamburg and shaped the images surrounding the G20 summit. But the repression associated with the summit protests still persists: many comrades have been arrested or threatened by trials. Let us together make a strong stand against repression and for a solidary perspective.
It has hit some, we all are meant. Come to Hamburg for the anti-repression demo as part of the "Day of political prisoners".
United we stood!
Save the date: 17.03.2018