The first few weeks of the year have already seen a fair bit of industrial action across the country, with more on the way.
Perhaps the biggest workplace win has been the news that McDonalds' workers are to get their biggest pay rise in ten years, after staff at some stores have started organising and striking. Grassroots cleaners' union CAIWU also chalked up a number of more local successes around the end of 2017 and the start of 2018, with the threat of action winning pay rises for cleaning staff at Niketown and the Royal Opera House. Fellow militant/grassroots cleaners' union UVW has two disputes currently live, as negotiations are ongoing for cleaners at the Ministry of Justice, while strike action over the London Living Wage and attempted union-busting intimidation at Lee Hecht Harrison is expected by the end of the month.
At Crossrail, this week saw construction workers take action over Balfour Beatty's refusal to pay the industry standard finishing bonus, following on from a wildcat strike in December. Further strikes are expected in the weeks ahead.
Up in Glasgow, the staff at Dow's bar stopped work at the end of the year, having been tipped over the edge by unpaid wages, after months of mistreatment, illegal wage deductions and health and safety breaches. You can keep up with their campaign using the Dow's 6 hashtag, while Glasgow's drinkers have created the "Anywhere but Dow's" page to discuss their love of their favoured drinking establishment, Anywhere But Dow's: "Nae over-the-top hassle when running late or calling in sick. Nae illegal deductions. Nae chance of being worked into an early grave. Nae lecherous, otter-obsessed, faux-gangster, pish-talking bampots for owners either."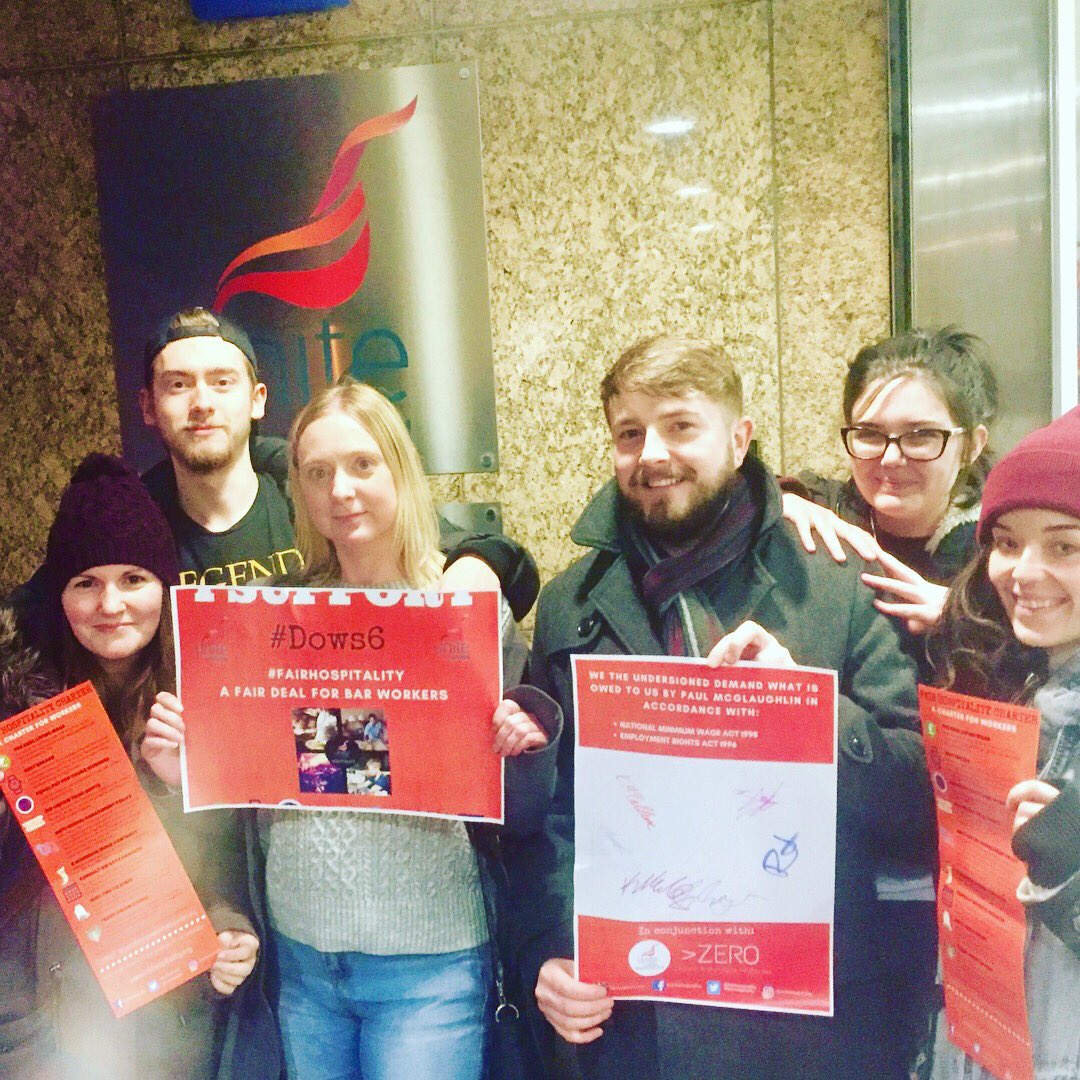 This week also saw railway workers across the country striking in the latest round of the long-running "keep the guard on the train" dispute. In Manchester, First Bus drivers based at the Rusholme depot have been striking after finding out that they're earning almost £100 a week less than bus drivers doing the same job elsewhere in the city, and this week the cops forcibly broke a blockade of the depot by strike supporters. It's not the first time there's been a mass blockade of the depot, and a "solidarity with Rusholme" page has now been set up to co-ordinate support as the dispute continues.
Looking ahead, on Sunday 14th there'll be a joint fundraiser for the Rusholme bus strikers and the housing maintenance workers who've been taking determined strike action at Mears/Manchester Working Limited, at the White House Club in Bowker Vale, Manchester. You can also donate directly to the Mears strike fund here, or join them on their picket lines for their upcoming strike dates on January 15, 18, 22, 25, 29, February 1, 5 and 8. Sunday 14th will also see the next silent walk for Grenfell in London.
In non-workplace news, Elephant & Castle residents will be taking to the streets on Tuesday 16th to object to a proposed development that would "regenerate" the area by building a thousand new unaffordable luxury flats.
On Saturday 20th, Birmingham homecare workers will be on strike against an attempt to impose new rotas, and are asking for public support on the day. That day will also see Picturehouse staff at five cinemas launching 13 days of consecutive strike action in their long-running campaign for the living wage, a move that management have responded to by declaring a total lock-out of the Ritzy cinema. You can donate to their strike fund here to help the workers beat back this attempt to starve them out.
At Fujitsu, victimised union rep Ian Allinson has just been sacked via a letter that was sent to him while he was off on compassionate leave for a family funeral. Workers at Fujitsu Manchester have now voted to take strike action on January 24th-26th, the 30th, and then the 8th-14th of February as part of the fight against compulsory redundancies and the victimisation of union reps.
On Thursday the 25th, security officers and receptionists organised through the grassroots IWGB union at the University of London will be striking as part of their campaign against outsourcing and discriminatory employment practices. As well as joining them on the day, you can also support the campaign against a two-tier workforce by donating to their strike fund here.
On Saturday 27th, there'll be a rally in Doncaster in defence of South Yorkshire Women's Aid and Louise Harrison, the service worker who's been threatened with dismissal for her role in the campaign to keep the centre open.
Down in Hackney, cleaners at six schools will be striking against attacks on their pay and conditions by cleaning contractor OCS, walking out from January 30th-Feb 2nd and then again on Monday 5th.
Finally, a quick piece of international news: the international trend of workers organising in response to Deliveroo's new, flexible exploitation continues, as this year has already seen strike action by Deliveroo riders in Haarlem and Brussels.