As of January 15th, Florida prisoners have begun a work stoppage, called "Operation PUSH". You can find more information via the Incarcerated Workers Organizing Committee, Fight Toxic Prisons, or the SPARC facebook page. The action's already attracted write-ups in Newsweek, the Nation, Medium, Dissent, the Huffington Post and Shadowproof, and will be extensively documented on It's Going Down.
Fight Toxic Prisons suggest a quick list of ways to get involved in supporting the strike:
"1. Attend and/or organize solidarity demos. At the moment there are several planned across the state on Jan 15 and 16. Details here (in the 'about' section). And there are well over a hundred other locations relevant to the FL DOC, where even small demonstrations will add to the pressure over the coming weeks. And for those not in FL, all of these facilities and admin offices have phone numbers. This can all be found here.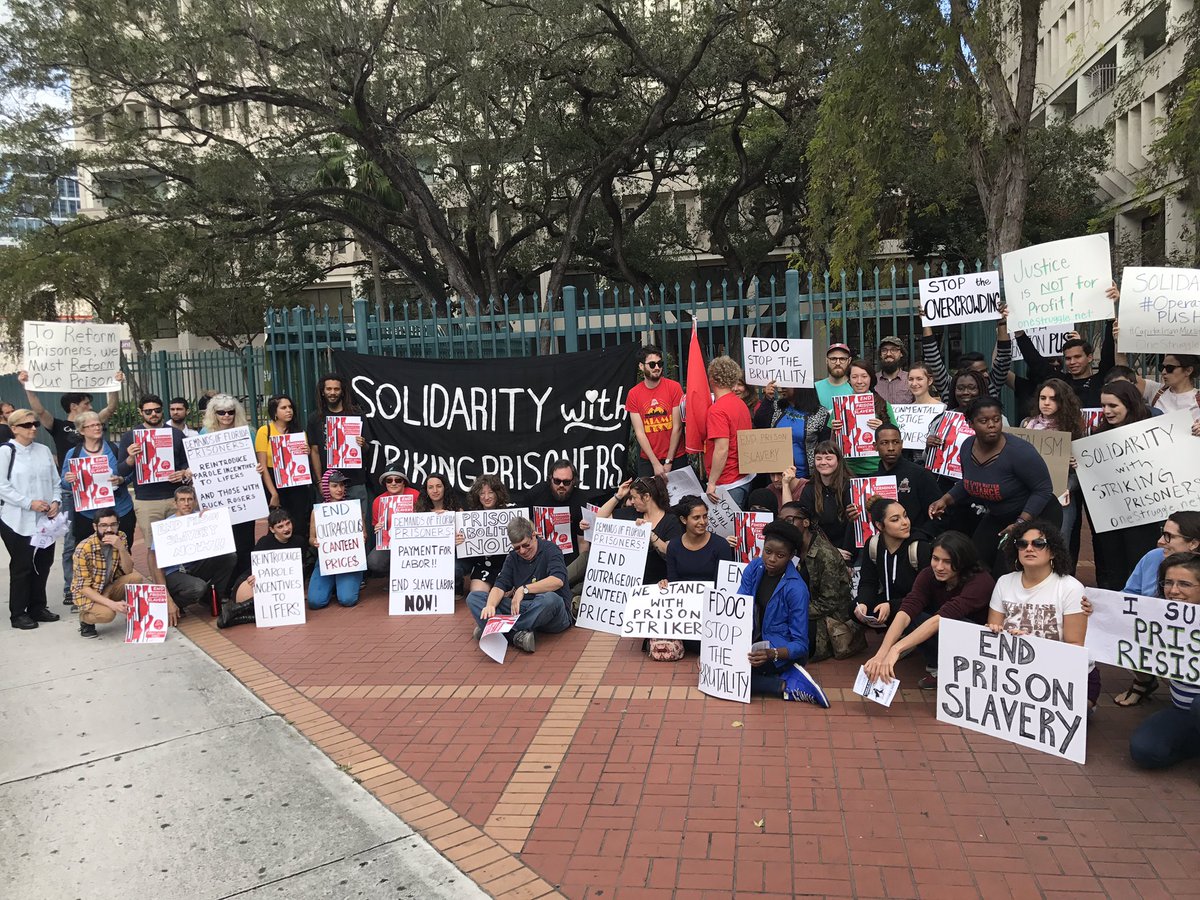 While the Florida work stoppage is the most dramatic development happening in prison struggles at the moment, it's far from the only one: Austin ABC report that a hunger strike broke out around the start of the year at the Allred Unit in Texas (which is also home to the revolutionary prisoner Xinachtli, although the isolation the authorities have imposed on him means he's likely to be somewhat cut off from developments among the wider prison population). Up in New York, people are reporting what looks like at least a partial victory in the struggle against incredibly cruel new mail restrictions that would've cut off prisoners' access to everything from fresh fruit to reading material:
"As a result of massive community pressure and opposition, New York State Governor Andrew Cuomo has just announced that he is directing the Department of Corrections and Community Supervision (DOCCS) to "rescind its flawed pilot program that restricticted shipment of books and care packages" to people imprisoned. Alarmingly, Cuomo continues on to say that the state will "redouble efforts to fight prison contraband." Soon after the governor's comment, DOCCS spokesperson Thomas Mailey issued a statement with a much weaker message, claiming "the Governor has directed the Department to suspend this pilot program."
To refer to the pilot program as "flawed" is to belittle its maliciousness. These restrictions, as laid out in Directive #4911A, are nothing short of oppressive, exploitative, and hostile toward imprisoned people and their support systems. A mere suspension leaves the door open to a kind of tinkering that will surely shift one outrageous policy into another. Since DOCCS first announced their intention to implement the restrictions, Critical Resistance NYC has been receiving testimonies from people imprisoned in New York State who have been especially skeptical of these appeals to "fight prison contraband":
"The government claim that the aim is to reduce contraband is hogwash," noted Keith. "Like the recent taking of our hoodies, and almost everything else, a false claim of security matters."
"Within DOCCS, once they pull the 'security issue' card, it's pretty much a one-sided battle," wrote Ron. "It's not about the packages, it's about the profits."
"They're just using that as an excuse to take everything from us," wrote Jimmy. "Last year they took the cans from us and all hooded sweatshirts to keep us warm outside for the winter – but we see what they are doing and they keep taking and taking."
TAKE ACTION TO KEEP UP THE PRESSURE
Critical Resistance will remain alert to impending developments and will continue to fight for the absolute elimination of this directive. At this time we urge all of our friends to take these steps:
Keep the pressure on the governor and DOCCS!
Write/call Governor Cuomo:
The Honorable Andrew M. Cuomo
Governor of New York State
NYS State Capitol Building
Albany, NY 12224
Call: 518-474-8390
Email: https://www.governor.ny.gov/content/governor-contact-form
Write/call Acting DOCCS Commissioner:
Anthony Annucci
Acting Commissioner
Department of Corrections and Community Supervision
1220 Washington Ave
Albany, NY 12226
Call: (518) 457-8134
Email: anthony.annucci@doccs.ny.gov
SAMPLE LETTER
I understand that DOCCS has temporarily suspended Directive #4911A and I demand that the directive be eliminated entirely and permanently. Restricting packages to pre-approved vendors serves to exploit imprisoned people, their families, and their support systems. Through this suspension, the state admits that the pilot program's now month-long run was unacceptable and ill-intentioned. You cannot allow this pilot program to resume in any form.
Thank you,
Your Name"
Back in Europe, Brighton ABC have shared a new interview with anti-fascist prisoner and Bulgarian Prisoners' Association activist Jock Palfreeman. The BPA/BPRA are still appealing for international solidarity protests to highlight the widespread abuses in Bulgarian prisons as Bulgaria takes up the EU presidency, and have published an album showing the results of staff brutality in Sofia prison. Meanwhile, in Hungary, Ahmed, a refugee who was labelled as a "terrorist" for allegedly taking part in a disturbance at the Hungarian border, is continuing his quest to overturn his conviction, having had several court dates last week and more scheduled to continue into March. You can keep up with that case at the Freedom for the Rozke 11 site, or their FB or twitter if you prefer.