Following on from the workplace and antifascist roundups, here's some other news and events that didn't fit into those categories:
In the UK, Picturehouse security guards recently physically assaulted strike supporters. The brave miners who stuck out the entire length of the 84-85 strike in the heart of "scab country" in Nottinghamshire have launched a project to commemorate their story, and are raising funds for a museum. Also, it's interesting to see that the Labour mayors of both Liverpool and Manchester spoke out publicly against the most recent round of RMT strikes, when they could have just called on Northern Rail to avoid the strikes by giving in – for all the hype about the brave new Corbynist Labour party, when faced with a test, there's still prominent figures who end up sounding like Ed Miliband in 2011.
In international repression news, anarchists in Yogyakarta, Indonesia, are still dealing with police repression of their May Day event. You can read a letter from a Yogyakarta anarchist prisoner here. The Final Straw radio did a long audio interview on the situation, and they suggest "To share acts of solidarity or for information on how to donate funds, drop an email to palanghitam@riseup.net or matata@riseup.net, or paypal funds to business.with.rangga@gmail.com and mention in the memo that it's for Ucil."
In Australia, three young residents of the Flemington estate are facing charges related to a protest against Milo speaking in Melbourne last December, and a legal fund has been set up to help with their expenses. And in Irish/Russian news, the Workers' Solidarity Movement held a small demo in solidarity with the anarchists and antifascists facing repression from the Russian state – since the eyes of the world are turned to Russia for the world cup, the next few weeks would be a very good time for further actions in solidarity with our Russian comrades.
In USA news, Monday 25th was an international day of solidarity with the J20 defendants, five antifascists just beat charges related to clashes in Berkeley last year, and Black Rose/Rosa Negra are raising funds to bring Latin American anarchist speakers to the US. The ongoing revolt against ICE is developing much faster than I can write about it, so I'll just recommend looking to IGD for coverage of that subject. In prison struggle, Juneteenth was marked by events targeting prison slavery in Texas and Florida, there's a call to contact the Delaware authorities to end the retaliation against inmates who participated in the 2017 Vaughn uprising, Kevin "Rashid" Johnson has been moved to Virginia, where he's in solitary confinement and has had everything he owns confiscated, and now that MOVE prisoner Debbie Africa has been released, there's a call to get parole for Janet and Janine Africa, two of her codefendants with virtually identical records. You can contact the Pennsylvania Parole Board using this form to support their release. And on a related note, Gina, the partner of a radical California prisoner, is currently in danger from an ex-partner and needs funds to get herself to a safer location.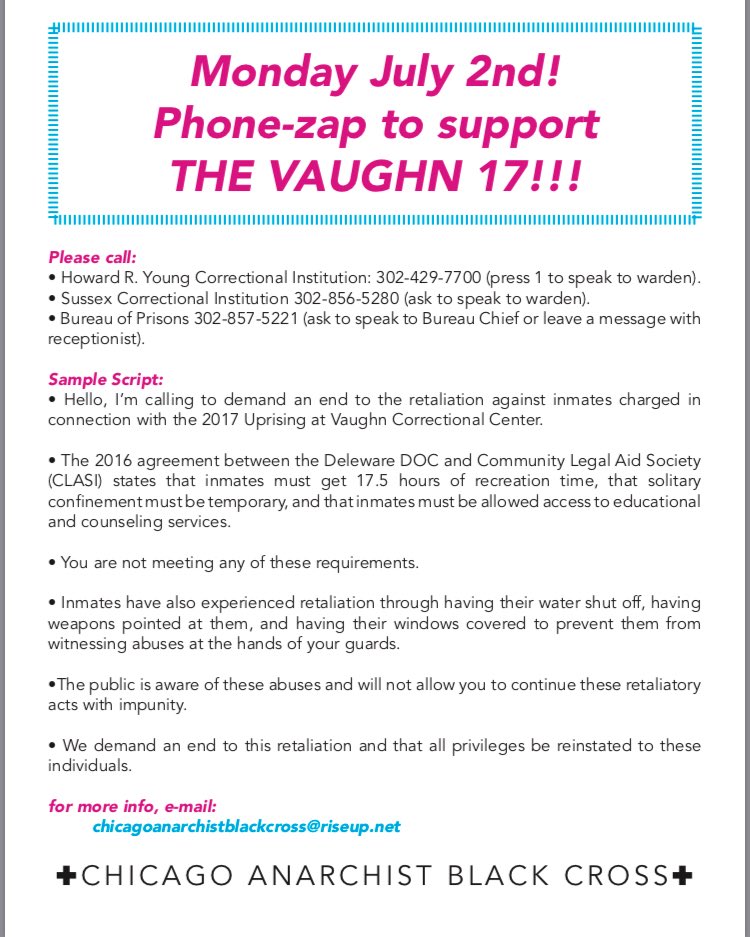 Upcoming events:
June 28th will be the second international day of solidarity with anarchist prisoner Eric King. On Friday 29th, tenants' union ACORN will be holding a fundraiser party in Sheffield, and Bristol Disabled People Against Cuts will be hosting an event on disability and migration as part of Bristol Refugee Festival.
On Saturday 30th, there'll be a solidarity demo at the Yarl's Wood detention centre, as well as a big NHS march through London. That Sunday in London, there's an open meeting introducing the IWW's Incarcerated Workers Organising Committee, and then that evening there'll be a celebration of the life of Peter Ridpath.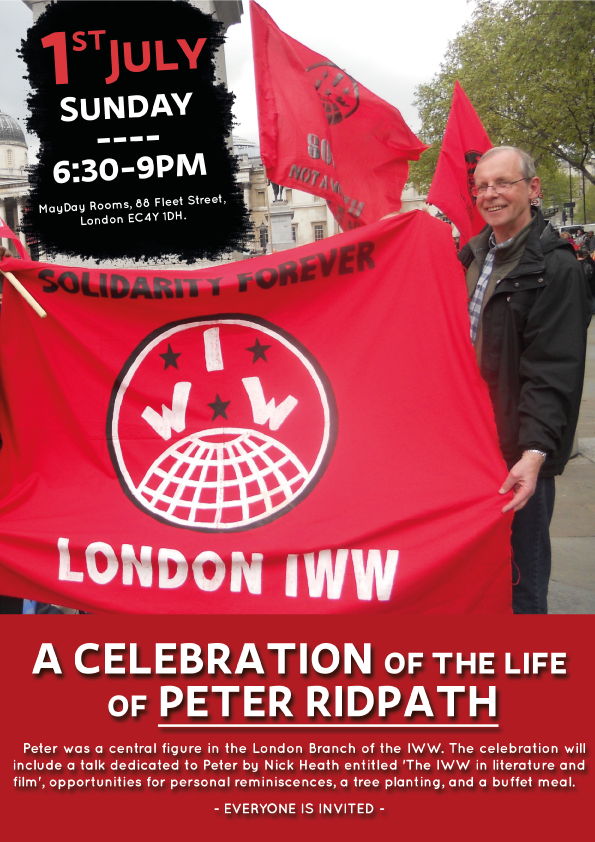 On July 4th in the US, the Torch Antifa Network are calling for a day of antifascist actions in memory of Dan and Spit, two antiracist skinheads who were murdered on that day 20 years ago.
On Saturday 7th-Sunday 8th July, the spycops campaign and others will be holding a "50 Years of Resistance" event, celebrating the resilience of all the movements subjected to state harassment in the 50 years since the Grosvenor Square anti-Vietnam War demonstration that led to the setting up of the undercover Special Demonstration Squad.
In the evening of Saturday 14th, as well as all the other stuff going on that day, Plan C London will be hosting a showing of "Blacks Britannia", a film about the lives of black people in 1970s Britain. On the 17th, ACORN Birmingham are hosting a film showing and discussion about community organising in the US.
Later on in July, Disabled People Against Cuts are organising their own events on the 22nd and 24th in response to a government-organised disability summit. July 25th is the international day of solidarity with antifascist prisoners. As far as I'm aware there are no publicly listed antifa prisoners in the UK at the moment, but you might want to check in with your nearest antifascist group to ask about the status of people who faced heavy charges after the Dover demos, or take the opportunity to send some support to Jock Palfreeman or our Russian and Belarussian comrades.
Looking ahead into August, Crimethinc are asking for a weekend of international solidarity on the 11th and 12th to commemorate the first anniversary of Charlottesville, tickets for Plan C's Fast Forward festival, which will be on the 17th, are available now, and the US prison strike set to start on the 21st looks to be big.