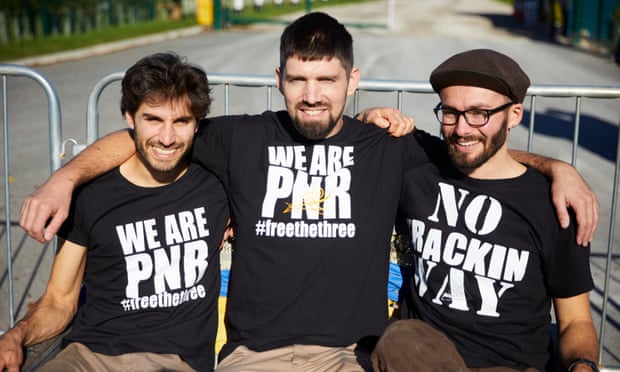 In an impressive reversal, the three anti-fracking protesters who were recently jailed have now been given conditional discharges and released following a successful appeal. On a related note, apparently another person who took direct action at the fracking site in Preston was briefly sectioned under the Mental Health Act before being released as a result of outside pressure and solidarity. The formerly-jailed protesters are now asking for everyone to come to a demo at Preston New Road on Saturday:
"TODAY OUR FRIENDS WERE GIVEN CONDITIONAL DISCHARGES, THE JUDGE REFERRING TO THEIR SENTENCES AS 'MANIFESTLY EXCESSIVE'. ON BEHALF OF THESE MEN, WE THANK EVERYONE FOR THEIR INCREDIBLE SUPPORT OVER THE LAST FEW WEEKS. THIS WEEK TOO, FRACKING BEGAN IN THE UK, AND RICH, RICH AND ROSCOE HAVE ASKED PEOPLE TO COME TO THE DEMO AT THE PRESTON NEW ROAD SITE THIS SATURDAY 20th OCTOBER: https://www.facebook.com/events/290251588248035/"
"Now is the time for all of us to show them that we will step up our fight and ensure that every community under threat is ready to stand up and fight. We won't be bullied and this event is to show the whole country that we will resist the fracking companies wherever they go.
Come to Maple Farm next to Cuadrilla's fracking site at Preston New Road to hear from speakers from all over the country and let us all make a stand against this unwanted and toxic industry.
Let's tell the frackers that we have said no and that we will continue to say no.
* No to fracking at Preston New Road
* No to fracking at Roseacre Wood
* No to prison sentences for protectors
* No to permitted development and NSIP
* No to climate change
* No to fracking anywhere and everywhere
All anti fracking groups come together and stand together.
No means No."
Simon Roscoe Blevins has also written a piece putting his sentencing into context and linking it to the wider fight against repression:
"The "justice" of releasing three white middle-class men from prison does represent a minor victory, but this is dwarfed by the injustices that motivated our protest to begin with. Around the world, the planet's poorest, most vulnerable people, who have done the least to cause climate change, are those most affected by it. They – those communities who are already marginalised and oppressed on a daily basis – are the first to feel the real impacts. People of colour, queer people, trans people and other oppressed communities are also all more vulnerable to the impacts of climate change because they have least access to safe spaces and resources in times of emergency.
Here in the UK, the prison system is also hugely unjust. Our sentences were a drop in an ocean of people wrongfully imprisoned, in both the UK's prison and detention systems. Most of the people I met in prison did not need to be in there. The system exacerbates existing inequalities in our society, disproportionately affecting people of colour, those on low incomes, working-class people and those struggling with mental health or addiction problems.
We need to reduce the prison population and expand public services. Yet the government is doing the opposite. Keeping someone in prison costs four times as much as sending them to university. At a time of austerity, prison expansion is driving forward inequality and harming communities.
We oppose the government's plans to create 10,000 new prison places by 2020. We don't need more people behind bars, we need stronger support structures for people in need.
The coverage and support we have received as a result of our trial has been hugely overwhelming and appreciated – but it also exacerbates the perception that white middle-class environmentalists are leading the resistance against injustice. We need to do more to ensure that grassroots groups, especially those led by marginalised voices and those experiencing real impacts, are the ones who are given platforms – and that they are part of decision-making processes for implementing change. The rest of us should follow their lead."
In other news, a new magazine called Commune is launching and has a few preview articles up, and Football Lads & Lasses Against Fascism have published their take on last Saturday's events:
"Saturday 13th October was a good day for anti-fascism and the working class. The DFLA had forecast that tens of thousands would march behind their banner from the West End into Whitehall and rallying outside Downing Street. While we were sceptical about their predicted numbers, we did not expect the collapse of the DFLA into disarray so soon after the emergence of FLAF. However, we take no credit for their collapse, the cracks were already apparent.
On Saturday, ours was a small part in an overall demonstration of anti-fascist unity that saw us organise separately, but strike together. FLAF liaised with AFN who were, with others, organising the blockade of the march at Trafalgar Square in order to prevent the DFLA getting into Whitehall & Downing Street. We also communicated with RMT stewards at the other end of Whitehall who were stewarding the SUTR demonstration. There were 1800 labour movement activists at the SUTR demo and 1200 at the AFN blockade.
The 'black bloc' style tactics of the AFN & Women's Strike worked beautifully and the police decided that the risk to public order was too great for them to try to push the DFLA march through to Whitehall. Respect to the organisers of the blockade. An old slogan that all too easily trips off the tongues of the left was made a reality again on Saturday. We said 'They Shall Not Pass' and they did not pass. Being so close to the anniversary of Cable Street it was also a fitting moment for such a blockade.
FLAF met at a location that had to be kept tight only to those we knew and trusted and those that they knew and trusted… Based on that method of primitive communication, we gathered around 200. Others that we didn't know so well were directed to the AFN assembly point, however, our plan to pick people up from there along the way was scuppered by a mix of impatience and a lack of leadership from us. We hold our hands up. Lessons have been learned and people will be kept aware of what is going on and how long we wait at certain points until we make a move. A bit of patience on Saturday might have produced an even more spectacular result. We apologize to those that we had arranged to meet at the AFN assembly point, we should have had a contingency plan to get word to you if plans changed. As a result we will review our organisation and expand our steering group and communications network.
Applied on a smaller scale than expected on Saturday, our strategy worked. Groups of FLAF were able to work in the area between the two demos at either end of Whitehall. DFLA and fascists were confronted at several locations. In Whitehall, some of the London firms were in the pubs. As one tweeter put it, "FLAF called them out on Whitehall and they didn't want to know." A handful emerged from one of the pubs and then regretted not leaving the door open for their retreat. It was only after the police corralled FLAF in Whitehall that more emerged from the pubs to do a bit of shouting for "Tommy Tommy Knobinson," whoever he is?
Towards the end of the day, the main group of FLAF decided to wait at Parliament Square, it was a nice day, we blended in with the tourists and spread out on the square. Schoolboy error, no spotters on the corners, we got too relaxed. Some of us were almost sunbathing when a big firm of Tottenham old boys, armed with bottles, strolled into the square and took us by surprise. A few of ours got digs from behind and side-on before they could get on their feet. Once we'd recovered composure the other FLAF lads had joined from either side and more blows were exchanged, with Tottenham backing off and having a go again only after the police had cordoned us. A bit of blood on both sides but little more than a couple of black eyes for us. No-one among the FLAF contingent was carrying a weapon, a glass or a bottle. The other mob all had bottles and still couldn't do the job.
If this all sounds a bit too macho for some, I apologise, but we know what they're about and we choose to fight them on their terms. We are the working class firm. We are the multi-ethnic firm. We fight for our clubs and our class. You will never beat us because we are about UNITY, but you – the DFLA – are about division.
One visible and very noticeable contrast was the difference in age between the anti-fascist fans and our opponents from the far-right. The DFLA are old, they should be a forgotten blob of fat old men trying to relive the NF glory days – and they weren't that glorious then either. They might be from our class, but everything they do breaks the unity of our class and our communities. Enoch Powell is dead, you wankers. Give it up!
While there was more than a few old heads on the FLAF side, our firm on the day was predominantly young English working class lads and they were committed and fearless and they know what they're fighting for… It's not just about 'the row' for us, in fact it's not even about the row. This is about our communities and the poison that these fascists and racists bring to them. We will oppose them wherever we find them."