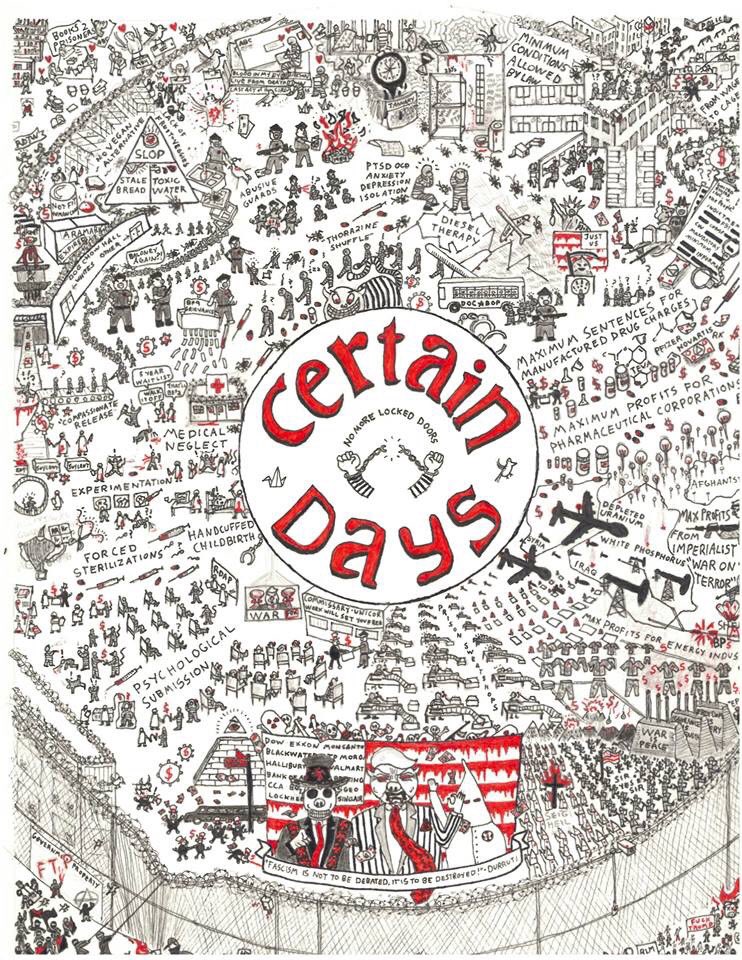 A few quick prisoner solidarity updates:
Anarchist hacker Jeremy Hammond has just been put through a punitive transfer after an incident where he opened a windowless door and bumped someone stood on the other side. His new address is:
Jeremy Hammond, #18729-424 FCI Memphis P.O. Box 34550 Memphis, TN 38184
And his birthday is January 8th – see here for more upcoming prisoner birthdays. His support crew also suggest "One thing that Jeremy constantly requests and especially loves to get while he is in SHU is MEMES! So print out as many as you can (print multiple ones to a page to save paper!) and mail them to him!"
Kevin "Rashid" Johnson, an organizer who's been subjected to countless moves in an attempt to keep him from making connections with other prisoners, is now in Indiana – his new address is
Kevin Johnson
D.O.C. No. 264847
G-20-2C
Pendleton Correctional Facility
4490 W. Reformatory Road
Pendleton, IN 46064
Guidelines are:
Rashid has let us know that the prison does not allow cards, colored envelopes, including the standard orange manila ones, or colored paper — otherwise it will be refused by the prison. Envelopes must have a name on the return address. All mail is read by the prison authorities, so don't say anything that could get Rashid hassled, or that you can't have the prisoncrats reading.
Cedar, a Canadian anarchist who's been jailed after the backlash against the "Locke Street Affair", an anti-gentrification demo where some businesses suffered some property damage, now has a permanent address:
Peter "Cedar" Hopperton
Vanier Centre for Women
655 Martin Street
Milton, Ontario
L9T 5E6
They'd be happy to receive letters and would be interested in corresponding with people, and would also appreciate photocopies of things to read (news, articles, zines, books etc.) – just make sure there are no staples. You can also send them books if they are shipped directly from the publisher.
They're currently most interested in books on Eastern Europe and the Middle East regional histories, and social movements history/histories of uprisings, revolutions etc., but would be interested in pretty much any general history, and anything anarchy related – theory, analysis, reportbacks, callouts, interviews etc. They are also interested in Italian language learning and any books that would help with that. Texts can be in English or French, or Arabic if an English translation accompanies it.
In parole news, Black Panther/Black Liberation prisoner Jalil Muntaqim received another setback, having his parole denied again after serving 47 years, while Mumia Abu-Jamal has taken an important step towards potentially gaining freedom, winning the right to pursue another appeal.
While there's no particularly new news about them, Jason Walker and Eric King are still in solitary, with Jason in particular facing very harsh treatment from guards, and so could both use continuing support.
Finally, just to note that Verso, AK and PM Press all have big sales on at the moment, so now might be a good time to get some reading material sent to imprisoned comrades – either those mentioned here, or anyone else really – on the cheap. Similarly, if you don't have a 2019 calendar yet, consider getting a Certain Days one, with all funds going towards movement projects; Brighton ABC have now sold out of their Bottled Wasp 2019 diary, but they still have a range of other stuff you can pick up to help keep them going.