A few further updates and things I missed out of my last post:
The strike at Colloids in Merseyside seems to have come to a quiet end, although it's hard to find out what exactly was agreed – there are posts talking about "a reasonable agreement" being reached, but not much beyond that.
The United Voices of the World union are boasting an impressive list of current disputes. From their website:
THE MINISTRY OF JUSTICE: Cleaners, security & receptionists outsourced to OCS have used innovative strike tactics in a protracted struggle
They are demanding the London Living Wage of £10.55 and parity of sick pay / annual leave allowance with civil servants. These brave workers have been organising for well over a year, and so far have only been offered a small pay rise to £9/hour. All are migrants from Africa, Latin America and Asia.
ST. MARY'S HOSPITAL: More than 80 cleaners outsourced to Sodexo have joined UVW recently
These cleaners have all joined UVW in the last month alone (with more joining every day) to build towards a mass strike for the Living Wage and equality with hospital staff. They are migrants from countries including Lithuania, Philippines, Colombia, Hungary, Nigeria and Nepal, all organised by two women!
KING'S CROSS DEVELOPMENT: Cleaners outsourced to JPC are organising colleagues across a huge industrial area in St. Pancras
They are demanding the London Living Wage of £10.55 for their services in and around Grade-A office space, Google's UK headquarters, major public transport links, lucrative constructions, a hospital and university.
ST. GEORGE'S UNIVERSITY: Security guards outsourced to Noonan are being overworked, underpaid, and denied equal rights
Our members working as outsourced security guards are victims of a two-tier workforce which has seen them severely overworked and disrespected. In addition, their terms and conditions remain on the pernicious statutory minimums, whilst university staff enjoy generous holiday allowances, pensions and sick pay schemes.
CHANEL: Cleaners outsourced to Bayleaf have won their Living Wage demand, but demand the reinstatement of unfairly suspended colleague
They are promised the London Living Wage from September after last-minute concessions on the eve of a major protest in swanky New Bond Street, where Chanel's neighbours include Dior, Hermes and Vuitton. However, they have been successfully balloted to strike if there is any delay in their pay raise or the reinstatement of their colleague Carmen, who was victimised for her leading role in organising the cleaners.
UNIVERSITY OF GREENWICH: Almost all the cafeteria workers outsourced to BaxterStorey are united in their fight for the Living Wage
On the back of the threat of strike action by our amazing members (first-time unionists) who work as caterers at Greenwich University through the contractor BaxterStorey, our members have been offered a 50p pay rise — backdated to September 2018 — and they've offered to meet with us twice a year "to stay connected". We're now going to drag them to the CAC to get formal recognition. They have also agreed to implement the London Living Wage by August 2020. So we'll now ballot our members for strikes, to make sure they implement it by August 2019!
They also said they were "very surprised and disappointed by the approach UVW has taken in this case" – well that is just music to our ears! We'll also be putting in massive claims for unpaid overtime and fight to end the chronic under-staffing that plagues all outsourcing companies. Some of the team have had to work up to 80 hours a week to finish the work expected of them. This led to one of the chefs collapsing the other day after work from complete exhaustion, and being admitted to hospital.
LONDON SCHOOL OF ECONOMICS: After UVW successfully brought hundreds of cleaners in-house in 2017, over 110 are still campaigning
UVW is again officially in dispute with the LSE University, with more than 110 cleaners threatening strike action regarding a collective claim about issues around pay and treatment. In the words of our lead organiser there, "the LSE is one of the most disrespectful, arrogant and contemptuous employers that UVW has ever come across."
ROYAL PARKS: Cleaners and gardeners at the charity in charge of eight Royal Parks in London are uniting for the Living Wage
Meet the Queen's cleaners. They have cleaned the Royal Parks (including St. James's, Regent's, Hyde, Richmond, Greenwich and Kensington Gardens) for nearly 200 years between them — one has been on the job for 24 years. However, they are all paid a poverty wage of £8.21 per hour. The good news is they've all joined UVW and now intend to strike to win the London Living Wage, occupational sick pay, and full holiday entitlement.
Until now many have been denied their legal right to the statutory minimum number of holiday days (20 excluding Bank holidays) and have instead been allowed only to take only 8 days. Up the Queen's cleaners!
TROCADERO: Cleaners outsourced to DOC Cleaning have had enough of low wages and statutory sick pay at a landmark West End venue
Cleaners who work at the famous entertainment venue Trocadero, (and the neighbouring Criterion building in Piccadilly Circus, where annual rent for both addresses costs £11m per year) have decided enough is enough — and are planning to down tools and strike until they are paid the London Living Wage and given occupational sick pay.
As ever, strike fund donations are always welcomed.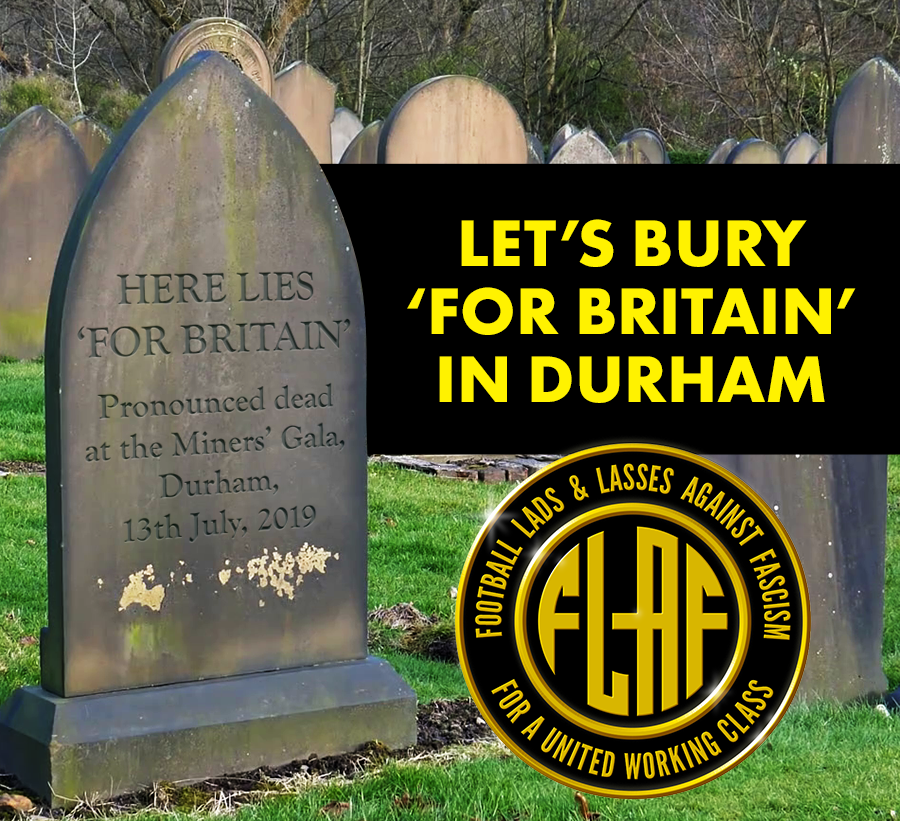 Anti-fascists mobilised to attend the annual Durham Miner's Gala after the far-right For Britain movement made threats to oppose it, but For Britain quickly realised that they'd bitten off more than they could chew and were nowhere to be seen on the day.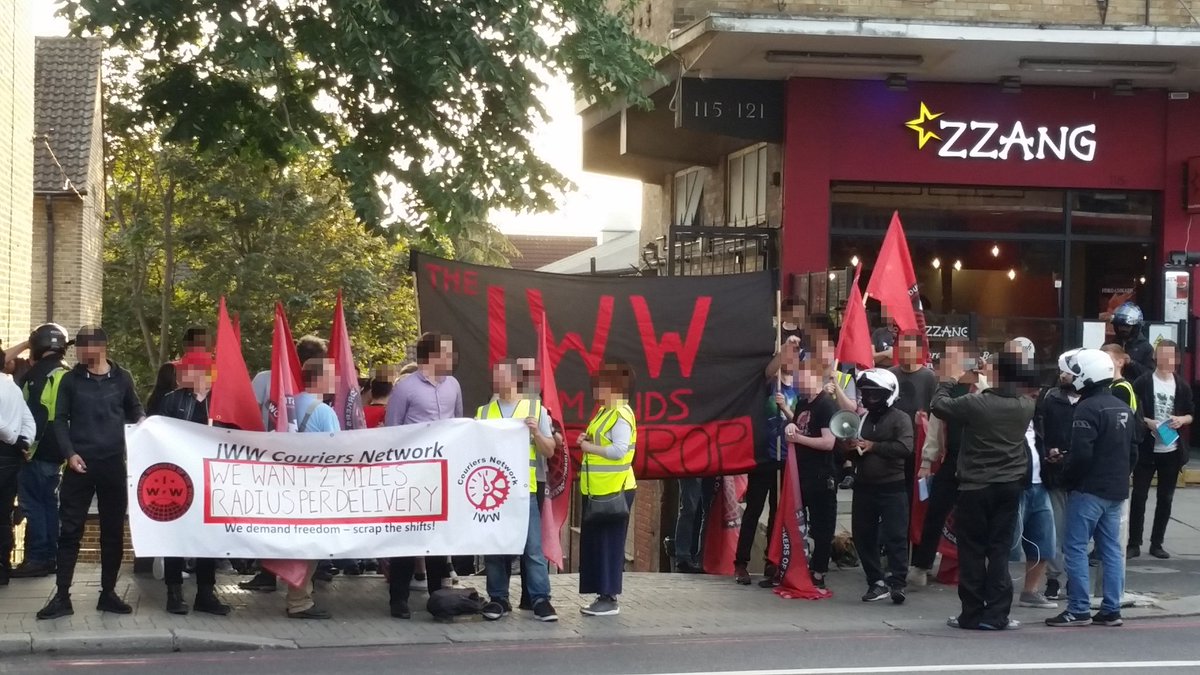 The weekend of the 13th also saw co-ordinated action by Deliveroo riders across at least three cities in response to new policies from management. In London, a Deliveroo Editions Kitchen was picketed two nights in a row, with London IWW explaining:
"Deliveroo decided to ban motorcycles from the Editions Kitchen we picketed a few weeks ago. They claim this is because of environmental policy negotiations with the council, but we know they banned them because we were unionising the place. Meanwhile couriers elsewhere in the UK have seen themselves banned from using particular Editions kitchens for basically the same reason. Perversely the excuse of environmental friendliness didn't stop non-motorized couriers from getting banned elsewhere. Why? Deliveroo is scared."
And reporting the next night that "We won! The kitchen has closed after an evening of next to no service."
That weekend, the Leeds Courier Network also reported that:
"Last night Leeds Deliveroo couriers held a successful strike and picket line outside of the 'Dark Kitchens' in Leeds.
The strike lasted from 7pm – 9pm causing Deliveroo to close up the 'Dark Kitchens' with restaurants sending chefs home early. With numerous reports coming in from riders in the city that orders were backed up in the restaurants, with 'Frank' (the algorithm) struggling to keep up.
The strike was called in response to the recent changes to our priority booking system. These new changes, that disproportionately effect cyclist, have caused a dramatic reduction of hours for every Leeds cyclist, with only a weeks notice. The profit driven reasoning behind Deliveroo's decision is that cyclists are less 'efficient' than cars and scooters. This is a complete insult to cyclists who have worked tirelessly all year round facing dangerous traffic, icy roads, vicious storms and summer heat waves to build this company up to what it has become today. It is also a complete insult to the general public who now more than ever, demand that our companies and governments clean the air of our cities and directly combat climate change. While Leeds City Council puts forward plans to pedestrianise Leeds city centre, Deliveroo attempts to choke the city with more vehicles and more greenhouse gas emissions. This is the profit-before-people logic of Deliveroo and the so called 'gig economy'.
The Leeds Courier Network is working nationally with other courier networks and campaign groups to plan further strikes and actions. We intend to carry on and expand this campaign until our demands are met.
Deliveroo immediately suspends its changes to the priority booking system.
Deliveroo immediately amends all booking time changes that were made to individual riders.
Deliveroo immediately ensures that riders that would have previously received weekend peak hours are reassigned all peak shifts so as to not allow their statistics to drop in the coming weeks.
Deliveroo introduces a non variable distance based payment system, offer us fair pay for all jobs and we will do them!
The mood on the picket was of happiness and solidarity!"
The Nottingham Riders Network also shut down a local kitchen that weekend, and will be back to do the same on the 26th.
Blacklisted construction workers have made an important bit of progress, as Unite has finally promised a formal inquiry into the allegation that union officials were involved in the blacklist. From a report on Union News:
The news was welcomed by the Blacklist Support Group, with joint secretary Roy Bentham saying: "We have been calling for an investigation into possible union collusion in blacklisting for ten years, we are therefore very pleased that this is now taking place.
"We do not for one moment think that every union official was conspiring with construction employers against their own members, but it is simply a fact that a number of blacklist files name union officials as the source of information. We are not looking for a witch-hunt but this must be fully investigated.
"There is a big battle to be had in the construction industry against companies who put profit before safety and who deny basic employment rights by engaging their workers on bogus self-employed precarious contracts. But this dark cloud of possible officer collusion, which has caused so much friction within the construction unions, needs to be removed once and for all".
A delegation from the Blacklist Support Group has met with senior officials from Unite to clarify a number of issues. Speaking after the meeting, joint secretary Dave Smith said: "We have had assurances from Unite that the entire process, from collating the evidence to writing the final report, will be carried out by senior counsel and solicitors independently from the union.
"This is essential and we applaud the union for committing to such a transparent investigation: we intend to hold the union to that promise. We will be pointing the lawyers towards evidence we think is relevant, even if that upsets some people. We encourage any blacklisted worker who has concerns or evidence of possible union collusion to engage with this investigation, or contact BSG directly. BSG would not be involved in this process unless we thought it was capable of getting to the truth."
Finally, more upcoming listings:
Outsourced workers at the government department BEIS will be out on strike all week. They say:
"Our outsourced workers are fighting back against the scourge of low pay and poor conditions imposed on them through outsourcing and the outsourcing giants ISS and Aramark.
Picket times and locations:
Monday 22 July – support their picket lines from 07:30am – 10:30am
Thursday 25 and Friday 26 July picket lines will be all day and cover every entrance to BEIS.
Location: 1 Victoria Street, London, SW1H 0ET
There will be music, dancing and speeches. Come and share time and solidarity with these inspiring and powerful trade unionists."
On Wednesday 24th, there's going to be a mass "fck govt, fck Boris" street party in London to welcome in our new prime minister: "On 24 July, when Boris will likely give his first speech as prime minister, a street festival will be held in central London, to let him know that we reject him and his government; that we won't stand by quietly and be scared into submission. That we see his flimsy, fickle, elitist ideology and we say: nah.
If you share our outrage, or feel Boris doesn't represent the needs of your community, join us and bring music, art and noise to show the new prime minister and the government exactly what we think of them."
As well as the various upcoming events that I listed in my last post (just to recap: there's a "power beyond borders" camp for climate and migrant justice at a secret location somewhere in the southeast, Nottingham Deliveroo riders will be shutting down a Deliveroo kitchen as part of their ongoing organising campaign at the company, Mayday Rooms in London are hosting a discussion on anti-gentrification struggles in Rio de Janeiro, the UVW union are having a fundraiser party in the capital that night, and then on Sunday 27th Leeds Anti-Fascist Network are hosting a summer social and there's a "No War but the Class War" meeting in Birmingham),  I'd missed the Hazards Conference in Stoke-on-Trent, billed as the UK's "biggest and best educational and organising event for trade union safety reps and activists". The theme this year is 'Cleaning up toxic work' in increasingly insecure workplaces.
Beyond that, on Wednesday 31st outsourced staff across St. Helens, Blackpool and Liverpool NHS trusts are set to strike for living wages and equal pay to their directly-employed colleagues.
On August 3rd, there's an antifascist callout to oppose a "Free Tommy" march in London, as fans of the racist grifter are presumably terrified of what'll happen if he's locked up much longer and keeps starting fights with pensioners.
On August 9th, grassroots cleaners' union CAIWU will be taking the fight to two different employers they're in dispute with in central London, Addleshaw Goddard and the Lilian Baylis Technology School. And on the 16th, there's a benefit fundraiser night in London for HMRC cleaners who're striking on Merseyside.
At the end of August, Freedom bookshop will be hosting a zine fair, and the first weekend of September will see two separate anarchist/radical bookfairs, one in Dorset and the other in Bradford. Further ahead still, the Earth Strike/Climate Strike meant to start on September 20th could be interesting.