Workplace notes:
At homelessness charity St Mungo's, staff are balloting for strike action over a range of issues including a demand to stop sharing information on homeless migrants with the Home Office. Over in Belfast, workers are occupying the iconic Harland & Wolff shipyard to fight against its impending closure. Notably, when Boris Johnson made his first visit to Belfast as PM last week, workers from this historically Protestant and Loyalist workplace stood side-by-side with Republicans and an Irish language group, and chanted in both English and Irish.
All-out strikes continue among outsourced staff at government department BEIS, and in Bromley, where library staff are now in their ninth week of strike action, and there's still a call to boycott gyms and leisure centres owned by GLL, the company who run Bromley libraries. A third all-out strike may have been narrowly avoided in Edinburgh, where bus drivers are considering a new offer in a dispute over management bullying that led them to threaten an indefinite walkout.
Grassroots union United Voices of the World are very busy up in the capital, with ballots for action planned at seven different workplaces across London. As ever, donations to their strike fund will be gratefully received.
In other grassroots union news, the IWGB are sending out copies of their new couriers' bulletin Puncture/Ruptura, a publication that will hopefully fill the hole left by the Rebel Roo, so get in touch with them if you'd like to help spread the news among couriers near you.
On the railways, the RMT's "keep the guard on the train" dispute will see more strike action on Merseyrail and South-Western Rail soon, along with another live dispute over contract issues on East Midlands Railway. Elsewhere, they've made a new film about their "justice for cleaners" campaign on the London Underground, and will be holding a national "cut fares not staff" day of action on August 14th.
Also in transport, there's been a few high-profile strike threats by airport staff – as I understand it, the current situation is that Stansted's definitely off after check-in staff won a new pay deal and recognition agreement, while everything's still up in the air at Heathrow and Gatwick, where staff are currently considering new offers that have been made. But Ryanair pilots have just announced that they'll be striking in late August and early September over a whole range of issues, and the pilots' union is also still in talks with British airways.
Meanwhile, the investigation into blacklisting drags on, with the latest news being that Crossrail paid £59,000 to a security firm to spy on trade unionists and anti-blacklist activists between 2010-2013.
Upcoming events:
On the morning of Friday 9th August, grassroots cleaners' union CAIWU are asking people to join them for a visit to two employers they're in dispute with over working conditions and victimisation of union members. Also on the 9th, Community Action Against Prison Expansion are going to protest at the site of the proposed mega-prison in Wellingborough, with transport currently arranged from Bristol and London.
Outsourced HMRC cleaners on Merseyside will be striking for a living wage and equal conditions from August 12th-14th, with a big strike rally planned for the 13th. You can donate to their strike fund here. Down in that London, there's going to be a fundraiser disco for their strike on Friday 16th.
Also on the 16th, there's going to be a return visit to the Wellingborough mega-prison site.
The RMT have a lot of stuff going on around mid-August: there's a "cut fares not staff" day of action all over the country on the 14th, a strike on East Midlands trains on the 17th, and on the 19th they'll be holding a demonstration on the Liverpool dockside highlighting issues such as pay and the failure to redeploy staff who were working on a ship that's been sold.
Later in the month, Ryanair pilots are scheduled to strike on the 23rd, and Saturday 24th August is the first date in a series of strikes to keep the guards on Merseyrail trains, which will continue into October.
The week of the 23rd-30th August will be the 7th annual week of solidarity with anarchist prisoners, and at the very end of August, there'll be a zine fair happening at Freedom in London on the 31st.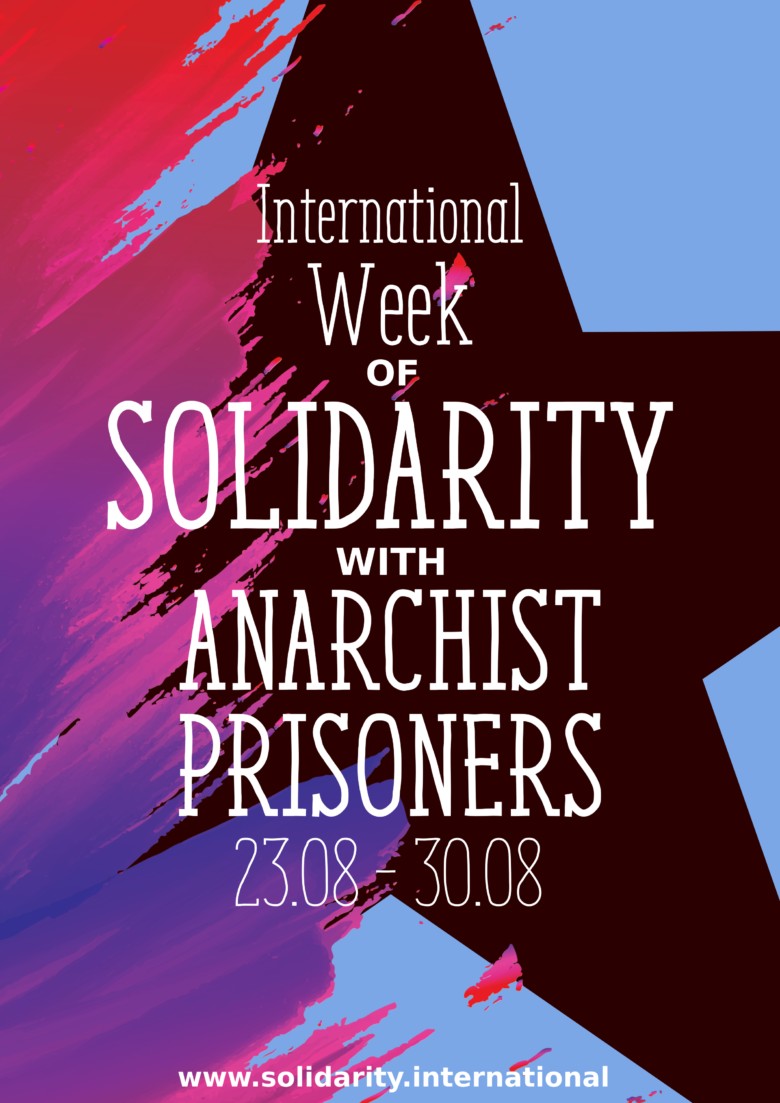 Looking into September, there will be actions against the DSEi arms fair running from the 2nd-13th. Ryanair pilots are set to take their second day of strike action on the 4th.
A new collective has announced their intention to run a London anarchist bookfair in late 2020, but if you don't fancy waiting till then, on September 7th you can take your pick from the Bradford or Dorset bookfairs. Or indeed the Wigan Diggers Festival if that's more local to you.
On the 11th, Smash IPP will be protesting at the National Probation Service in Gateshead to demand freedom for the IPP prisoners still trapped by endless sentences.
The global earth/climate strike is meant to be happening on the 20th, and could be pretty big.
And further ahead still in October, Kirklees Anti-Fascist Assembly are getting ready to oppose a far-right "Yorkshire Patriots" march through Dewsbury. You can read more about the context here.