Recent events: it seems that there might be a positive end in sight for the occupation at Harland & Wolff in Belfast, as some buyers have now expressed interest in keeping the shipyard open. In Bradford, a proposed indefinite strike by NHS staff has been called off, as the plans to privatise their jobs have been postponed, but not yet cancelled entirely. Down in London, at least eight kitchen staff employed by a posh Mayfair club have been suspended from work after organising through the IWGB union.
Over in Merseyside, planned strike action on Merseyrail has been suspended after progress was made in talks over the role of the guard, along with another strike at John Lennon Airport which has now been suspended after a new offer from management, but it sounds like things have been heating up in a dispute at construction company BWSC in Ellesmere Port, where one Unite member has been arrested, and the cops have made threats against others. Strikes have also been taking place this week at a Matalan distribution centre in Knowsley, also on Merseyside, and a Sainsbury's distribution centre in Waltham Point, Enfield. Further strike dates are planned at the Matalan site, although the only public listing I could find was in a not-particularly-clear graph posted on twitter.
In antifascist news, it sounds like yesterday's set of "Free Tommy" protests and counter-protests was not the largest or most dramatic, but you can read early reports from London Anti-Fascist Assembly and Oxford Anti-Fascists here. Also, the Past Tense blog has put up some reflections on early 1990s South London anti-fascist struggles and their relevance for today, which is worth a read – hopefully people won't get too caught up in the last few paragraphs, because the whole thing's worth thinking about, especially the stuff about the Labour party and local councils, in my opinion.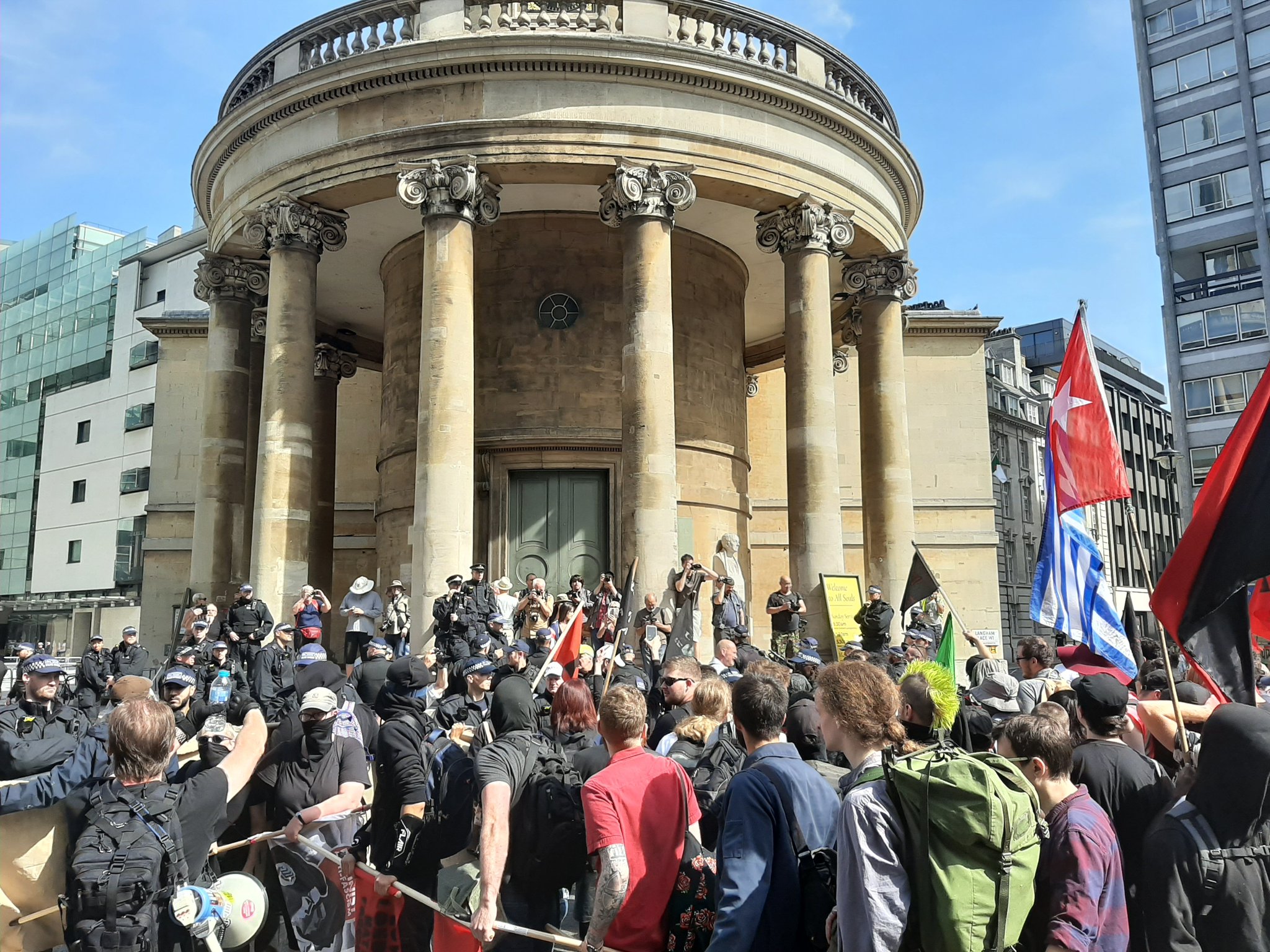 Over in the US, long-term anti-authoritarian black liberation prisoner and former Panther Russell Maroon Shoats has been diagnosed with cancer and is asking for donations towards the cost of his medical treatment.
Looking ahead, for the rest of this week: the international week of solidarity with anarchist prisoners is ongoing, and on Tuesday 27th, there's a protest in support of the striking Bromley library staff. On the 27th and 28th, Universal Credit staff in Stockport are striking in response to the increased pressure they're coming under while trying to implement a cruel and broken system, and after that, workers on South-West Rail will be striking to keep the guard on the train for four days from the 30th onward, museum staff employed by Science Museum Group, covering sites in London, Manchester, Bradford, York and Wiltshire, will be striking over pay on the 30th, the same day will also see a protest in support of underpaid train station cleaners in Liverpool, and the IWGB are holding a fundraiser party that evening for their dispute at the University of London. At the very end of the month, on Saturday 31st there's going to be a protest at Wormwood Scrubs marking a year since the death of Winston Augustine, and Freedom Bookshop are hosting a zine fair.
Going into September, the 1st will see the launch of a strike by night-shift cleaners who are demanding a living wage and decent sick pay for cleaning the offices of high-end law-firm Addlestone Goddard. The cleaners, who are organised through CAIWU, will be picketing throughout the first week of September, which will also see more RMT protests in support of train station cleaners at Manchester, Leeds and Birmingham on the 2nd, 3rd and 4th, respectively. Tube staff on the Central and Victoria lines will be walking out on the 3rd and 4th, while Ryanair pilots will also be striking over a range of issues on Wednesday 4th. There's also a demo in defence of migrants and against the hostile environment in London on the 4th, which seems to be coming from Labour-type campaigns but might still be a worthwhile show of solidarity. And up in North Yorkshire on Thursday 5th, the famous Drax power station is to see the first in a series of strikes over the employers refusing to apply nationally agreed conditions to some construction workers. Early September also sees actions against the DSEi arms fair running from the 2nd-13th, which now ties into a special worldwide call for actions against the militarism of the Turkish state on the 6th-7th.
On the weekend of Saturday 7th, women and non-binary members of the IWGB and UVW unions are holding a community lunch, and there are anarchist/radical bookfairs happening in Bradford and Dorset, along with the Wigan Diggers Festival up in the north-west. And as well as all that, there's now a short-notice mobilisation against a pro-Tommy Robinson march in Leeds that day, which I suppose will mess with the Bradford bookfair a bit.
Further ahead, BA pilots will be striking on the 9th and 10th for the first time in the company's hundred-year history, and on the 11th, Smash IPP will be protesting at the National Probation Service in Gateshead to demand freedom for the IPP prisoners still trapped by endless sentences.
There'll be further strike action at Drax on the 12th and then an all-out strike is set to start on the 18th if it hasn't been resolved by then. The global earth/climate strike is set to kick off on the 20th, and on the 26th London Anarchist Communist Group have a meeting about the fight for land justice. At the end of September, BA pilots will be striking again on the 27th, there's a day of action to save Essex libraries on the 28th, and there'll be the usual protest against the tory party conference in Manchester on the 29th. Then in October, the ACG are holding their second Libertarian Communism dayschool somewhere in London on the 5th, and on the 12th there's a radical history festival down in Bristol and a big antifascist mobilisation up in Dewsbury.