Rounding up a few recent developments:
In workplace news, one of the big stories is that Royal Mail staff organised through the CWU voted to strike against the running down of the service by 97%, on an amazing turnout of over 75%. Lefty mag Tribune have more analysis of what the dispute means here. The CWU has also seen a number of fierce local disputes in recent years, such as in Merseyside, where members walked out on a spontaneous wildcat strike against a racist comment from a manager earlier this month.
Grassroots union United Voices of the World is also stepping up preparations for strikes across a number of different sites in London, including three different universities. You can donate to their strike fund here. Donations are also requested to support Bromley library staff, who've been out on all-out strike action since June fighting to keep a properly staffed library service.
The Angry Workers of the World have a new report up on a case where they were able to win back stolen wages in about five minutes, and about a situation at Heathrow airport where they think that the IWW might actually be able to play a role in fighting against unfair wages at a major international corporation, so that situation's definitely worth keeping an eye on. Alongside which, they're still actively fighting for another DHL courier who's had their wages stolen when leaving a job.
A quick listing of a few recent notable victories: on the railways, the RMT are reporting a major breakthrough in the long-running dispute over the role of guards on Merseyrail trains. Their "justice for cleaners" campaign has also achieved a notable win as Mitie have now agreed to start paying cleaners a real living wage. Down in Brighton, SolFed have a report on a rent strike where G4Lets tenants were able to reclaim their deposits by acting together. Also in housing news, up in the North-West tenants organised through ACORN were able to get an eviction threat withdrawn after an action lasting about twelve minutes.
Home Bargains drivers have won an 11.4% pay rise, and planned strike action by Wilko warehouse workers has been called off after winning improved shift rotas. Cafe workers at the University of Greenwich have won the London Living Wage for all outsourced staff by organising through the UVW.
The epic occupation of the Harland and Wolff shipyard seems to have ended in victory and the workers will now be returning to work. The all-out strike by catering staff at BEIS has now ended after winning the London Living Wage and improved sick pay and holiday rights – you can see a reaction direct from the local union branch here.
In Stockport, outsourced care workers have beaten back an attempt to break their union after their contract was transferred from one provider to another. And rounding off this list, while it hasn't been widely reported, construction workers in Hull staged a wildcat strike in defence of two blacklisted union stewards that seems to have ended with at least one of the victimised workers being reinstated.
Other ongoing disputes: NEU members at 25 sixth forms have been striking over pay, working conditions and job security, with more action expected. Staying in education, staff at Queen Mary University in Edinburgh threatened with outsourcing have delivered a 100% vote for strike action, again on a 75% turnout. On a very similar note, the IWGB is balloting around 300 outsourced workers at University College London as part of their long-running campaign for all staff to be brought back in house and enjoy equal terms and conditions. Meanwhile, Games Workers Unite, another IWGB project, are facing their first serious campaign, against the victimisation and sacking of one of their members working at award-winning studio Ustwo.
There's more trouble at Crossrail as Unite have accused Costain/Skanska of trying to bar union reps from the site, where workers are already seriously worried air quality and safety following a number of recent deaths. Grassroots cleaners' union CAIWU still has active disputes at WeWork, where regular protests continue after a number of cleaners were fired, and at Aviva headquarters, where cleaners have voted to strike for sick pay, breaks and decent equipment. And around 300 workers at hospitals in Blackpool and St. Helens have just had a six-day strike over the Compass group's refusal to give them the same pay and conditions as regular NHS staff.
In housing news, the Rent Strike network had a national day of action across universities to kick of their Cut the Rent campaign, and Notes from Below have put together a new special issue on housing.
Internationally, resistance continues to the Turkish state's war drive in Northern Syria – to find demos near you, try the Plan C or Kurdistan Solidarity Network pages. And in Bulgaria, anti-fascist prisoner and prison organiser Jock Palfreeman is still stuck in a weird legal limbo – you can donate to his legal costs here.
A quick listing of upcoming events in the next week: Bradford library and museum staff will be striking against cuts to the service on Monday 21st and Tuesday 22nd, and there's support demos at City Library and Shipley Library on the Monday morning, and Keighley Library and Cliffe Castle Museum on the 22nd. Staying with libraries and museums, there's a demonstration in support of the striking Bromley Library staff at a "new library professionals day" at 9am in central London on the 22nd, and workers at the Science Museums Group, covering sites in London, Manchester, Bradford, York and Wiltshire, will be striking over pay on Wednesday 23rd.
The 23rd is also a "Patients not Passports" day of action, marking two years since healthcare charges for migrants were brought into the NHS, with events confirmed for Bristol, London, Manchester and Birmingham. Thursday 24th sees UVW-organised strikes over issues including sick pay and the London Living Wage at the University of Greenwich and the Royal Parks, and a "Riding for Deliveroo" talk in Nottingham organised by the IWGB's Nottingham Riders Network. The Riding for Deliveroo tour comes to Sheffield on Friday 25th, and the blacklisting film Solidarity will be shown in Glasgow that night. Saturday 26th is the annual United Families & Friends Campaign march remembering all those who've died in police custody, prisons, mental hospitals and detention centers, and further North the Riding for Deliveroo tour comes to Manchester as part of an IWW-hosted discussion about organising, and there's a demo at Morton Hall detention center. Then on Sunday 27th there's a "Become Ungovernable" day of skill-sharing for direct action somewhere in North London, and a talk about "state subversion and the North-East" up in Newcastle.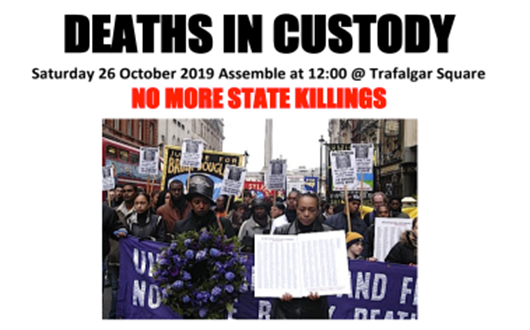 And much more ahead beyond that, but that's enough for now…