A shortish listing of upcoming events over the next week:
On Monday November 18th, health visitors in Lincolnshire will start a four-week long strike, running into the middle of December, against new attacks on their pay contracts from the council. That day also sees the start of a new round of strikes by Bradford library and museum staff fighting against cuts to services there.
On Tuesday 19th, outsourced staff at University College London who've organised through the grassroots IWGB union are out on strike demanding equal treatment with directly employed staff. You can donate to their strike fund here. The same day will also see RMT members on Virgin West Coast walk out on a one-day strike in defence of a victimised member. And that evening, Plan C London are hosting an event, "There's the Plan for Plan C", where anyone interested can hear about their involvement in the Kurdistan Solidarity, Acid Communism, antifascist, feminist and climate struggle movements.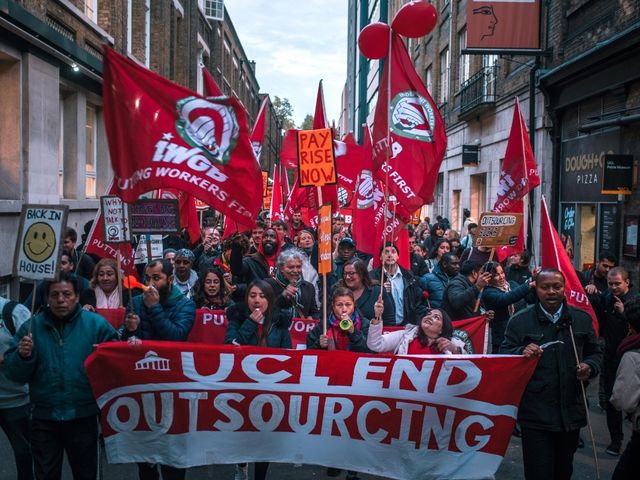 On Wednesday 20th, thirty sixth form colleges will be taking action over pay, conditions and job security. The RMT are also holding a morning "save London Overground ticket offices" demo that day.
It's a bit hard to find much about it online, but there's meant to be a demo the same day against the ongoing efforts by construction companies trying to keep unions off the HS2 project:
Demonstration at the HS2 site, against Costain Skanska Joint Venture's refusal to allow access to Unite –
Venue; CSJV site entrance, Corner of Euston Rd and Melton Street  WC1 0BE
Nearest tube station: Euston
Date: Wednesday 20th November
Time: 11:30 – 13:30
And that evening, Leicester Anarchist Communist Group have a "what is anarchist communism?" meeting, and ACORN Birmingham have a member defence training for people looking to build their organising skills.
On Thursday 21st, staff at Moulsecoomb Primary School in Brighton are striking against a planned takeover that would turn their school into an academy, and workers at Coventry University will be striking against an unpopular staff appraisal system.
On Friday 22nd, the CWU are calling for a national gate meeting day where postal workers across the country can discuss their response to the recent High Court ruling and how to take their struggle forward. On Saturday 23rd, RMT members on West Midlands Trains will be striking in defence of the guard's role and against driver-only operation. And looking a bit further ahead still, next week sees the start of another round of strike action by low-paid staff at St Mary's Hospital, as well as a big strike over pay and pensions at 60 universities across the country… hopefully I'll get a chance to write more on that, and other future events, soon, but I'll round this off here in the interests of getting it posted.