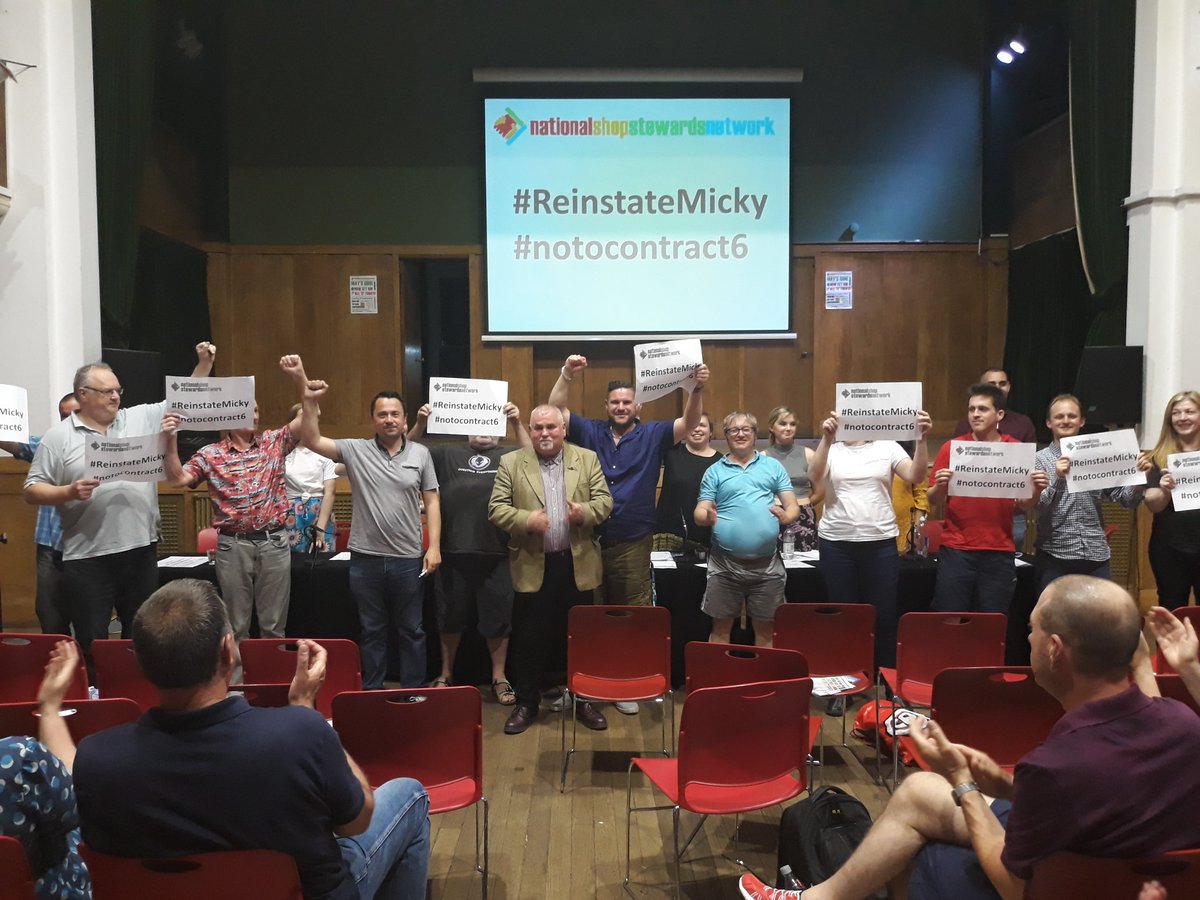 Michael Hunnam has shared the following description of his case, originally written by a friend of his on facebook. I don't know any of these people personally, but am republishing it here because it seems like a case that deserves a wider discussion across the trade unions and workers' movement:
Now that he's gone public I can discuss events concerning Michael Hunnam. I met Micky in 2014 while campaigning for TUSC. In the years that followed we developed a deep and trusting friendship. We've tested that friendship in the past several months more than ever before as we relied on one another to counsel ideas and tactics concerning Micky's position at Asda and the GMB.
What Micky's been subjected to is akin to a gang beating being metted out by two groups. Michael has been a GMB shop steward for over three years in good standing and an Asda worker for over eight, all with an unblemished record. He's popular among colleagues and the community his store serves. The announcement of imposition of contract 6 by the employer and the subsequent paper tiger campaign rolled out by platinum-plated GMB general secretary, disgraceful Tim Roache, has changed the lives of Michael and thousands of low-paid and precarious retail workers.
Michael was among the first to challenge the bureaucratic wisdom that this wasn't a dispute worth fighting for, organizing digital and workplace resistance to the union's blatant indifference and cheap, placating stunts. Staff turned to him increasingly because they knew he was trustworthy and impervious to decrees from regional officers who're closer to bosses than the members.
In the months since April I've been astounded at the surreal events, twists, turns, and contortions of Michael's battle. If there's a Jake Lamotta of trade unionism then I think it's Mickey. No matter how many blows are reigned down on him, he doesn't go down whether win, lose, or draw.
It's been my honour and privilege to support Michael and to travel through this experience with him. To meet, discuss, analyze, and advise details has been a labour of love for a comrade and friend who's been pushed to the brink and unbelievably durable under heavy fire.
The toll taken on Michael and his family has been awful. GMB has exacted a heavy price on this fighter and those who love him, no more so than today when Asda sacked him at the behest of Michael's own branch secretary, a fink called John Warcup, who no doubt acted on instructions passed from regional secretary Billy Coates, another dog, transmitted by even more senior officials.
I want every trade unionists in North East England and across Britain to know what's happened to Michael. In an era when we're learning the darkest secrets of the deep state and the worst of trade unionism's internal enemies, a broad daylight, modern day industrial crime has been committed against my friend.
The energy, focus, and determination Michael possesses is what's ensured he was able to carry on this long where as many others may have shattered. Michael made mistakes. We all do. What's paramount now is that the entire trade union family reaches out its arms wide to this indefatigable warrior of ours.
In the weeks and months to come these events may be revealed more broadly. Our movement must know what's happened, the implications of it for us all, and the true and revealed nature of the frauds in senior GMB leadership. Workers have been sacrificed to the employer and their representative thrown to the wolves. Even the police are involved. That's the most solid indication I can give you of just how nefarious these people are.
Full solidarity with Michael and his family. Full solidarity with GMB members. Full solidarity with Asda workers as Tim Roache walks them in to industrial oblivion while posturing himself as a radical. We don't give in. We fight where we stand, come what may.