The party's over
I always try to do a little end-of-year round-up thing, and had been toying with the idea of an end-of-decade one, but (as the lateness of this probably shows) I've been feeling a bit overwhelmed to even attempt anything at all. This year saw a genuinely international wave of struggle, bigger than anything we've seen since at least the highpoint of 2011 and perhaps even beyond that, which I did very little to cover, but which were covered far more extensively by projects such as Crimethinc and Dialectical Delinquents.
Back in the sleepy UK, any kind of end-of-year reflection is inevitably going to be coloured by the way that December also saw the end of the road for the Corbyn project, at least as we know it. For those of us who were never on board with Labourism, I still don't think there's any reason for smugness: after all, if the story of the past four or five years is how the "new movement" around Momentum comprehensively failed to live up to those ambitious early promises, it's equally the story of how the rest of us equally failed to generate any kind of compelling project or pole of attraction that could win many people over.
Beyond that, I'm skeptical of any simplistic explanation for what happened, because it's difficult to come up with a single explanation that can convincingly cover both Labour's crushing defeat in 2019, and the huge electoral advances made by more-or-less the same party against a not-that-different Conservative Party in 2017. As various commentators have pointed out, one of the obvious differences is Labour's changed position on Brexit compared to last time round. Here, as ever, the question of how to move towards class unity in a time of deep division is inescapable: I don't think that "leavers" can be written off, and a revived working-class movement will need to appeal to the old, those with limited formal education, and those living outside big cities, and so on; but equally, I don't think that young people in big cities, even ones with degrees who drink coffee or whatever, can be written off either.
How to bring these different fractions of the working class together is a difficult problem, but it's one that will need to be solved if we're to have any kind of functioning class politics. And, to be clear, I don't think the answer's necessarily some kind of dull triangulation of splitting all possible differences down the middle, it could equally well be solved by some, perhaps relatively small and well-defined, group of people starting to take action for themselves, and doing it, like the example of the French yellow jackets, in a way that's exciting and inspiring enough that other people can see themselves and their own desires in it.
Finally, it's worth saying that those of us who're more on the big city side of the divide could do with paying attention to the perspectives and voices of those living outside big urban centres, through voices like the South Essex Heckler. On which note, if you're wanting to read more analysis on related subjects, the Heckler put together a good round-up of post-election/end of year reviews, which I'd recommend, along with these related pieces from Solfed, Notes from Below and Freedom.
Rebellion as the world burns
One notable feature of the year, both in the UK and internationally, was the increasing prominence of climate change. The arguments about Extinction Rebellion have all been had many times over by now, and I'm sure they'll be had over again, but for what it's worth, my reading of the current climate movement is that there's room for a range of more critical and subversive anti-capitalist positions to be expressed, if not always within official XR structures then at least somewhere within the wide-ranging constellation of groups that make up the broader climate movement. And if we don't manage to win on this one then we're pretty much all fucked, so there's that.
The year of the milkshake
It feels like this year saw more direct far-right harassment of left/workers' movement targets than we've seen in a while, as the year started off with the fake "yellow vests" abusing striking railway workers, and saw a number of similar incidents throughout the year as the far-right variously got excited about "freeing Tommy", Brexit and so on.
Beyond that, there's a lot to say about antisemitism, both the way it was weaponised by disingenuous centrist dickheads and the very real danger of National Action/Ironmarch-linked bomb plots, the spate of attacks around Hanukkah and so on. Going into 2020, we need to make sure that opposition to all forms of antisemitism is a central part of antifascist work, and not left outsourced to dodgy outfits like the irresponsible, scaremongering, incapable of condemning a neo-nazi attack without using it to have a go at leftists and Muslims, "Campaign Against Antisemitism".
Legal and repression news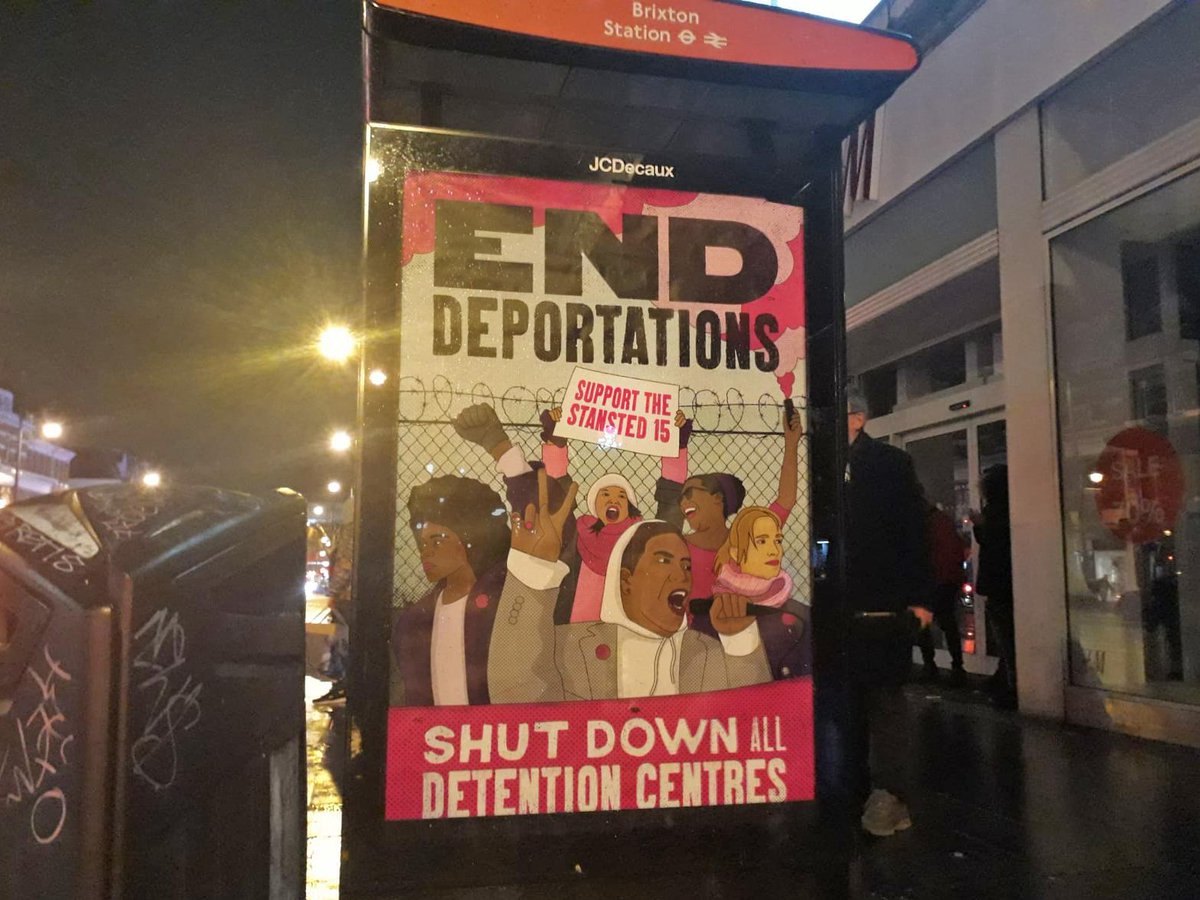 In UK prison news, the Stansted 15 ended up not going there, which is nice, but Kevan Thakrar had a pretty rough time throughout the year. Internationally, antifascist prisoner Jock Palfreeman seems to have taken an important step closer to freedom, but as I understand it was still trapped in his weird legal limbo at the year's end, and more people are receiving sentences related to antifascist clashes in the US, although at least none of the Sacramento defendants will do time. Meanwhile the state's repeated attempts to criminalise Scott Warren for providing humanitarian aid at the border failed, and the legal fallout from the 2017 Vaughn prison uprising ended with none of the Vaughn 17 defendants who plead not guilty receiving convictions, a solid win for the defendants who stuck together and refused to let the prosecution divide them.
Workplace stuff
As ever, the small grassroots unions like UVW, CAIWU and IWGB continued to do good stuff this year. Struggles at Deliveroo may not have made big headlines, but they continued as well. One of the biggest themes running through the year was the various RMT "keep the guard on the train" disputes at different rail operators up and down the country, and with the government's intention to bring in new legal powers against transport strikes, that looks likely to be a key battleground going into 2020, as Johnson does his best Thatcher impression and tries to break one of the last remaining strongholds of workers' organisation in this country. Along with which, there's still certainly unfinished business in the CWU Royal Mail dispute that was muzzled by the courts, and in the ongoing dispute in universities, where a number of branches that didn't make the threshold last time are currently reballoting.
Oh, and for what it's worth, in 2019 I revisited my old beef with Mark Fisher and a dedicated follower of Mark Fisher, got worried about some of Nina Power's decisions, was entertained by Daniel Miller's selective understanding of free speech, felt a bit uneasy about the way some anarchists talk about Rojava and got really angry with Jonathan Freedland.
That's all for now. Happy new year everyone, see you in the streets, see you at the jail when you get released.