A few quick updates on various US-held prisoners:
Supporters of Romaine "Chip" Fitzgerald, an elderly Black Panther prisoner who's been incarcerated since 1969, have launched a website with information about steps people can take to help get him free, like writing to his parole board. In Ohio, Greg Curry, an inmate wrongfully convicted of murder after the Lucasville Uprising of 1993, is actively seeking good attorneys and other legal assistance to get his unjust conviction overturned.
Anarchist prisoner Eric King's support network have released a new update, giving information about the abuse he's faced at FCI Englewood, including threats made by staff against his children, and attempts to block visits from his partner, who was told that she'd be banned from visiting if she continued to criticise the prison in public. Eric's support crew ask:
"PLEASE send letters, articles, jokes, and memes. After resisting mail changes, the prisoners also won the right to have magazines!! Please shoot us an email if you want to get a subscription for Eric."
Eric King 27090045
FCI Englewood
9595 W Quincy Ave
Littleton, CO 80123
If folks want to organize local fundraisers in their cities, hit us up. We have various literature and support shirts that can be printed and sold for fundraising."
Something that might be relevant to UK-based readers is that Eric is a fan of UK football, and would particularly appreciate receiving anything related to Manchester United or Partick Thistle, but I'm sure he'd be glad to get anything covering the sport more generally. And football-related reading matter might stand a better chance of getting through the mailroom than some spicier political texts.
Jeremy Hammond, another anarchist prisoner who's been incarcerated since 2011 for hacking and is currently being held in contempt of court for defying the same grand jury as Chelsea Manning*, has started a new podcast, Twin Trouble, that takes the form of a phone call with his twin brother Jason. Jason has also previously served time for his antifascist activities.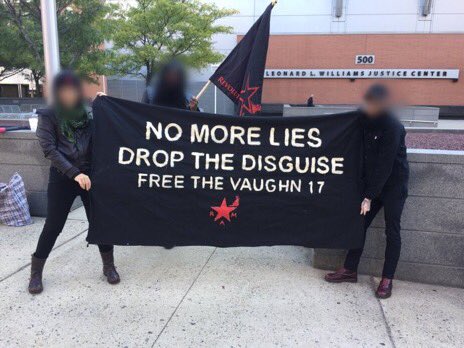 This February is also the three-year anniversary of the Vaughn uprising of early 2017, and the former Vaughn 17 defendants and their supporters are calling on people to commemorate the occasion. In the words of a call they've put out:
"Join us for 17 days for the Vaughn 17 and commit to a day of solidarity. Obviously we cannot tell you what liberation looks like, but Dwayne "BIM" Staats (Believing in Myself) has some suggestions for solidarity actions:
Drop a banner
Host a food drive and feed your community
Get out on the streets like Malcolm X and talk to people about it
Organize a mini march
We encourage you to get creative and do it your own style. If you and your comrades do something (and it's okay to publicly share), be sure to capture the moment and send in a photo or summary and tag @freevaughn17 on Instagram and Twitter."
They've also started a new website, vaughn17.com, where people can learn more about the uprising and those who faced the state's retaliation for allegedly taking part in it.
Finally, Jason Walker, a revolutionary prisoner based in Texas who's been consistently fearless in exposing staff abuse and has faced vicious retaliation for doing so, has compiled his writings into an ebook, "Reports from Within the Belly of the Beast".
*thinking about it, in passing, I notice that Assange obsessives will often extend their cause to "free Assange and Manning", but you rarely find them mentioning Hammond. I dunno exactly why that is, but in all honesty I'm not exactly desperate to share more space with the pro-Assange crowd than I have to.