A quick listing of repression/prison-related news:
There's an urgent call to help protect Kevan Thackrar, a prisoner who was recently the victim of a racist attack, and is now being moved to a cell next to someone who's previously attacked him, in a blind spot with no CCTV.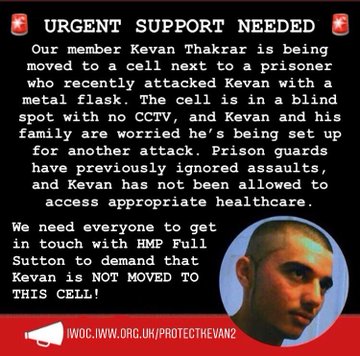 The full call, via the Incarcerated Workers Organising Committee, is as follows:
"Urgent support needed!
Our member Kevan Thakrar is currently being held in the Close Supervision Centre (CSC) at HMP Full Sutton. He is being moved to a cell next to a prisoner who recently attacked Kevan with a metal flask. The cell is in a blind spot with no CCTV, and Kevan and his family are worried he's being set up for another attack. Kevan has repeatedly been the victim of racist attacks by other prisoners and guards during his time in prison, most recently when he was stabbed with a shank on 23 December 2019. Prison guards have previously ignored assaults, and Kevan has not been allowed to access appropriate healthcare.
We need everyone to get in touch with HMP Full Sutton to demand that Kevan is NOT MOVED TO THIS CELL. Phone calls, emails, letters all help keep Kevan safe and shows the prison governor that we are aware of what's happening. Numbers matter! We need as many people to write and call as possible.
Write to
Prison Governor Gareth Sands
HMP Full Sutton
York
YO41 1PS
Gareth.Sands@hmps.gsi.gov.uk
Or phone the prison on 01759 475100
Fax 01759 371206
Cite Kevan's prisoner number, A4907AE.
Call script:
Hello, I am calling on behalf of Kevan Thakrar who is currently in the CSC at HMP Full Sutton. Kevan has been informed that he is being moved to a cell next to a prisoner who has previously attacked him. I am extremely concerned for Kevan's safety and demand that he is not moved to this cell, but rather is moved out of the CSC and to a safer location immediately.
You can also email the following:
Executive Director for High Security & Long Term Estate for HM Prison and Probation Service, Richard Vince, demanding Kevan be moved from the CSC to a safer location: Richard.Vince02@hmps.gsi.gov.uk
Email Sir Greg Knight, MP for East Riding: sothcottt@parliament.uk
Keep Kevan updated with all your actions by email through emailaprisoner.com or letter to:
Kevan Thakrar, A4907AE
HMP Full Sutton
York
YO41 1PS"
The UK state has long had an odd relationship with Rojava, collaborating with the PYD and YPG/YPJ in the war against ISIS while occasionally attempting to prosecute volunteers who return home. A new court case seems to show a shift towards increasing repression, as the family of a YPG volunteer have been facing heavy police hassle, with his dad facing terrorism charges for sending him £150. Paul Newey and Sam Newey appeared in court in London on the 14th, with the Kurdistan Solidarity Campaign reporting that "It was to set a date for a pre-trial hearing which was set and will take place in Liverpool next week. After that, the idea is to group all the cases together for a big show trial in Birmingham in June."
And rounding off the UK section, I don't normally bother distinguishing too much between one tory politician and another, but it does seem worth noting that the new Attorney General, Suella Braverman, has openly used the language of far-right antisemitic conspiracy theories. I would say that I hope the Board of Deputies are proud of themselves, but of course they are, having met with her and decided that she's definitely a good friend to the Jews and someone who was using antisemitic language with the best of intentions. So that's alright then.
Overseas, Irish antifascists are fundraising for legal costs coming from the 2016 disruption of an attempted Dublin rally by the anti-Muslim group Pegida. And seven Russian anarchists and antifascists have been given sentences of 6-18 years for involvement in the fictitious "Network" terrorist case. Their support group suggest:
"What can you do to support the Russian antifascists and anarchists who have been tortured and imprisoned?
Donate money to the Anarchist Black Cross via PayPal (abc-msk@riseup.net). Make sure to specify your donation is earmarked for "Rupression."
Spread the word about the Network Case aka the Penza-Petersburg "terrorism" case. You can find more information about the case and in-depth articles translated into English on this website.
Organize solidarity events where you live to raise money and publicize the plight of the tortured Penza and Petersburg antifascists.
If you have the time and means to design, produce, and sell solidarity merchandise, please write to rupression@protonmail.com.
Design a solidarity postcard that can be printed and used by others to send messages of support to the prisoners. Send your ideas to rupression@protonmail.com.
Write letters of support to the prisoners and their loved ones via rupression@protonmail.com."
Over in the US, Chuck Africa, the last of the MOVE 9 prisoners, is now free. Anarchist political prisoner Eric King continues to face severe repression – after his partner published a blog post detailing various abuses and attempts at intimidation by prison staff, he was then given five disciplinary infractions for offences including not standing up despite being on the toilet at the time, and subjected to a further attempt to cut off his right to visits and phone calls with his partner. His support network report:
"We fully expect to experience more and more creative illegal action against visits and an increased attempt to hold him incommunicado. Be it denying legal visits, stacking him with shots on the order of the warden or just old fashioned violence… at this point it's all up in the air.
Eric could use any and all letters, articles, and dad jokes to help him withstand this bullshit. They all serve a dual purpose as well because every single letter shows the warden and prison administrators we are watching!
Eric King 27090045
FCI Englewood
9595 W Quincy Ave
Littleton, Co 80123"
And finally, Jailhouse Lawyers Speak, the group behind the 2018 US prison strike, are putting out a call for solidarity actions throughout August 21st-September 9th. They ask "On August 21 – September 9, we call on everyone in solidarity with the prison class struggle to organize an action, a panel discussion, a rally, an art event, a film screening, or another kind of demonstration to promote prisoners' human rights. Whatever is within your ability, we ask that you shake the nation out of any fog they may be in about prisoners' human rights and the criminal legal system (legalized enslavement).
During these solidarity events, we request that organizers amplify immediate issues prisoners in your state face, the demands from the National Prison Strike of 2018, and uplift Jailhouse Lawyers Speak new International Law Project."