Two important anti-repression events coming up in London in the near future:
On Thursday 27 February, there's a solidarity demo with the Russian anarchist and antifascist prisoners at 6:30pm outside the Russian Embassy, 6/7 Kensington Palace Gardens, W8 4QP. This event is part of the international week of action called by Crimethinc and the Rupression network.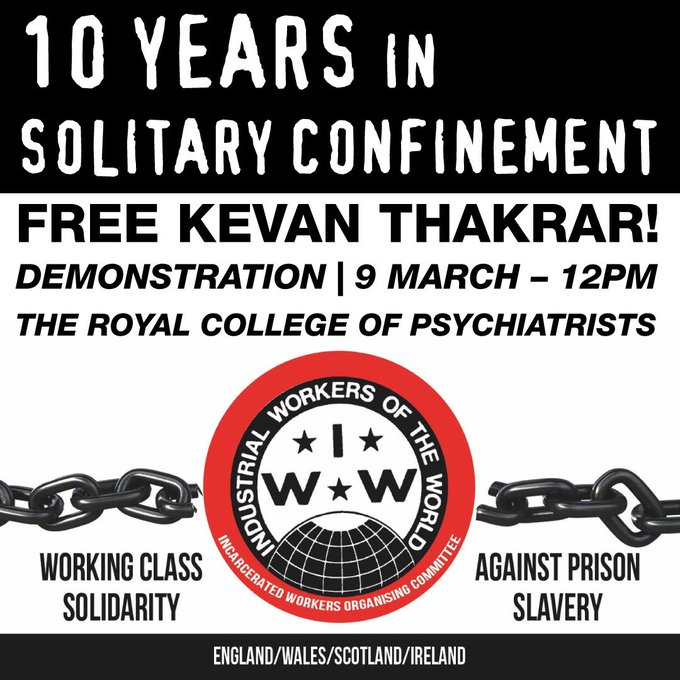 On March 9th, Kevan Thakrar's birthday, the Incarcerated Workers Organising Committee have organised a protest at the Royal College of Psychiatrists to demand that they stop providing humanitarian cover to a system that's held Kevan in solitary for ten years. In their words:
"Demonstrate to mark Kevan Thakrar's 10th year in Close Supervision Centres within the British prison system. Close Supervisions Centres (CSCs) are the most extreme form of imprisonment in the UK, modelled on the 'supermax' prisons in the United States. People held in CSCs are often kept apart from others, allowed out of their cells for only a short time each day and denied basic human contact.
Kevan is regularly held in his cell for 23 hours per day and is prevented from speaking with other prisoners. Numerous studies and papers have pointed out the severe damage solitary confinement can cause for those placed in it. As a 2006 paper in Washington University Journal of Law & Policy put it, it has 'long been known that severe restriction of environmental and social stimulation has a profoundly deleterious effect on mental functioning'. To quote from a paper in the Journal of the American Academy of Psychiatry and the Law, 'psychological stressors such as isolation can be as clinically distressing as physical torture'.
ENABLING REPRESSION
Despite all of this the Royal College of Psychiatrists has accredited some Close Supervision Centres as "Enabling Environments", providing legitimacy to these violent units.
Kevan's indefinite isolation clearly contravenes the position of the UN Special Rapporteur on torture. Join us to demand that he is immediately released from the CSC system and that the Royal College of Psychiatrists stops providing a cover for human rights abuses in the prison system.
For more information about Kevan's situation and his case, please visit: https://justiceforkevan.org/
WHAT YOU CAN DO
If you can't attend the demonstration, please write to the Royal College of Psychiatrists, 21 Prescot Street, London, E1 8BB to object to their accrediation of CSCs as 'Enabling Environments'.
Please also write to the Prisons and Probation Ombudsman to express your concern about Kevan's solitary confinement within the CSC and to urge them to respond to his letters.
mail@ppo.gov.uk
PO Box 70769, London SE1P 4XY"
And, of course, you can write directly to Kevan at
Kevan Thakrar, A4907AE
HMP Full Sutton
York
YO41 1PS
or by using http://emailaprisoner.com/
In other prisoner news, there's a new fundraiser being sent up for Alabama anarchist prisoner Michael Kimble's legal costs, Joseph Dibee, who's being held awaiting trial for alleged participation in eco-defence sabotage actions in the 2000s, was recently attacked by a nazi prisoner and could use a bit of solidarity, and it's always worth mentioning how much pressure Eric King and his partner have been under from the prison system recently. There's also an appeal to help Josh Williams, a Ferguson rebellion prisoner who needs both financial support and parole letters.
Back in the UK, there's not too much to report other than what was in my last round-up, but Freedom News have published a new and improved listing of what's going on with the Green Anticapitalist week of action, along with another one of bookfairs happening in 2020. The RMT have published a list of stations confirmed to be taking part in the "Keep Northern Public" day of action on March 2nd, which currently stands at Newcastle, Leeds, Carlisle, Manchester Victoria, Wigan, York, Sheffield, and Wakefield Westgate. Harrods security staff were due to start a strike over pay this weekend, but that's now been suspended to discuss a new offer from management. The UCU strikes are set to continue over the next few weeks, you may want to print off some copies of the rank-and-file University Worker strike bulletin to bring down to the picket lines, or some of the Autonomous Design Group's nicely-designed posters:
Finally, the Women's Strike will be happening in early March, with events in London, Bristol, Edinburgh, Liverpool and Cardiff confirmed.