Two very quick updates: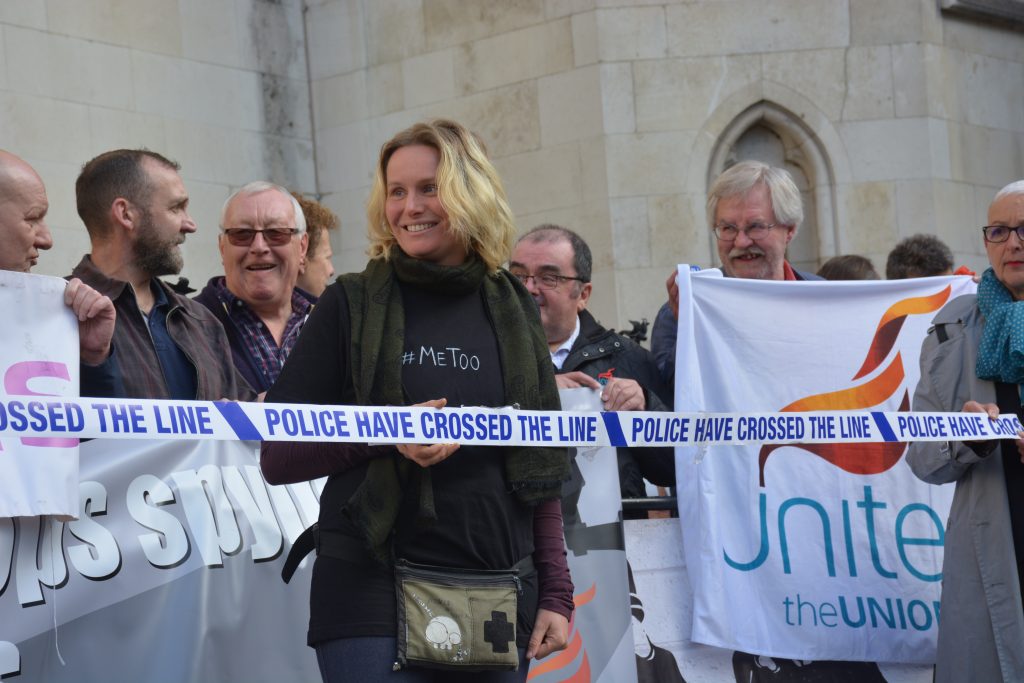 Police Spies Out of Lives and the Campaign Opposing Police Surveillance are inviting everyone to join Kate Wilson in or outside court on the morning of Thursday 27th. In their words:
"Join us outside court on Thursday 27 February 2020 in London to support Kate Wilson in the next hearing of her landmark human rights case.
Kate was deceived into a long-term, intimate relationship with an undercover police officer, Mark Kennedy. She is bringing a case to the Investigatory Powers Tribunal, Britain's special court for human rights affected by state surveillance.
Even before the full case is heard, these preliminary hearings have brought significant victories. The Met have already conceded that they violated her right to freedom from torture, inhuman or degrading treatment.
She is bringing a claim for breaches of a further five rights, and hopes the case will lay bare the workings and chain of command of Britain's political secret police."
Full details are:
Thursday 27th February at 9.30am
Royal Courts of Justice
Strand
London
WC2A 2LL
Nearest tube stations are Temple and Holborn
And that's in the morning, so there's plenty of time to get along to the Russian antifa solidarity demo later that day.
Meanwhile, on the other side of the Atlantic, anarchist prisoner Eric King could really use some help with his own legal battles:
"Eric King is an imprisoned parent, artist, poet, and partner who needs support defending himself as he faces serious federal charges from the Bureau of Prisons (BOP).
Eric is currently serving a ten year sentence in BOP for Use of Explosive Materials to Commit Arson. On September 11, 2014, Eric threw two molotov cocktails and a hammer through a window of an unoccupied Kansas City congressional building. Eric was charged in the federal court in Kansas City; in 2016 he accepted a non-cooperating guilty plea and a mandatory minimum 10-year federal sentence for the case. As part of his plea and sentencing Eric publicly and proudly acknowledged that his intent was to take direct political action in solidarity with the community of Ferguson, Missouri following the August 2014 police killing of Michael Brown, Jr.   He has been in BOP custody since he was sentenced in 2016.
Even in prison, Eric is committed to using his poetry, art, and writing for liberation and a world free from domination and oppression.
Learn more about Eric, read his writing, share his struggle here: http://www.supportericking.org
Follow Eric's support team on twitter: @SupportEricKing
August 17, 2018
In 2017 Eric was transferred to FCI Florence, part of the notorious federal prison complex in Florence, Colorado. On August 17, 2018 an Administrative Lieutenant from FCI Florence ordered Eric to attend a private "interview" in a prison storage room. BOP officers who removed Eric from the storage room heard him say that the Administrative Lieutenant attacked him and that Eric was defending himself. Officers took Eric out of the storage room and to the Special Housing Unit (SHU) where they stripped him, shackled him to a bed, and held him in isolation without ability to communicate with his loved ones or a lawyer for three days. Eric had visible injuries when he was transferred out of Florence to USP Leavenworth on August 20, 2018, and he has experienced tingling in his limbs, headaches, blurred vision, and nausea daily since August 17, 2018.
The New Federal Charge
In May 2019 Eric was indicted by a grand jury in the District Court of Colorado for a new federal felony charge of Assaulting a Federal Official. The charge is based on what the government says happened during the interview in the Florence storage room with the Administrative Lieutenant. Eric now faces up to 20 additional years in federal prison, and is fighting this charge while still in the custody of his accusers.
What will funds be used for?
All funds will be held in trust by the law office and used to pay legal costs and fees associated with defending Eric, his principles, and the rights Eric and every prisoner has to live without fear of harassment, abuse, and deprivation at the hands of the state."