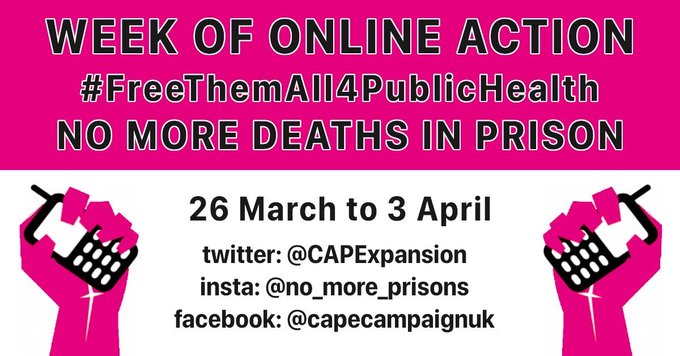 From the Community Action on Prison Expansion campaign:
As #COVID-19 spreads, and emergency preparations are made to mitigate the impact of the pandemic – CAPE are calling on the government, and @MoJGovUK, to act in the interest of public health and immediately release all people in prison and detention. #FreeThemAll4PublicHealth
We stand alongside and credit the vital work of @FreeThemAll2020, and all NY abolitionist organisers, in making the call – #FreeThemAll4PublicHealth – loud and clear. #nomoredeaths #abolitionNOW
Today we launch 7 days of online action – starting March 26th – to demand the release of all those incarcerated and detained in the UK. Join us! Call. Email. Tweet. #ReleaseThemNow
Let @MoJGovUK know that the lives of people in prison are not disposable.
Every morning for the next 7 working days – we will choose a new target to demand the release of all people in prison. Check CAPE's social media every morning for the day's actions. #nomoredeaths #emptyallcages
Prisons are – by their very nature – unsafe and unhealthy spaces, with access to healthcare already severely limited. We know that incarcerated people already face systematic medical neglect and abuse, daily.
And we know from @Health_Affairs – and countless public health publications – that prisons push people directly into the paths of epidemics. Incarcerated people are members of the public, in the midst of this public health crisis, the gov must act, urgently and effectively.
Join us tomorrow [the 26th] for the first day of action! All instructions and full guidance will be provided across CAPE's social media! Love and Rage!
You can find the fb event here.
Their first call has now been published:
Today – Thursday March 26th – we are targeting The Ministry of (In)Justice ‬
‪The MoJ have the power to free everyone and save thousands of lives.‬