A few notes and announcements of upcoming events:
In work news, the Anarchist Communist Group have been doing a really good job of chronicling the ongoing walkouts by workers across the world refusing to risk their lives by going to work as normal, and they've also helped boost the new international project Fever, which looks like a good international resource. Here in the UK, construction looks like it might be a particularly important sector, or one where bosses are particularly keen on trying to keep "business as usual" going despite the impossibility of doing it safely, so you can check the ACG twitter, blacklisted militant Dave Smith, or Reel News for more updates on that. Or the Blacklist Support Group if you prefer fb.
On the housing front, rent strikes are spreading across the US and Canada pretty impressively, the only confirmed ones I know of in the UK are among students, either in university accommodation or targeting a specific letting agency as in Bristol – see Rent Strike for more on that, and you may want to check out their impressive handbook.
In prisons, Community Action Against Prison Expansion has been leading the call to get people out here – their week of online action is now over, but you can see their calls here or on their timeline, I'm sure it's not too late to join in. There's also a huge amount of phone/email zap calls going on in the US, you can check a list here that should keep you busy for a while if you're stuck indoors with some time on your hands.
In passing, ACORN have a useful page of information about renters' rights during the crisis, and United Voices of the World also have a good page of information, news and more.
Upcoming sort-of events:
Throughout April, events will be happening for Lucasville Uprising prisoner Bomani Shakur.
Most of them are listed here, and the only extra one I'm aware of that's been added is another showing of the Shadow of Lucasville film on the 14th. See here for the letter-writing event on the 11th.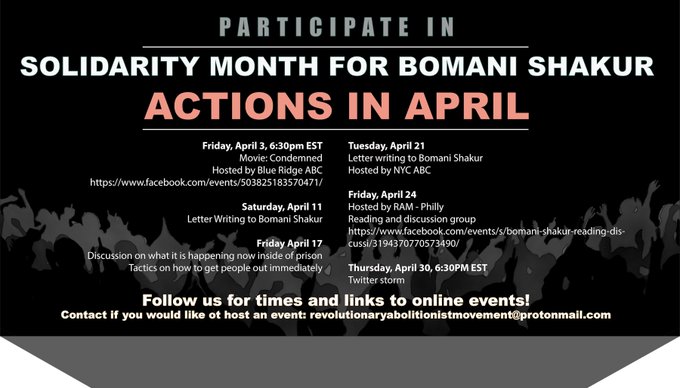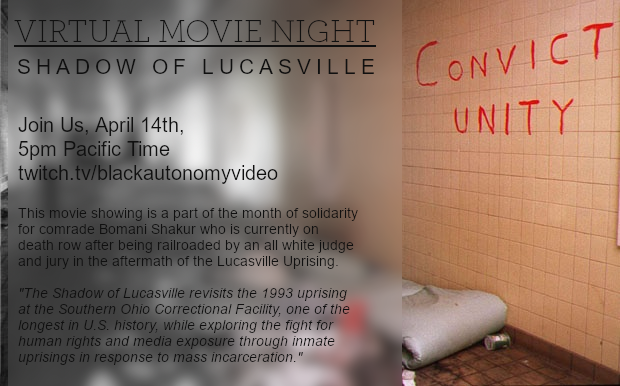 Black Rose Anarchist Federation are hosting two livestreamed discussions this weekend:
"First, on Friday, April 10th at 12:00 PM (PST) / 3:00 PM (EST) / 7:00 PM (GMT) we'll be hosting a live panel discussion with members of several tenants unions across the United States. Panelists will explore how Covid-19 has impacted their organizing efforts, what it means for so many renters to be out of work, and how we might leverage the crisis to build tenant power.
Next, on Saturday, April 11th at  12:00 PM (PST) / 3:00 PM (EST) / 7:00 PM (GMT) we'll be livestreaming a historic panel discussion on the current global health crisis, featuring delegates representing half a dozen anarchist-communist organizations around the world.
Panelists include members of Solidaridad (Chile), Acción Socialista Libertaria (Argentina), Black Rose Anarchist Federation (U.S.), Zabalaza Anarchist Communist Front (South Africa), Workers Solidarity Movement (Ireland), Anarchist Federation (Britain), and Union Communiste Libertaire (France).
All of our livestream events will take place via Zoom webinar. Space is limited, so please register below. If you'd like to tune in, but missed your chance to register, don't worry! Each one of our livestream events will simultaneously be broadcast via our YouTube channel, which you can subscribe to here: http://tiny.cc/BRRNyoutube
If you'd like to attend Tenant Power in the Time of COVID via Zoom, please register here: http://tiny.cc/tenantpowercovid
If you'd like to attend the International Discussion on COVID-19 via Zoom, please register here: http://tiny.cc/intdiscussion
Otherwise, please tune in via our YouTube livestream!"
As part of their rearranged book tour for their Class Power book, the Angry Workers of the World are running a series of Zoom calls, with the next one scheduled for Tuesday 14th:
"To recap, our 'vision' if you like is to build and grow a network of grassroots organising groups that exchange ideas and experiences together – based on stuff inside and outside the workplace. We think a more 'formal' organisation can only grow out of these grassroots experiences and political work – which takes time and a bit of patience. Only if we have a 'force on the ground' can we have some actual power to enforce 'demands.' Groups like AngryWorkers, Teesside Solidarity and the new group in Croydon who are targeting a local industrial area as their focus of activity for example, can be seen as examples of some initiatives trying to build these local bases.
For the next meeting, we thought we could focus the debate a bit more by basing it on your local areas and experiences so far.
The next meeting will be on Tuesday, 14th of April at 7:30pm.
If you want to take part and haven't received this through personal email, please email us for the link: angryworkersworld@gmail.com
We think we have to approach the question of 'class and organisation' from at least two viewpoints simultaneously – to put it bluntly: 'theoretically' and 'practically'.
The 'theoretical' means trying to understand what constitutes the current social order, the revolutionary potential of class struggle, the role of day-to-day organisational practice.
The 'practical' means how to 'get rooted' and address the question of workers' self-organisation and power strategically where we live and work.
We think that these two poles should be connected by what we could call 'workers inquiry', which means that the 'theoretical' debate and ideas are verified and tested in working class areas and on shop floors.
We think the aim for the next Zoom meeting should be to focus on the more practical side of things, as a foundation to thinking more seriously about the question of 'organisation' in future. In other words, to discuss in more detail our local conditions, the potentials and difficulties to organise a basic structure, such as a solidarity network, activities around interesting workplaces and a publication.
To that end, we've come up with some basic questions that we could all prepare answers to for the next meeting. These are:
Based on your recent local experiences of 'being part of a group' (organising around a specific issue, reading circle etc.) what were your good and bad experiences? Where did you hit a brick wall in expanding both the practical activity and its roots as well as the political horizon of the group? And where did things work really well and push things forward? In case you are in a group: What is your group's capacity for practical involvement? Can it commit to run a monthly/fortnightly solnet? Can it maintain a regular (at least monthly) presence at a strategic workplace for a prolonged period?
If 'getting rooted' means to act within 'working class areas' and around 'interesting workplaces' and 'common issues', what could that mean in your area?
Are there people you know who are also interested in engaging in a practical / theoretical process like this? If not, why do you think that is?
Have there been any interesting struggles within the local class recently? What could a fruitful organised support have looked like?"