A quick appeal that's come through from Unite: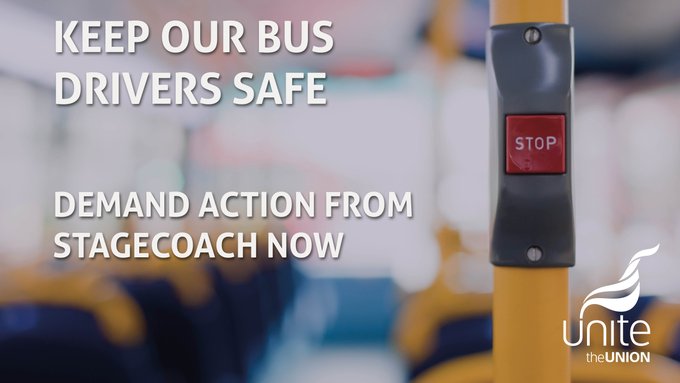 Help Keep our Bus Drivers Safe
Bus drivers are in the Coronavirus front line, making sure nurses, cleaners, NHS staff and other essential workers are able to get safely to work.
The biggest hazard for bus drivers right now is handling cash. While some bus companies have done all they can to encourage passengers to use contactless wherever possible, Stagecoach are refusing to put up clear notices in their buses explaining the risks, and asking passengers to help protect drivers.
Please help
– phone or email Stagecoach and ask them to put up clear notices about using contactless to keep drivers safe, in all buses, TODAY.
Stagecoach Yorkshire Customer Services: 01226 202555 /yorkshire.enquiries@stagecoachbus.com
If you're not based in Yorkshire, you can find your local Stagecoach contact details here: https://www.stagecoachbus.com/help-and-contact
Beyond that, Mayday Rooms have announced an online screening and discussion of the blacklisting film Solidarity for this Thursday, so an updated events listing is as follows:
Thursday 9th: Screening "Solidarity" by Lucy Parker
"We are so pleased to finally screen Solidarity!
See if you can spot the MDR locations 😉
A bit about the film:
Blacklisting in the UK construction industry impacted thousands of workers who were labelled 'troublemakers' for speaking out and secretively denied employment. Activists uncovered alarming links between workplace blacklisting and undercover policing. Solidarity follows group discussions with activists and law students who examine the case and reveal an absolute determination to obtain justice.
Trailer: https://vimeo.com/331182945
Website: www.solidarityfilm.com
RSVP fani@maydayrooms.org to be sent a link if you want to watch it and join us for a discussion afterwards in the Kitchen (https://maydayrooms.org/mdr-kitchen-forum/).
The screening is free to attend but we will be collecting donations for Akwaaba, volunteer-run social centre for migrants in Hackney. Please donate here https://www.givey.com/akwaabac19emergencyfund."
Friday 10th: Tenant Power in the time of Covid
"First, on Friday, April 10th at 12:00 PM (PST) / 3:00 PM (EST) / 7:00 PM (GMT) we'll be hosting a live panel discussion with members of several tenants unions across the United States. Panelists will explore how Covid-19 has impacted their organizing efforts, what it means for so many renters to be out of work, and how we might leverage the crisis to build tenant power.
All of our livestream events will take place via Zoom webinar. Space is limited, so please register below. If you'd like to tune in, but missed your chance to register, don't worry! Each one of our livestream events will simultaneously be broadcast via our YouTube channel, which you can subscribe to here: http://tiny.cc/BRRNyoutube
If you'd like to attend Tenant Power in the Time of COVID via Zoom, please register here: http://tiny.cc/tenantpowercovid"
Saturday 11th: International discussion on COVID-19
Next, on Saturday, April 11th at  12:00 PM (PST) / 3:00 PM (EST) / 7:00 PM (GMT) we'll be livestreaming a historic panel discussion on the current global health crisis, featuring delegates representing half a dozen anarchist-communist organizations around the world.
Panelists include members of Solidaridad (Chile), Acción Socialista Libertaria (Argentina), Black Rose Anarchist Federation (U.S.), Zabalaza Anarchist Communist Front (South Africa), Workers Solidarity Movement (Ireland), Anarchist Federation (Britain), and Union Communiste Libertaire (France).
If you'd like to attend the International Discussion on COVID-19 via Zoom, please register here: http://tiny.cc/intdiscussion
Otherwise, please tune in via our YouTube livestream!"
Letter writing for Bomani Shakur, hosted by Revolutionary Abolitionist Movement
"Get together online to write letters to Bomani Shakur
Send love and light to death row during these difficult times!
________________
How to get the link:
To avoid trolls and right wingers,
please RSVP to: revolutionaryabolitionistmovement@protonmail.com
and answer one of these questions:
1. What's the call?
2. When we hold hands at a demo, what famous Shakur quote do we chant?
3. What are your favorite numbers?
4. Or send a masked up picture of yourself in front of one your flags at home.
________________
Bomani was falsely accused of having murdered prisoners during the Lucasville prison uprising. No physical evidence connects him to the murders that took place and he was nowhere in the vicinity. He is now facing execution.
Ever since, Bomani Shakur's words have been showering our world with beautiful gifts. How could a man sitting on death row, his execution date only three years away, be the source of so much kindness and inspiration?
On April 11th, we return the message.
With this letter writing, we want to bring people out of isolation, to meet together online, to send him messages of solidarity!"
Tuesday 14th: Angry Zoom Call about local organising
"To recap, our 'vision' if you like is to build and grow a network of grassroots organising groups that exchange ideas and experiences together – based on stuff inside and outside the workplace. We think a more 'formal' organisation can only grow out of these grassroots experiences and political work – which takes time and a bit of patience. Only if we have a 'force on the ground' can we have some actual power to enforce 'demands.' Groups like AngryWorkers, Teesside Solidarity and the new group in Croydon who are targeting a local industrial area as their focus of activity for example, can be seen as examples of some initiatives trying to build these local bases.
For the next meeting, we thought we could focus the debate a bit more by basing it on your local areas and experiences so far.
The next meeting will be on Tuesday, 14th of April at 7:30pm.
If you want to take part and haven't received this through personal email, please email us for the link: angryworkersworld@gmail.com
We think we have to approach the question of 'class and organisation' from at least two viewpoints simultaneously – to put it bluntly: 'theoretically' and 'practically'.
The 'theoretical' means trying to understand what constitutes the current social order, the revolutionary potential of class struggle, the role of day-to-day organisational practice.
The 'practical' means how to 'get rooted' and address the question of workers' self-organisation and power strategically where we live and work.
We think that these two poles should be connected by what we could call 'workers inquiry', which means that the 'theoretical' debate and ideas are verified and tested in working class areas and on shop floors.
We think the aim for the next Zoom meeting should be to focus on the more practical side of things, as a foundation to thinking more seriously about the question of 'organisation' in future. In other words, to discuss in more detail our local conditions, the potentials and difficulties to organise a basic structure, such as a solidarity network, activities around interesting workplaces and a publication.
To that end, we've come up with some basic questions that we could all prepare answers to for the next meeting. These are:
Based on your recent local experiences of 'being part of a group' (organising around a specific issue, reading circle etc.) what were your good and bad experiences? Where did you hit a brick wall in expanding both the practical activity and its roots as well as the political horizon of the group? And where did things work really well and push things forward? In case you are in a group: What is your group's capacity for practical involvement? Can it commit to run a monthly/fortnightly solnet? Can it maintain a regular (at least monthly) presence at a strategic workplace for a prolonged period?
If 'getting rooted' means to act within 'working class areas' and around 'interesting workplaces' and 'common issues', what could that mean in your area?
Are there people you know who are also interested in engaging in a practical / theoretical process like this? If not, why do you think that is?
Have there been any interesting struggles within the local class recently? What could a fruitful organised support have looked like?"
Showing of the Shadow of Lucasville
Friday April 17th: Discussion about what is happening now inside of prison and how to get people out
Tuesday April 21st: Letter writing to Bomani Shakur, hosted by NYC Anarchist Black Cross
Friday April 24th: Bomani Shakur Reading & Discussion
Register in advance for this meeting:
https://zoom.us/meeting/register/vpQqfu-srz4ialODhzYKwGX2z8r7zFBKtw
After registering, you will receive a confirmation email containing information about joining the meeting.
We will be reading and discussing selected pieces by Bomani Shakur.
Background:
"In 1995, I was sentenced to death on charges related to the 1993 prison uprising at the Southern Ohio Correctional Facility in Lucasville, Ohio, even though there was no physical or forensic evidence linking me to the murders that occurred during the uprising. In fact, prosecutors actually withheld critical evidence (confessions, indictments, etc.) in the case that could have proven that I was innocent of the charges brought against me.
I recently wrote a book titled, Condemned, that gives my account of what happened during and after the Lucasville Uprising: http://www.amazon.com/Condemned-whole-story-Keith-LaMar/dp/1483961710/ref=sr_1_1?ie=UTF8&qid=1390788087&sr=8-1&keywords=condemned%3A+the+whole+story
Here is a website that helps to explain my situation: http://keithlamar.org/"
Thursday, April 30: Twitter storm for Bomani