A quick link round-up:
The UVW union's coronavirus-related know your rights guides, and particularly the one on refusing to work on health and safety grounds, unfortunately continue to be very very relevant, perhaps now more than ever.
The IWGB have launched "phase two" of their campaign in defence of medical couriers threatened with redundancy, which you can join in with by sending some emails here.
Upcoming "events":
On Saturday 16th, London IWW are holding a Q&A about workers rights and organising in the current situation. On Tuesday 19th, there's a showing "hosted" by Mayday Rooms of The Year of the Beaver, a film about the Grunwicks strike, followed by a discussion with the filmmaker. And further ahead, on Saturday June 20th, the annual Orgreave justice rally will be moving online:
"VIRTUAL ORGREAVE RALLY
Saturday 20th June 2020, 1.00pm
Zoom Link To Follow!
TACKLING WORKING CLASS INJUSTICES
UNITED AND STRONG
Every year the Orgreave Truth and Justice Campaign hold a wonderful, vibrant rally at Orgreave to commemorate the day Striking Miners were brutalised by police at the Orgreave Coking plant on 18th June 1984. This gives us all an opportunity to meet and show solidarity with comrades and friends and gather together with our magnificent display of banners and placards.
Our campaign for truth and justice this year is commemorating the 36th anniversary of the Miners' Strike and the events at Orgreave. Covid-19 Pandemic restrictions and the lockdown mean that we need to hold our Annual Rally online to keep us all safe.
PLEASE JOIN US FOR THIS ONLINE VIRTUAL EVENT AT 1 pm, 20th JUNE
The Tory response to this pandemic shows us more than ever that we need to continue to campaign together to do what we can to put pressure on the Tories, who continue with their arrogance, contempt, evasion and lies, and do not care for workers and ordinary people. Please help us and support our call for a Public Inquiry for Truth and Justice and listen to speeches from other campaigns fighting for Truth and Justice.
GET INVOLVED
Please also send photos to us of you at our previous rallies and events or send a recent photo of you wearing one of our T shirts or wearing our hats and badges or holding a banner or placard, so that we can post the images online to show your support and solidarity.
SPEAKERS include:
Chris Kitchen: General Secretary NUM
Eileen Turnbull: Shrewsbury 24 Campaign
Sheila Coleman: Hillsborough Justice Campaign
Jan Cunliffe: JENGbA (Joint Enterprise Not Guilty by Association)
Lee Fowler: Blacklisting Support Group
Judy Bolton and Yvette Williams: Justice4Grenfell
Kevin Horne: Orgreave Truth and Justice Campaign
Sal Young: NHS Worker and GMB Branch Secretary"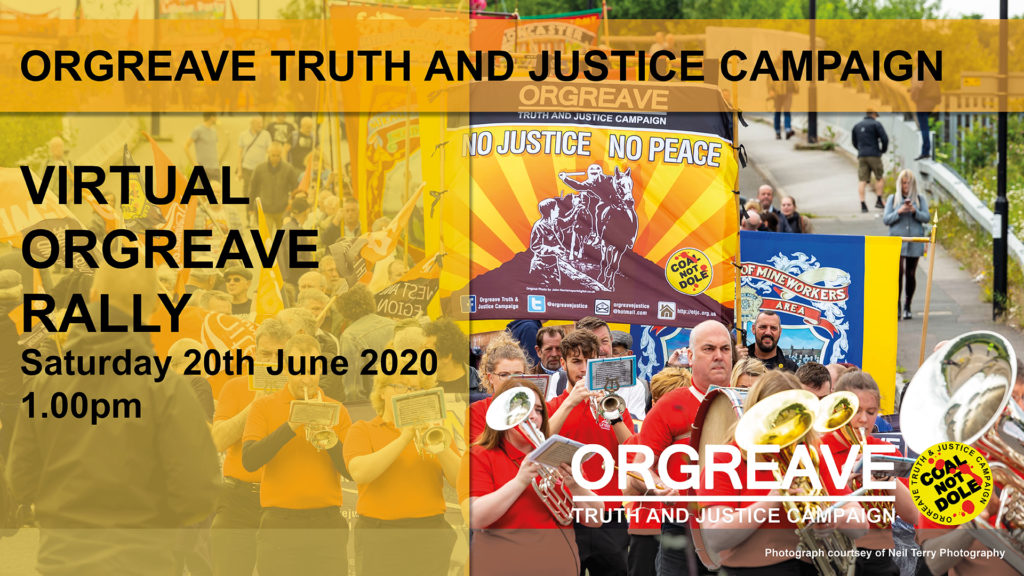 And, if you can't want till June to think about the miners' strike, you can also buy the new Miners Strike Stories film from the Reel News collective.