To start off, a quick plug for some upcoming events:
On Monday 18th, the Campaign for Trade Union Freedom are hosting a zoom about "when is it right to stop the job?" featuring speakers from the Blacklist Support Group/Shut the Sites along with various trade unions. You can register for that here.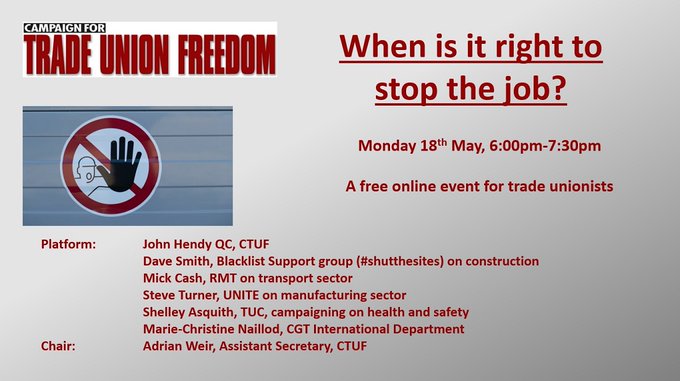 The IWW are organising a campaign in support of an ESOL teacher who's been denied furlough pay through bogus self-employment, and they're asking people to call and email in on the 18th. There's a fb event about it here.
Beyond that, as previously mentioned, on Tuesday 19th, there's a showing "hosted" by Mayday Rooms of The Year of the Beaver, a film about the Grunwicks strike, followed by a discussion with the filmmaker. On Thursday, Verso and Viewpoint host a discussion about class struggle organising in moments of crisis. And further ahead, on Saturday June 20th, the annual Orgreave justice rally will be moving online.
There's a few tenants/housing disputes kicking off that you might want to keep an eye on: down in London, the local renters union have launched a Can't Pay Won't Pay campaign, which has involved an impressive level of organisation at Dorchester Court in Herne Hill. A few write-ups have appeared in places like Brixton Buzz and Tribune.
Over in Bristol, Bristol Cut the Rent recently had a day of action against First Step Homes, and you should be able to follow the dispute on their page or the Bristol Rent Strike one. And in Manchester, the local SolFed branch have opened a dispute with Drake & Co Lettings, and are asking for help in sharing various horror stories from tenants.
Finally, the Anarchist Communist Group are also asking for whistleblowers to reach out to them about dodgy employers and unsafe workplaces:
"The ACG wants to hold employers to account during this crisis.
If your employer is putting your life at risk, by breaking social distancing guidance and fail on PPE, then please get in touch and let us know.
We are also looking for people who are willing to write anonymous articles about their work place letting people know how the working class are being treated in the workplace.
To get in touch please email: info@anarchistcommunism.org (please put 'whistleblower' in the subject line)
We will always respect your anonymity and if you choose to pass your details on to us we will never share that information without your consent."