Jalil Muntaqim, a former Black Panther/Black Liberation Army member held in prison since 1971, has been infected with coronavirus after the New York Attorney General actively chose to block a court order approving his release. One of his relatives has put together this call for his immediate release:
"My UNK Jalil Muntaqim, who is a former Black Panther and one of the longest held political prisoners in the country was rushed to Albany Medical Center from Sullivan Correction Facility due to complications from COVID-19. This is a humanitarian crisis.
On April 27th, 2020, Hon. S. Schick in Sullivan County granted Mr. Muntaqim's release. However AG Tish James appealed the judge's decision which has consequently led to Jalil being infected with COVID-19. He is fighting for his life inside Albany Medical Center.
Because he is incarcerated, my family can't get timely updates or make sure he is getting adequate health care.
This all could have been prevented if Tish James didn't appeal the Hon. S. Shick's decision to release Jalil. Jalil had the highest risk possible because he is elderly + preexisting respiratory conditions. Jalil also scores the lowest risk on the DOCCS's COMPAS.
This Thursday a Writ of Habeas Corpus will be presented to Tish James. Tish do the right thing and grant Anthony Bottom (Jalil Muntaqim) release. You claim to be the people's lawyer. If that's true, release Anthony Bottom. Enough is enough. NY Governor Cuomo,  release Anthony Bottom now.
Action item! Tweet @TishJames and tell Tish to remove her appeal and grant Jalil release this Thursday. Tweet @NYGovCuomo and tell him to commute Jalil (Anthony Bottom) sentence. Call and email both of them. You can follow this script below.
If you are getting sent to voice mail, here's a list of other phone numbers for @TishJames
office."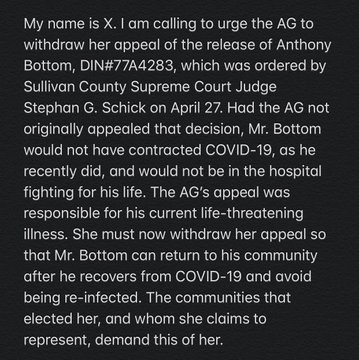 Script: My name is X. I am calling to urge the AG to withdraw her appeal of the release of Anthony Bottom, DIN#77A4283, which was ordered by Sullivan County Supreme Court Judge Stephan G. Schick on April 27. Had the AG not originally appealed that decision, Mr. Bottom would not have contracted COVID-19, as he recently did, and would not be in the hospital fighting for his life. The AG's appeal was responsible for his current life-threatening illness. She must now withdraw her appeal so that Mr. Bottom can return to his community after he recovers from COVID-19 and avoid being re-infected. The communities that elected her, and whom she claims to represent, demand this of her.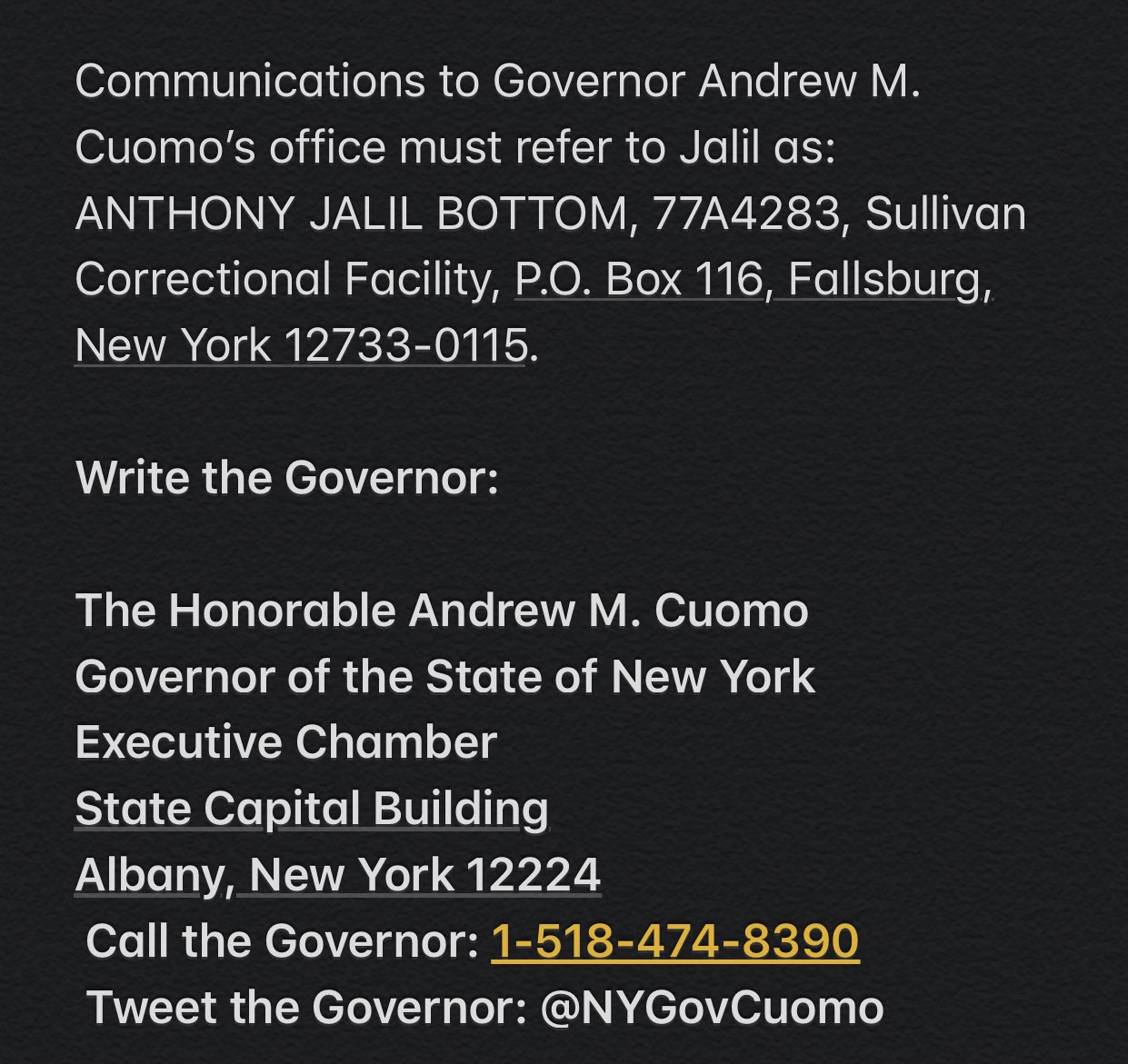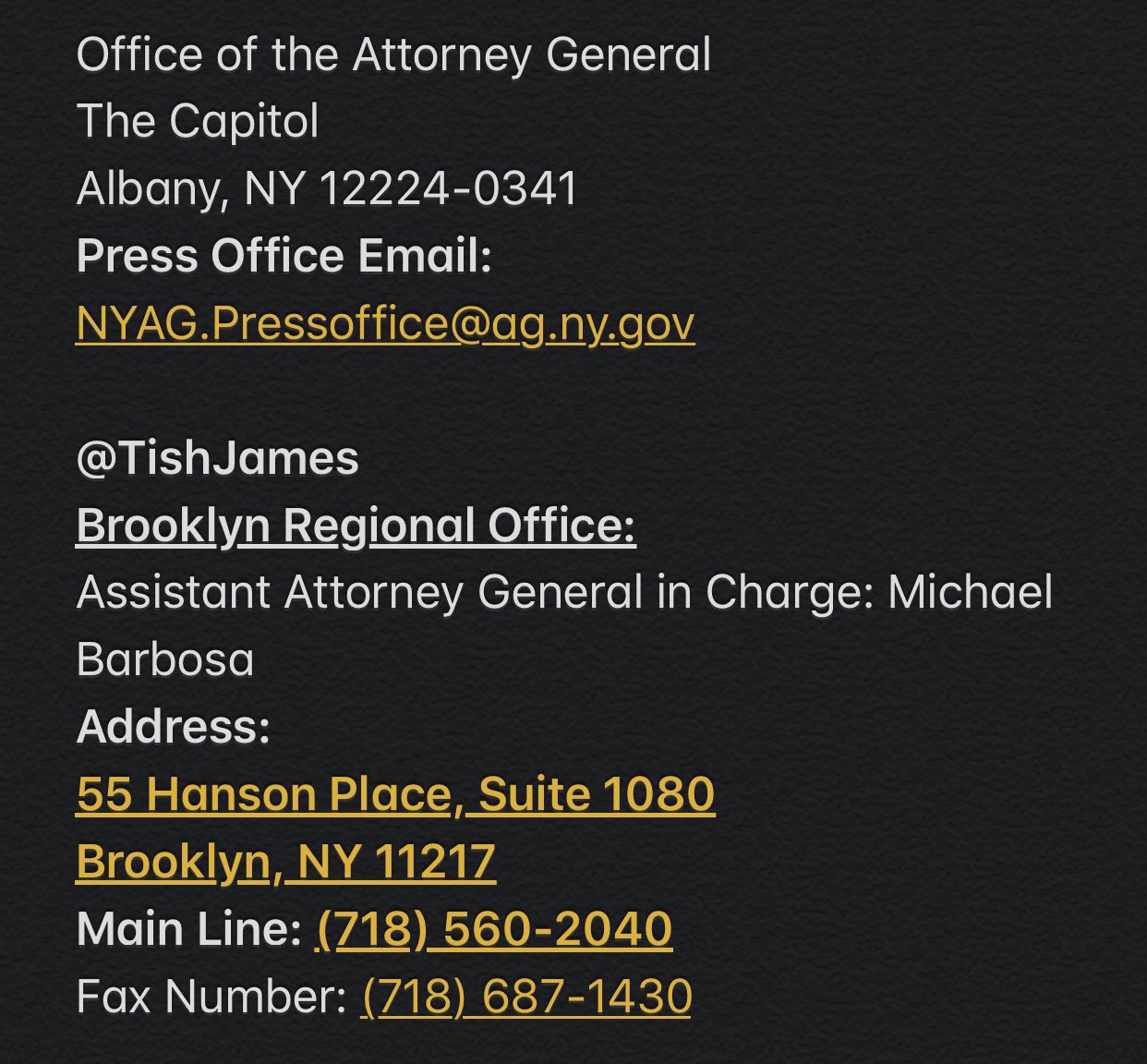 As well as emailing NYAG.Pressoffice@ag.ny.gov, there's also a contact form you can use here.