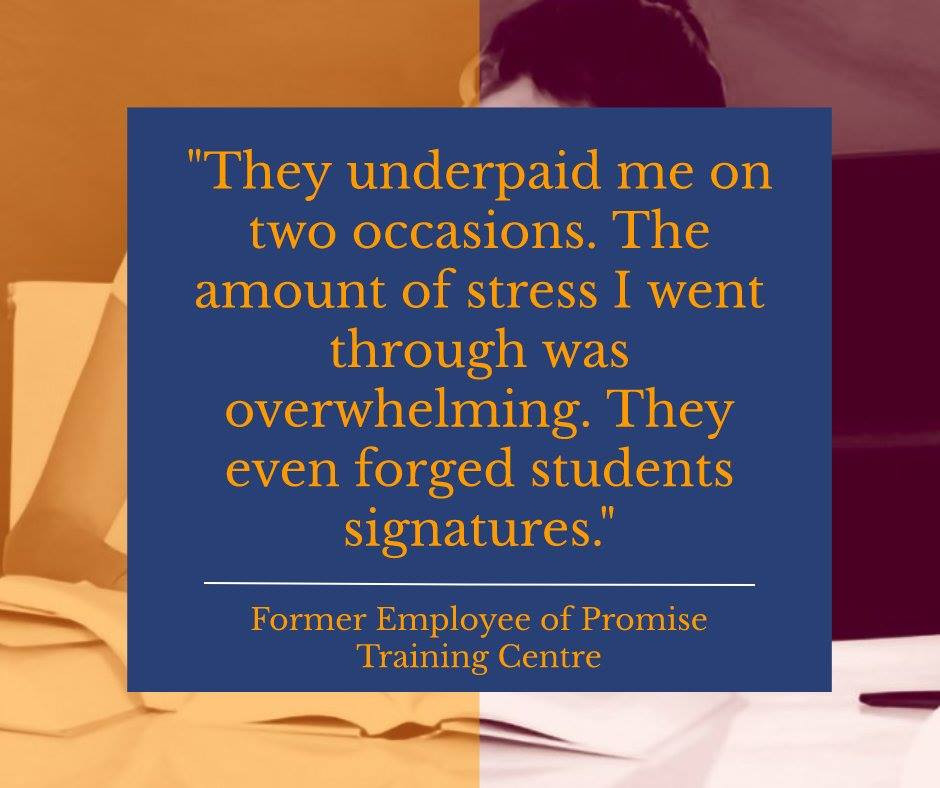 Promise Training Centre, an English academy with centres in Hayes, Harrow and Tottenham sacked Daniela at the beginning of the lockdown without any compensation, leaving her with no income at all. Promise is a subcontractor for Barnet and Southgate College, which directly supervises the performance of the teachers and the centres in general. As such, they are responsible for the work conditions at Promise.
Our previous call outs towards Promise resulted in them reporting the union to the police, so it's more important than ever to put pressure on Promise and Barnet College. We have informed the College of how Daniela has been mistreated by Promise, but they haven't taken any action to address this with Promise. Barnet College must drop the contract with Promise unless the latter pays Daniela a month's wage of compensation and the corresponding holiday pay.  Pay Daniela her dues!
You can read Daniela's personal account of how Promise mistreated her here:
What to do:
Send a few emails to Diane Sage, PA to the Principal and to Tracey McIntosh, the Executive Director of Partnerships and Commercial:
diane.sage@barnetsouthgate.ac.uk
Tracey.Mcintosh@barnetsouthgate.ac.uk
Let them know that what Promise has done is unacceptable and that the College should drop their contract with Promise unless they compensate Daniela for the way Promise mistreated her.
For example:
Hi Diane,
Promise Training Centre employed Daniela on a false self-employed contract.They didn't pay her any holidays and as soon as the lockdown started, fired her. Daniela has been left without an income and now Promise must compensate her. By allowing the mistreatment of its subcontractors' workers, Barnet & Southgate College is severely damaging its own  reputation. Make Promise pay or drop your contract with them!
Barnet College, stop working with dodgy employers! Drop your contract with Promise now!
Promise Training Centre, it's time to pay up!
Or simply:
Hi Tracey,
Promise Training Centre's harmful actions against Daniela won't be tolerated. Compensation must be paid to her, along with her holiday pay. Barnet & Southgate is responsible for the actions taken by its subcontractors, and must take action until Daniela gets what she is owed.
Shame on Barnet & Southgate College! Drop your contract with Promise now!
We would appreciate it if you could email them several times during the day.
SAY NO TO WAGE THEFT!
BARNET & SOUTHGATE COLLEGE, DROP YOU CONTRACT WITH PROMISE NOW!
PROMISE TRAINING CENTRE – TIME TO PAY UP!
When: Monday 15th of June, all day.
Other events coming up this week include the UVW's meeting with Dave Smith on the blacklist and class struggle in the construction industry on Wednesday, and then the Orgreave virtual rally and Joe Solo gig in the evening.