A few quick notes:
On Saturday 20th, the Angry Workers/Let's Get Rooted project are hosting a discussion with students and university workers from Edinburgh, London, New York and New Delhi. In their words,
"Our focus will be to debate how the university is separated from, but also part of the wider social production process and therefore of class struggle:
* Universities as capitalist enterprises and the struggles against it
* The relation between students, academic staff and campus workers
* The changed relationship between students and workers in general
* The current discontent of educated technical workers, e.g. at Amazon or Google
* How can we go beyond campus politics and relate to workers' struggles beyond being 'allies'
Comrades will report from current struggles at Goldsmith (Goldsmith Workers Action), CUNY, NYU GSOC-UAW Local 2110, Edinburgh university and the experience of the 'University Workers'/'City Notes' initiatives in Delhi.
https://citynotesinquiry.wordpress.com/.
The meeting will take place on Saturday, 20th of June, 4pm UK London time
If you are interested in participating in the debate please send us an email: angryworkersworld@gmail.com"
That day is also the date of the Orgreave virtual rally, although that's happening earlier in the day so you could do both if you have the energy.
Elsewhere, cleaners organised through the UVW union at Ark Globe Academy have recorded their bosses "offering the workers face masks and the possible payment of the London Living Wage on condition they leave their union", and now both legal and strike action seems set to follow. The UVW also continue to run a great series of weekly online talks on Wednesday afternoons.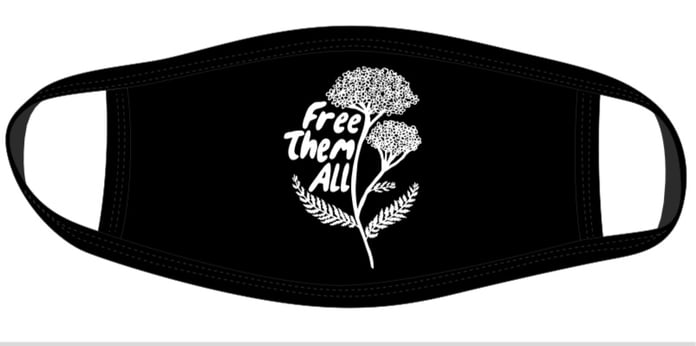 On a related note, if you would like a face mask that doesn't require you to leave your union, US prisoner Greg Curry, wrongfully convicted of murder after the Lucasville Uprising, is selling some quite nice face masks to raise money for his legal funds to get his case re-tried. If you don't need a mask but still fancy helping out, there's an option to pay for masks to be sent to protesters in Denver, or just to straight-up donate to his legal fund.