Reel News report that a dispute over health and safety and blacklisting has broken out at Manchester Airport. In their words:
"Construction workers are picketing Manchester airport over the disgraceful treatment that 70 sparks and fitters have received from JCK Limited on the T2 Transformation Project.
After the site was closed over safety concerns during the COVID-19 pandemic, JCK laid everyone off with no pay whatsoever – and SACKED a worker who expressed concern over the conditions that led to the site closure.
Other workers have been sacked for refusing overtime, and for asking what safeguards were in place when the site reopened.
The most shocking aspect of this sorry episode is that ten Greater Manchester councils – all Labour councils in a city with a Labour mayor – own 65% of Manchester Airport Group (MAG), but only three have expressed any concern at all, let alone done anything about it. So if you live in the area, please write to your local councils and MPs.
Meanwhile, construction workers will continue taking action until this is sorted out."
For more on the subject, please watch their video.
The Alliance of Middle Eastern and North African Socialists are running a 12-part series of webinars on "The Syrian Revolution: A History from Below". They describe it as:
"The Online Summer Institute titled "The Syrian Revolution: A History from Below" is a webinar series about grassroots politics, class struggles, and state violence in Syria since the 1970s up until the present. The 12-part series (June 20th – August 5th) includes presentations from activists, organizers, academics, and writers, who will discuss an array of topics ranging from grassroots movements, imperialism and anti-imperialism, political economy, international solidarity, feminist struggles, the prison system, healthcare weaponization, Palestinian solidarity, Kurdish self-determination, refugees, revolutionary art, and the future of the Syrian and regional uprisings (2011 and today).
The Online Summer Institute highlights local struggles, lived experiences, and the expertise of Syrians with diverse backgrounds (political prisoners, doctors, activists, intellectuals, artists, students, refugees, academics, etc…). Participants will discuss the history of violence in Syria, the pitfalls of a besieged revolution, and the future of a country in ruins. We are proud to say that more than half of our panelists are Syrians. (More Syrian voices would have been included but that would have meant a longer webinar series and translation from Arabic, both of which would have postponed and extended the series further.)
This webinar will challenge the mainstream, orientalist, and manichean perspectives that have come to dominate narratives surrounding the events that have transpired in Syria since 2011… The webinars propose an alternative to these hegemonic narratives; a people's history of the Syrian revolution. This type of history provides an entry point to understanding the Syrian revolution, its popular protests and local struggles. The curriculum webinar will work to center the interests of popular classes, subjugated communities and marginalized groups while providing an alternative analysis of the revolution by emphasizing progressive and internationalist perspectives."
Topics covered include "Imperialism, Anti-Imperialism and the Syrian Revolution", "Feminist Politics and the Syrian Revolution", "From BLM to Palestine and Syria: The Politics of Revolutionary Solidarity", "Capitalism and Class Struggle in Syria", "From Syria to Mexico: The Fight for a World without Borders", and much more, so if any of that sounds interesting to you you might want to check it out.
The impressive courage and militancy of the wave of protests that's swept across the US and beyond has predictably started to attract some very serious criminal charges, with around 75 people facing federal charges so far. At least three people are facing heavy legal threats in Brooklyn: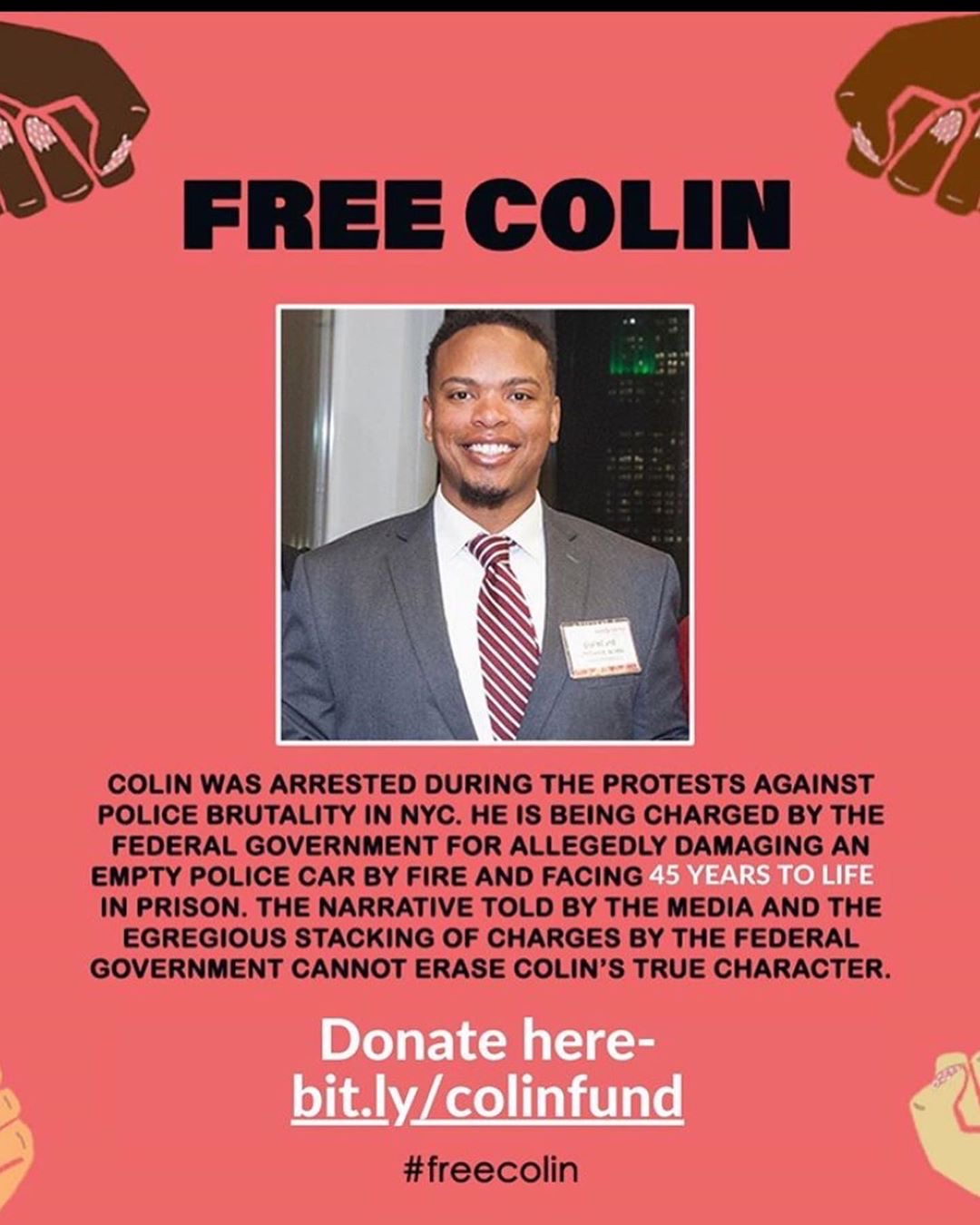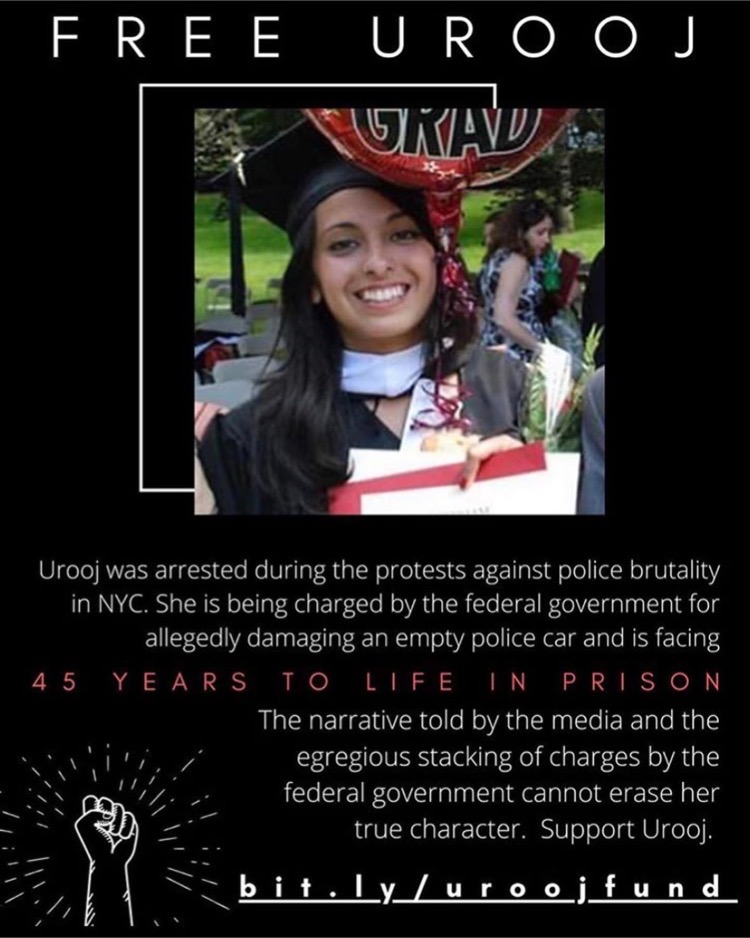 SAMANTHA SHADER 83823-053
COLINFORD MATTIS #83821-053
Uroo Rahman #83822-053 (her name is Urooj but seems to have been entered into the system as Uroo)
All are at:
MDC BROOKLYN, P.O. BOX 329002, BROOKLYN, NY, 11232
As ever, if you are writing to someone who is pre-trial, don't ask questions about their case. Discussing what a prisoner is alleged to have done can easily come back to haunt them during their trial or negotiations leading up to it… do not write anything you wouldn't want Fox News, a cop, or a judge to see.
Sam's fundraiser seems to be down, but you can donate to Colinford here and to Urooj here.
Those are the only organised defence efforts I'm aware of so far, but I imagine more will be coming soon, both over there and back in the UK.
And on that note, I appreciate times are hard for a lot of people, but if you've got any money to spare, a few ongoing fundraising efforts:
US prisoner Greg Curry, wrongfully convicted of murder after the Lucasville Uprising, is selling some quite nice face masks to raise money for his legal funds to get his case re-tried.
Ferguson uprising-related anarchist prisoner Eric King is facing trial soon and is still under incredibly heavy mail restrictions, so donating to his legal funds is one of the main ways that people can help him during this very difficult time. You can read more about his situation in his own words here.
Finally, crust legends Doom are selling an EP as a fundraiser for the international anti-fascist defence fund, or if your tastes are more towards the electronic end of things Optimo Music have just put out a compilation raising money for No Evictions Glasgow.