A few events listings:
On Tuesday 28th, minicab drivers organised through the drivers' branch of the IWGB are holding a car demo in London demanding that the congestion charge exemption for cab drivers be restored.
On Thursday 30th, a long-lost film about rank-and-file workplace organising from the 1990s is having an online premiere:
"Builders Crack: The Movie is a long lost film of rank & file union organizing amongst "self-employed" construction workers in the 1990s. The London Joint Sites Committee and their notorious fanzine, 'Builders Crack' waged a 13 year guerrilla war against gangster bosses in the building industry. The grassroots activists in this film led some of the most high profile unofficial industrial action, not just during the 1990s, but over the past 3 decades.
In 2020, union films are everywhere. In the 1990s, no-one was doing this stuff. Builders Crack: The Movie was groundbreaking and is part of your collective union heritage. The film screening and the Q&A session afterwards is intended to encourage a labour movement debate about union organising strategies needed to fightback against the attacks on jobs and wages that are bound to occur over the next 12 months.
Watch this space for more info about how to watch and participate in the discussion."
Also on online events, the Alliance of Middle Eastern and North African Socialists are continuing to run their online discussion series about the Syrian revolution and related topics up until August 5th, and the ones that have already happened should now be available to watch online.
The Hazards Campaign conference is going online this year, with an event happening on August 1st, which you can register for here:
"This unique online conference starts with an international plenary and is then followed by four specific subject workshops with brilliant speakers and experts throughout the day.
10.00 – 11.30 Plenary – with international speakers on Covid-19 and the impact on workers
12.00 – 13.00 Safety reps taking the lead! – during and after Covid-19
13.30– 14.30 Fighting inequality in health and safety
15.00 – 16.00 Mental Health and Covid-19
16.30- 17.30 Toxics Out! Air pollution, just transition after Covid-19"
In workplace news more generally, the Manchester Airport blacklisting/construction dispute continues, with rank-and-file construction workers and the Blacklist Support Group holding an action at Terminal 2 this weekend. You can read more about the background to the dispute at the Siteworker blog, and see the Construction Rank and File or Blacklist Support Group on fb, or JIB Electrician and Dave Smith on twitter, for more updates as it develops.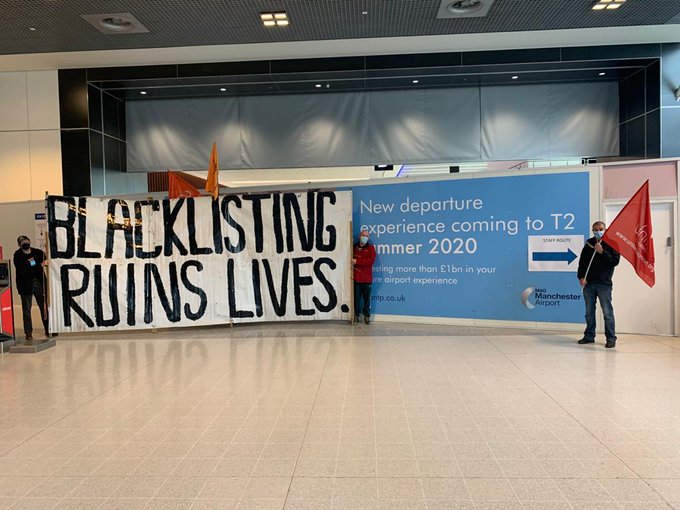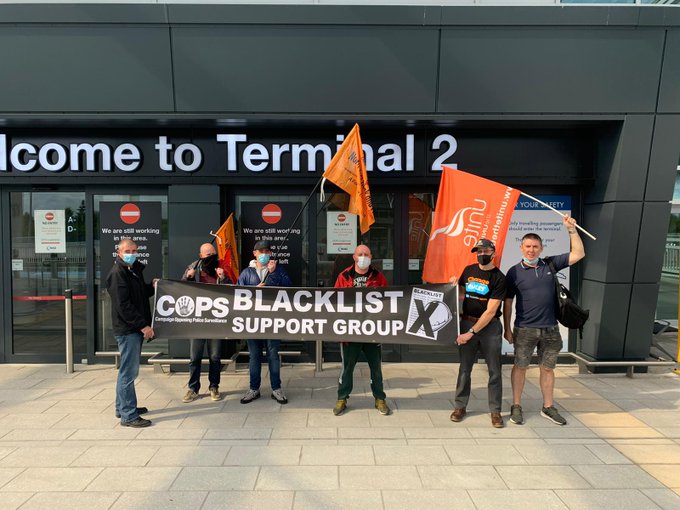 In other workplace news, there's a few updates from the United Voices of the World union, which has won victories on sick pay at the Ministry of Justice, sick pay, wages and safe working conditions at Ark Globe Academy, and sick pay for security guards at St. George's University over the last month. They're now getting ready for a massive struggle when the furlough scheme comes to an end, and are looking for people willing to get trained up to help them, as well as launching a mass consultation of their membership to decide their priorities in the months to come. The IWGB is also currently organising in a range of sectors, notably among outsourced staff at UCL, where they won some equality with directly employed staff, only to be told that this would be paid for by cutting staff hours. And the Let's Get Rooted project have another report from the ongoing Tower Hamlets council dispute, where workers have just voted for more action.
In international repression news, July 25th was the annual day of solidarity with antifascist prisoners, and if you didn't do anything to mark the date I suppose it's not too late to do something for it now. Further ahead, August 23-30th is the international week of solidarity with anarchist prisoners. As part of the preparations for that, London Anarchist Black Cross recently did an interview with Dissident Island radio, and you can read their round-up of relevant updates here. They've also shared the story of Siyanda Mngaza, a woman who's just been jailed for four and a half years for defending herself from a racist attack in South Wales. Siyanda's address is:
Siyanda Mngaza
HMP Eastwood Park
Falfield
Wotton-under-Edge
Gloucestershire
GL12 8DB
Closing out on this subject, I'd just like to plug two important fundraisers: Eric King's legal fund, helping to defend him against trumped-up charges after he was attacked by a guard, and the SF Bay View fundraiser, which helps to sustain an important piece of prison movement infrastructure and also serves as the welcome home fund for Keith "Malik" Washington, an imprisoned writer and organiser who'll be taking over as editor when he gets out in a few months.
Finally, other miscellaneous updates: if you've never read Capital but fancy learning a bit more about it, the Anarchist Communist Group have just published the first English-language print translation of Carlo Cafiero's Compendium of Capital, intended as an easier and more readable guide to the subject. They also have a few new stickers available to promote their "no safety, no work" campaign. And the Let's Get Rooted blog also has a new article up on mutual aid, social reproduction and crisis in South London.