A quick round-up of some UK and international developments:
In Bristol, the local IWW branch have been active in supporting a strike by Romanian agricultural workers. There doesn't seem to be a full write-up of the situation anywhere yet, but on social media they've reported:
"The summer of resistance continues. We have just had confirmation that 21 Romanian land workers being supported by the IWW have gone on strike today! More details to follow this evening.
The Romanian workers are striking because of terrible conditions and abuse by their employer. One of the main complaints is the accommodation provided by the company with 6-7 people in every room and new workers moved in without any covid testing before living together.
The company charges these workers £57 a day for the accomodation taken out of their wages. Along with charging for travel costs also charged by the company this leaves the workers with very little money to live on or send home to their families.
Among those workers on strike today are some who took part in the Bornheim Streik in Germany supported by our fellow union the FAU.
Due to the situation with the Romanian landworkers refusing to work they were threatened with eviction by the bosses from company housing. We were prepared for this and tonight members of IWW and supporters successfully extracted our workers from the site in a convoy of cars.
All the workers are now in safe and good quality housing away from the threats of violence and now have support from local community groups. Celebrating today's actions with victory pizzas!
Massive thank you to everyone who took part in tonight's operation to get our Romanian fellow workers into safe and decent housing! This is what "an injury to one is an injury to all" really means."
Over the border in South Wales, the local IWW are also celebrating a victory over unpaid wages at a nail bar.
In more mainstream union news, Tate staff organised through the PCS have voted for strike action, starting in the week commencing August 17th, to stop redundancies, and you can donate to their strike fund here. Outsourced HMRC cleaners on Merseyside, also organised in the PCS, are in the middle of a huge month-long strike for a living wage and equality of terms and conditions. See the Justice for HMRC Cleaners site for more on that dispute as it develops.
In Tower Hamlets, the Unison strike against attacks on council staff's contracts continues, with more strikes set for the 13th, 14th and 17th of August. You can keep up with the dispute at the Tower Hamlets Unison site, and the Let's Get Rooted project has some more critical analysis of the dispute, along with a whole range of other writing from an interesting working-class perspective.
Next, some general international calls: Bangladeshi garment workers, supported by the ICL/CIT international grouping of radical unions, have called for a month of solidarity with the workers of Dragon Sweater, which recently sacked 6,000 workers without even paying them the wages they're owed. You can find more about the campaign in general here, and the Irish IWW are planning actions in Galway, Derry, Newry, Belfast and Dublin on the 15th.
German anti-militarists are planning a mass action against the arms trade on the 28th, with a program of online events and workshops scheduled from the 17th through to the 27th.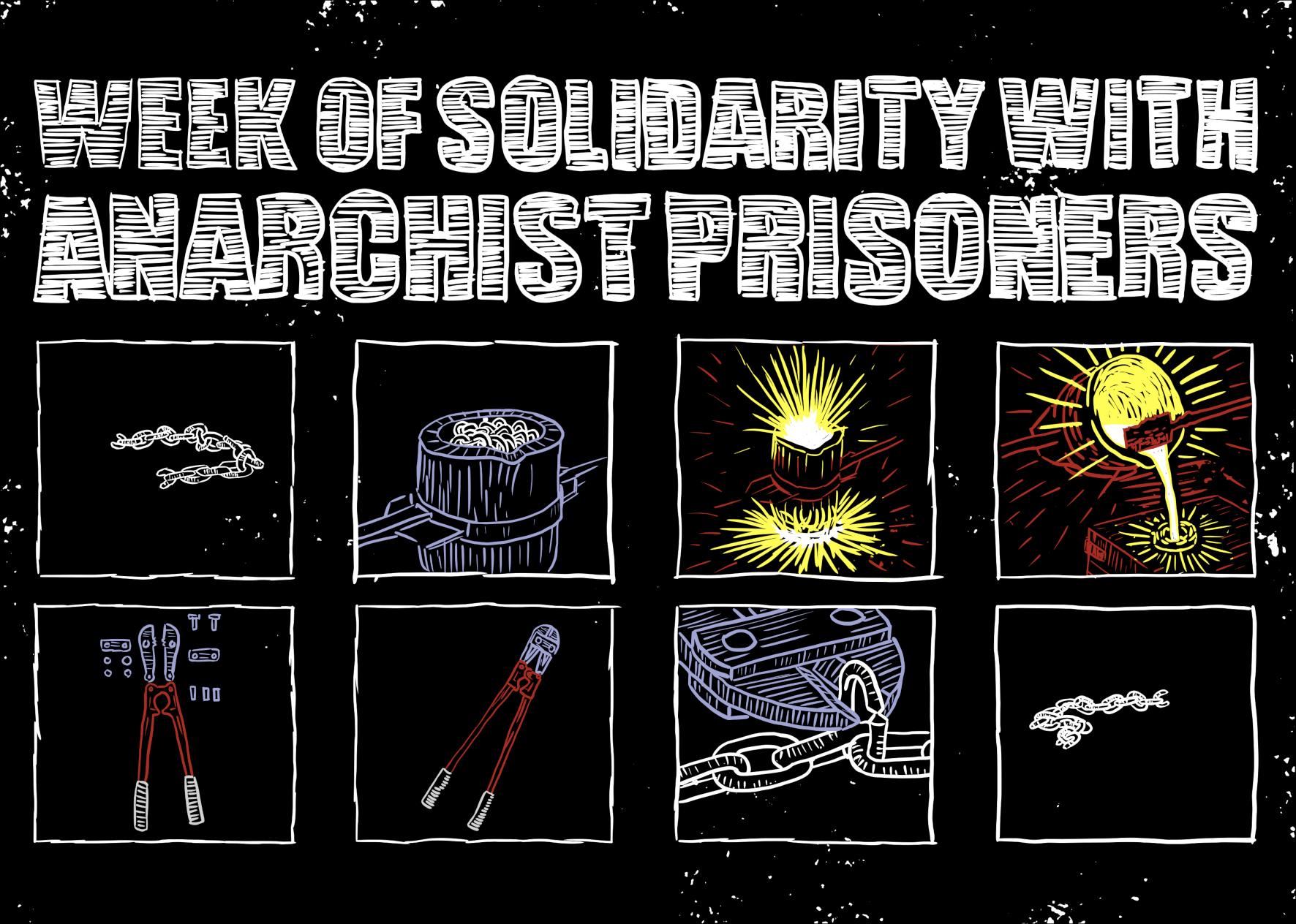 And August 23rd-30th is the international week of solidarity with anarchist prisoners, so you may want to consider doing something for that, or see if anything's happening in your area.
A few reports from specific countries:
In the US, a new site's been launched specifically to support defendants in Minnesota, where the George Floyd rebellion first kicked off. Linking things back to a previous wave of unrest, Touch the Sky, a film about "Stories, Subversions, & Complexities of Ferguson", has now been made available online to mark the 6th anniversary of that uprising. For a longer overview of the current situation in the US, Crowned Plague by Phil Neel is very worthwhile reading.
On an Eastern European note, Freedom News has updates about both the current uprising against the dictatorship in Belarus, and the vicious repression faced by queer activists in Poland. You can read more from Belarussian anarchists at their site, Pramen, or listen to an interview by an anarchist radio project from Dresden here.
Over in Lebanon, the horrific explosion has led to a renewed rebellion against the regime. Joey Ayoub's twitter is a good source of updates, the Alliance of Middle Eastern and North African Socialists website hosts a number of different statements, including some from local groups, and Freedom also have an interview about mutual aid in the wake of the disaster.
The IWW site has an appeal up asking for donations, specifically directing people to this listing of groups, and another new gofundme has just been set up for the residents of a hospital that was destroyed in the blast.
Finally, slightly further to the East, Iran is also seeing a wave of class struggle. There's an appeal for solidarity with the workers of the Haft Tapeh agribusiness enterprise, who've been on strike for months, and they've recently been joined by a huge strike wave in the country's energy sector.