A few upcoming events:
The Let's Get Rooted network, who put out a pretty much constant stream of interesting writing, are hosting an online meeting on Thursday 10th about the 1986 Wapping strike, the unofficial strike bulletin "Picket", and the use of new technology to undermine workers' power.
Recent weeks have seen notable levels of unrest at the Queens Road bus depot in North Manchester, after management attempted to impose new terms and conditions on the workers and suspended a key union rep involved in organising resistance. A public solidarity demo has been organised at the depot for Friday 11th, starting at 10:30, to coincide with the suspended rep's disciplinary hearing. A consultative ballot has now returned a 94% "Yes" vote, so strike action seems likely to follow.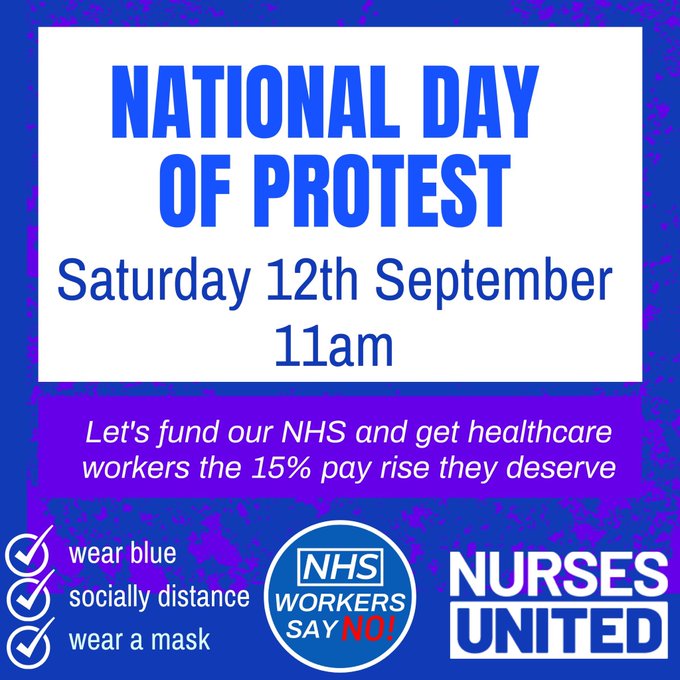 September 12th sees a mass day of protests in support of NHS staff demanding a pay rise. The full list of events is currently as follows:
Aberdeen – Castlegate https://facebook.com/events/s/nhs-workers-say-no-aberdeen-pr/1557690871080079/?ti=icl
Brighton – Hove Beach
https://www.facebook.com/events/792148558258010/
Bristol – College Green
https://www.facebook.com/events/391252255175432/
Cardiff – Cardiff Central Station
https://www.facebook.com/events/1298457870324505/
Chesterfield – Chesterfield Parish Church https://www.facebook.com/events/224434492335884/
Coventry – Swanswell Park and Pool https://www.facebook.com/events/710815502805474/
Derby – Florence Nightingale Statue, London Road, Derby https://www.facebook.com/events/926560147754323/
Dorset – The Square, Bournemouth https://www.facebook.com/events/749009199233823/
Leeds – cancelled
London – BBC New Broadcasting House
https://facebook.com/events/s/london-march-for-nhspay15/1356278494570160/?ti=icl
Liverpool – St George's Hall https://facebook.com/events/s/liverpool-protest-for-pay-just/318134892772143/?ti=icl
Manchester – Piccadilly Gardens
https://www.facebook.com/events/963967317454046/
Merthyr Tydfil – Merthyr Fountain https://www.facebook.com/events/359899265174665/
Newcastle – Royal Victoria Infirmary https://www.facebook.com/events/298632988101723/
Norwich – Chapelfield Gardens https://www.facebook.com/events/660327864580162/
Nottingham – Nottingham Market Square https://www.facebook.com/events/330271011359271/
Plymouth – Plymouth Hoe  https://www.facebook.com/events/232043288085013/
Sheffield – Barker's Pool, Sheffield https://www.facebook.com/pg/NHSworkersSayNo/events/
South Essex – Sea Life Adventure, Southend on Sea https://www.facebook.com/events/668469814017560/ 
Suffolk – A&E, West Suffolk Hospital https://www.facebook.com/events/681658349101326/
Swansea – Castle Gardens https://facebook.com/events/s/swansea-nhs-staff-say-no-prote/291716145445481/?ti=icl
Wigan – Royal Albert Edward Infirmary https://facebook.com/events/s/wigan-protest-for-fair-pay/643774363237776/?ti=icl
In addition, there's a few other events going on that day: as you may have seen, Debenhams workers in Ireland have begun occupying stores in response to mass layoffs without a decent redundancy package. You can follow the progress of that dispute on their facebook page here. Debenhams staff in the UK haven't got up to anything quite as dramatic yet, but workers in Manchester have started holding regular protests every Saturday outside the city centre store there.
Down in London, there's also a march by the Tate staff who've been striking against cuts and job losses there, and museums workers in Liverpool are also holding their own protest that day in solidarity with the dispute and defence of their industry. You can also support the Tate dispute by donating to their strike fund here, and emailing Tate bosses using this template.
Next week, there's another call for solidarity with a victimised union rep, this time with Tony Smith, a Unison rep at the FCC recycling site in Hull who's been unfairly sacked as retaliation for his role in a recent dispute over sick pay there. Hull trades unionists will be demonstrating at the FCC site on Tuesday 15th, the day of Tony's appeal, and are also asking that people share this poster to raise awareness of the issue.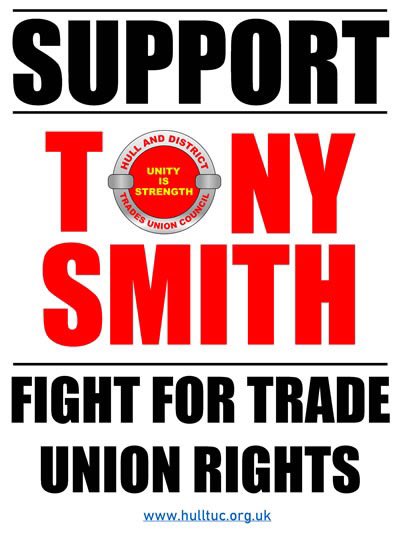 On the 17th, the Orgreave Truth and Justice Campaign are hosting a discussion on "Music, Art and Activism: Cultural Creativity and the Miners' Strike".
Over in Wales, family and friends of Siyanda Mngaza, a young black woman wrongfully imprisoned for defending herself from a racist attack, are continuing their campaign to free her. On Saturday 19th, they'll be holding a protest at Brecon police station, where she was held for 20 hours after being arrested by police who didn't detain anyone else involved in the incident, and on Sunday 20th, they're taking the campaign to Birmingham, where Siyanda was born and lived as a child.
Considerably further ahead, the Manchester & Salford Anarchist Bookfair will hopefully be happening on Saturday 28th November, and the Anarchist Communist Group should be holding a "Class Not Nation" event on December 5th, hopefully as face-to-face in-person events but we'll see how lockdown and that goes.
In other news, the No Safety No Work campaign now has a website up and running. Stickers and leaflets can be ordered by emailing safereturn@riseup.net.