A few workplace notes:
Deliveroo couriers in York and Sheffield have taken industrial action this week, refusing to handle orders from Five Guys in York and Wagamama's in Sheffield.
From the IWGB write-up: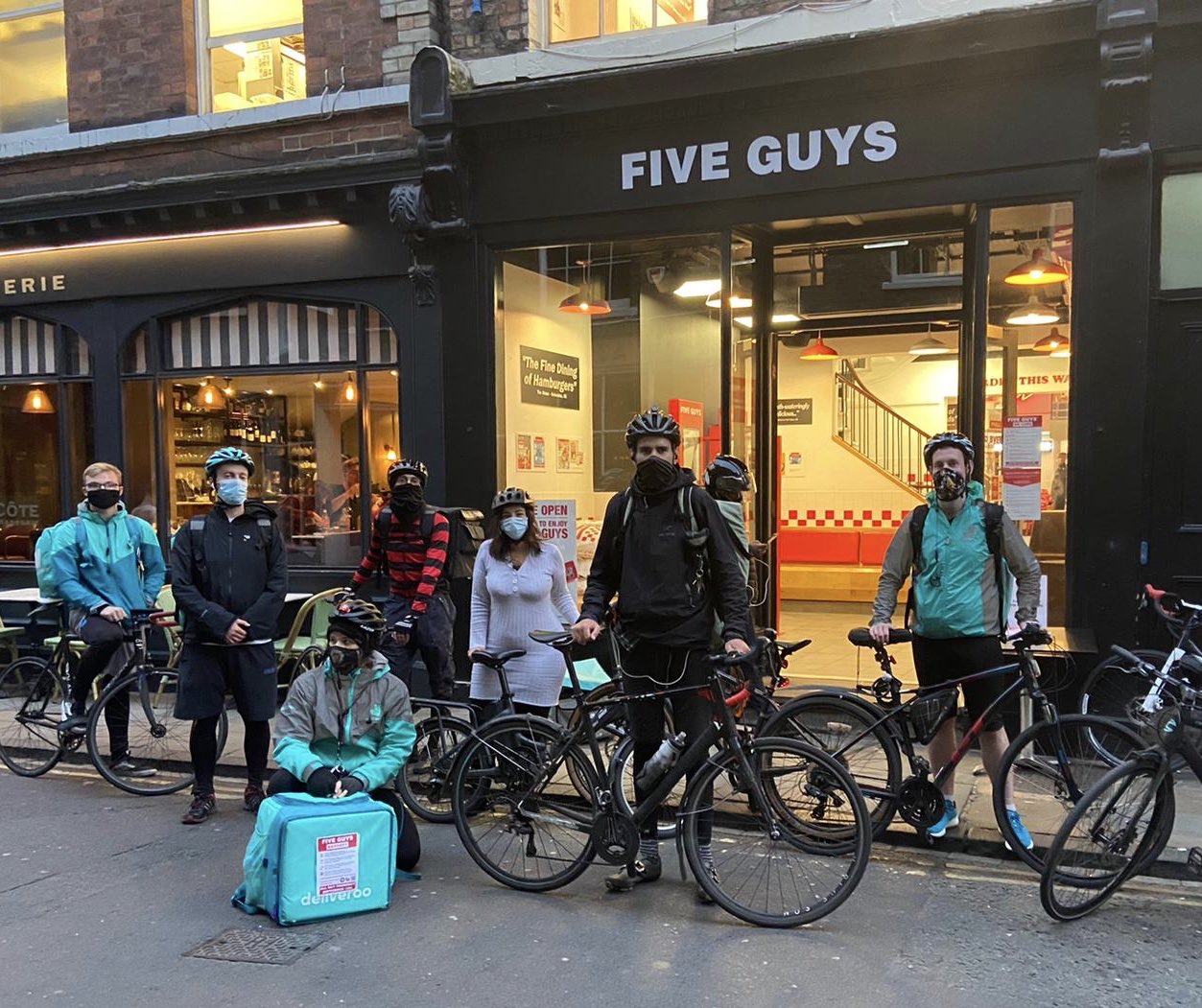 10 September: Deliveroo orders in Sheffield and York will be disrupted today as couriers boycott two of the delivery platform's most popular restaurants in response to unfair treatment and plummeting pay.
Sheffield couriers will not be accepting Wagamama deliveries from 7pm until close at 10pm. They are demanding:
The reinstatement of Sheffield courier Khalid Kalil who was dismissed by Deliveroo on bogus grounds.
A living wage after costs.
Fair treatment and a fair process around terminations.
York couriers will not be accepting Five Guys deliveries from 11am until close at 11pm. They are demanding:
An end to excessive waiting times at Five Guys, which some riders have said can be as long as 40 minutes.
For Deliveroo to pay for the time couriers spend waiting to receive the delivery after they have accepted the order.
Wagamama and Five Guys are among Deliveroo's biggest clients. In 2019 Wagamama made over £40 million in sales through Deliveroo, according to IWGB estimates (1). Meanwhile, Deliveroo has said that Five Guys burgers are among the most popular dishes ordered by its customers in 2019 (2).
Dee Uddin, Deliveroo courier and chair of the IWGB Couriers and Logistics branch Sheffield committee said: "We used to be able to make minimum wage but now it has become impossible. I have to work as much as 12 hours to make just £100 and that's before you take into account my car payments, petrol, insurance and all my other expenses. On top of it all, it seems now they are just booting riders off the app for the fun of it. Khalid was one of the hardest working couriers out there and they just sacked him without giving him any evidence or a chance to appeal. Deliveroo and the big name restaurants are making millions while the riders are being treated like disposable waste."
Cristian Santabarbara, Deliveroo courier and coordinator of the IWGB Couriers and Logistics branch York committee said:  "Five Guys is making riders wait on average fifteen and as much as forty minutes for an order. So in some cases riders will only be making one order in an hour and earning less than four pounds. How are you supposed to raise your children or pay your rent on that kind of money? If Five Guys wants to spend hours making each order, polishing each burger and individually slicing each onion with a precision knife, that's fine, but they should demand that Deliveroo pay for our waiting times. What they can't do is continue to profit off the back of a hyper-exploited workforce and not expect there to be some kind of reaction."
Alex Marshall,  IWGB Couriers & Logistics branch chair said: "Deliveroo couriers have been applauded by the public throughout the pandemic for their role as key workers, while their working conditions have gone from bad to worse. They are putting their lives on the line for less than minimum wage and are being terminated for bogus reasons without any evidence nor an opportunity to prove their innocence. We need to emerge from this pandemic with a renewed respect for key workers, yet Deliveroo and its large restaurant clients are treating them as more disposable than ever"
For more information on the situation as it develops, you can see the national IWGB Couriers & Logistics Branch twitter or fb, and for more local updates, the South Yorkshire Couriers Network are on twitter and have their own blog, and the IWGB York Couriers are on both twitter and facebook.
Up in Glasgow, street cleaning and waste collection workers have walked out in a wildcat strike against the council's attempt to phase out the agreed lockdown working arrangements while the pandemic is still very much going on.
In Manchester, it seems likely that the Queens Road bus dispute, with bus operator Go North West trying to "fire and rehire" the workforce and victimise any union reps involved in organising resistance, is going to continue to escalate. As well as staff having voted for strike action in a consultative ballot, Unite is promising an international campaign against the Go Ahead group, and this week has seen several days of early morning blockades of the depot, with police having to break protests up to get buses through.
Over in Merseyside, Liverpool Solidarity Federation have entered into a dispute with Formby Hall Golf Resort and Spa after a worker was sacked for raising health and safety concerns. If you're aware of anything similar happening near you, you may wish to report it to the No Safety No Work campaign.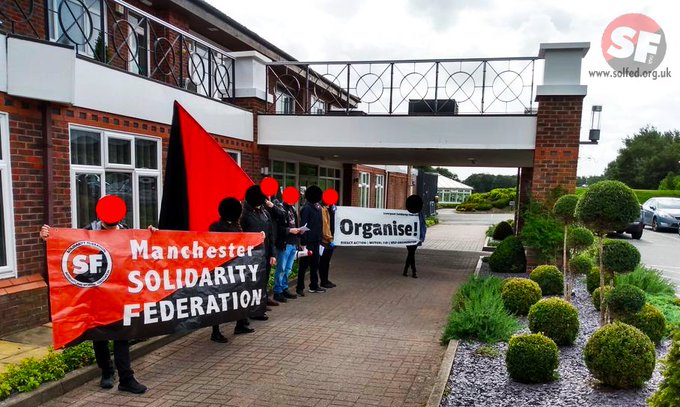 In other news, Freedom is continuing to provide valuable coverage of a range of issues, including housing with a guide for new squatters and how to challenge a Section 21 eviction notice. They've also published an analysis of the ruling class response to recent Extinction Rebellion actions and what that says about the situation more broadly, and have a guide to anarchist prisoners connected to the ongoing uprising in Belarus.
On that international prisoner solidarity note, I'd like to encourage anyone who hasn't done it already to send an email or two in support of Black liberation prisoner Ed Poindexter's clemency campaign.
Finally, two more upcoming events to add to the listing from my last post, lockdown permitting:
On October 4th, Queer Support for Migrants are demonstrating at the Mitie-run detention centre at Manchester Airport, and on the 10th-12th, there's a broader callout for a weekend of action against the hostile environment.