A quick round-up of repression-related news across a few different countries:
In the UK, MI5 has been involved with a major police operation against dissident Irish Republicans, which seems to involve straightforward entrapment against at least some defendants.
According to a statement from Scotland Against Criminalising Communities:
"It was said in court that Issam attended an alleged meeting of the New IRA in Omagh on 19 July. The meeting was bugged by MI5.
Issam's lawyer claimed that his client had been "pestered" into attending the meeting – which he believed would be a public meeting with an "exclusively political purpose" – by an MI5 agent who has been named in court as Dennis McFadden.
Issam says he gave the meeting an update and political analysis of the situation in Palestine. He has had a political connection with Saoradh for several years and has spoken at the Saorah ard fheis.
Issam's lawyer says his client was entrapped. Similar claims have been made for other defendants.
According to The Irish News, Issam says he was lured to Belfast after he applied to have his daughter's passport renewed. He says he received a message from the passport office telling him to pick his daughter's passport up from an office in Belfast despite there being a passport office in Glasgow.
Around this time Mr McFadden contacted him and asked him to attend a public meeting in Belfast to speak about Palestine.
When Issam arrived in Belfast on July 17 with his four children McFadden met him at the port and took him to a house that McFadden had rented for him. Two days later McFadden arrived to take him to the public meeting in Belfast, but instead took him to the alleged New IRA meeting in Omagh.
Dennis McFadden is originally from Glasgow and appears to have worked undercover in Northern Ireland for almost ten years. He was apparently a friend of leading Provisional IRA activist Tony Catney, who died of cancer in 2014. McFadden's relatives regularly hosted Celtic fans travelling to Glasgow for matches.
Dennis McFadden has now disappeared. According to Saoradh, his family say they are disgusted by his actions and have refused attempts by MI5 to take them into protective custody.
MI5's activities are always focussed primarily around protecting the interests of the state rather than protecting the public or upholding the law. Its involvement in a criminal case is therefore always a cause for concern. The allegations surrounding its role in Operation Arbacia are particularly troubling and throw into question the legitimacy of the associated prosecutions.
Comment on the substance of these cases is inappropriate while legal proceedings are live. However, SACC has consistently campaigned for the repeal of Britain's anti-terrorism laws and, pending repeal, for the laws not to be used. We believe that the best way to deal with politically motivated violence is through the ordinary criminal law. We are therefore calling for charges under anti-terrorism legislation against all the Operation Arbacia defendants to be dropped.
There are now far more terrorism offences on the statute books than there were at the height of the conflict in Northern Ireland. When the "temporary" Prevention of Terrorism Act introduced after the Birmingham pub bombings in 1974 was replaced by the Terrorism Act 2000, the change was widely viewed – despite the disturbingly broad police powers created by the 2000 Act – as reflecting a diminution of the terrorism threat in Northern Ireland and the normalisation of political life there following the Good Friday agreement. We are alarmed to find that the UK's contemporary constellation of anti-terrorism laws – all built on the Terrorism Act 2000 – are now being used to facilitate a major intervention by UK state forces into political activity in both Northern Ireland and the Republic of Ireland and that this is already impacting on political activity connected with Palestine.
We are deeply concerned at the effect that MI5 activities and Operation Arbacia may have on legitimate political activity. We agree with Saoradh that the jailing of Operation Arbacia defendants amounts to internment by remand, and we hope that the defendants will be granted bail while the courts deal with these troubling cases."
The defendant Issam Hijjawi Bassalat has launched a hunger strike, which has been supported by various other Republican prisoners, and the Palestinian prisoner solidarity network Samidoun is organising ongoing support for him and the other defendants.
Also in the UK, a new short (24 minutes or so) documentary, Dangerous Associations, is now available to watch online. "Building upon the work of Becky Clarke and Patrick Williams, 'Dangerous Associations' is a new documentary film that shows the gross injustices in the criminal justice system. Created by filmmaker Colin Stone, and featuring spoken word artist Reece Williams, the documentary highlights the travesty of joint enterprise, and the greatly important work of JENGbA and the Manchester NGBA (Not Guilty By Association) family group."
The Belarus Anarchist Black Cross have posted a quick guide to a few ways people can show solidarity with the ongoing uprising there:
"There are many different ways to provide support here and now. Send us photos and videos of solidarity actions – they support the morale of your comrades in prison and outside. You can send them by mail to belarus_abc@riseup.net or by telegram http://t.me/belarus_abc.
In addition, we continue to raise money for the repressed. At this point you can donate through paipal and bitcoin:
Bitcoin: 1CcxWEswKjXZgXQCds5KcHfemzrAASVbuv
Paypal: https://paypal.me/abcbelarus or belarus_abc@riseup.net
You can order shirts in solidarity with ACK-Belarus:
* https://black-mosquito.org/en/freedom-is-not-given-its-taken-abc-belarus-soli-t-shirt.html
* https://solidarityapothecary.org/solidarity-is-peoples-self-defence-fundraiser-for-abc-belarus/
German comrades released this assembly of solidarity with our uprising, the funds from the sales of which will go to the ABC. There are a lot of cool groups, including a couple of Belarusian ones. Listen, download and keep fighting for free Belarus! https://rauditumsoli.bandcamp.com/releases.
We would like to remind you that you can write to the anarchists through a form on our website. We will print it out and send it ourselves. If you want an answer, please give us your return address. https://abc-belarus.org/?page_id=579.
Help Alexander Franzkevich*, accused of organizing mass riots:
PayPal: grazyna.malkiewicz@wp.pl
*ABC-Belarus provides critical support to Franzkevich. Read more https://abc-belarus.org/?p=13083."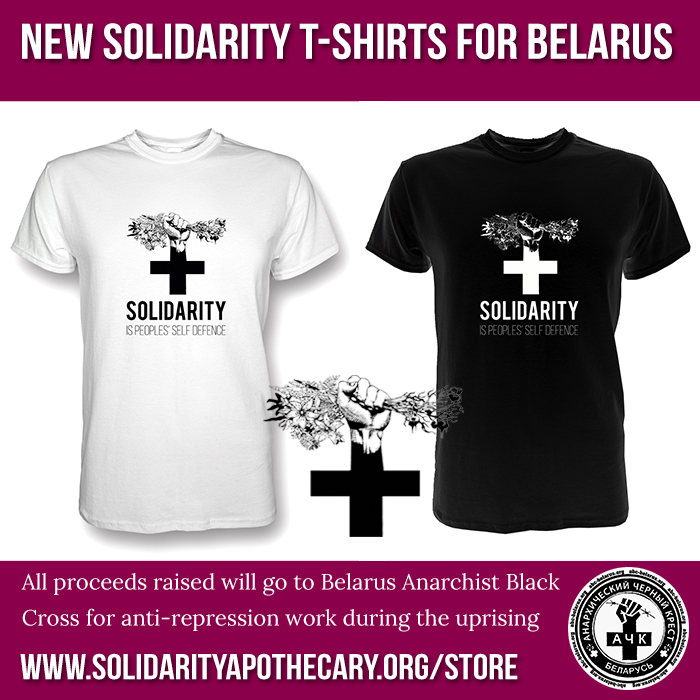 In Czechia, the "Fenix 2" court case targeting anarchists continues after the first Operation Fenix collapsed. In Greece, defendants are facing trial on charges of having participated in resistance to the eviction of a squat in Exarchia. In Spain, Rodrigo Lanza, a Chilean anarchist convicted of murder after being attacked by a fascist, has had another round of new court dates. In Italy, there are a range of trials arising out of various state operations targeting the anarchist movement:
"From 2019 to today the Italian State has carried out many repressive operations and inflicted a series of restrictive measures on anarchist comrades, limiting their freedom of movement and forcing them to remain within the limits of their city or to move away from the city or region where they reside.
As recipients of these kind of minor measures, together we want to relaunch our solidarity with the more than 200 comrades involved in the various trials in Italy that are starting this September and that shall continue throughout the autumn.
In particular, the appeal trial of the Scripta Manent Operation will resume at the beginning of September: this trial involves 5 comrades who have been in prison for 4 years (two of them for 8 years) and which has resulted in 20+ years of sentence in the first grade.
We are anarchists subject to restrictive measures following a series of investigations that have crossed the Italian peninsula in the last year and a half.
They would like to isolate us, but they cannot. They would like to prevent us from supporting our comrades in prison, but their repression can only strengthen our solidarity.
With these various investigations, measures and prison detentions they want to wear us out and divide us, but we remain firm in our ideas and our relations, also thanks to the strong and sincere solidarity that has never failed us and that is increasingly under attack in the courtrooms…
We don't intend to bow down to their repressive strategies and we reaffirm our full solidarity and complicity with all the anarchists who will be on trial from September: we stand side by side with the comrades under investigation for the Scripta Manent, Panico, Prometeo, Bialystok and Lince Operations, with the anarchist comrades Juan and Davide and with those who will be tried for the Brennero demonstration; we assert our solidarity with Carla, an anarchist comrade arrested in August after living more than a year as a fugitive, following the Scintilla Operation."
Updated addresses for some of the defendants from Operation Bialystok can be found here.