A few recent notes and upcoming events:
The No Safety No Work campaign have had a few updates recently, including a short guide on how to organise for safe workplaces, and a report on an action by staff at the University of Bradford over the provision of screens.
At SAGE nursing home in North London, cleaners and care staff organised through the UVW union are balloting for action over pay, sick pay and breaks.
Some SolFed groups have produced some really useful resources this year, see in particular the housing resources collected by Southampton SolFed and Liverpool SolFed's "stuff the DWP don't want us to know about universal credit", along with their coronavirus-specific guides.
A widespread hunger strike among Republican prisoners against the treatment of Scottish-Palestinian doctor Issam Hijjawi Bassalat has now ended after Dr Hijjawi was released from solitary confinement. You can check Scotland Against Criminalising Communities or Samidoun for more updates on Dr Hijjawi's case as it develops.
The Tate strike has now been called off after 42 days, as "union members have voted in favour of suspending strike action from Thursday the 1st of October pending finalisation of the details of an offer, which includes improved terms and redundancy for Tate Commerce workers affected by the restructure." I've also heard a rumour that the Go Ahead/Queens Road bus dispute has ended after the company dropped plans to "fire and rehire" the workforce on worse contracts, but haven't been able to find public confirmation anywhere yet.
Following the tragically young death of Manchester-based organiser Josh, local antifascist group 0161 are arranging a flower display for his funeral: "We will be creating a large flower display for his funeral, donations welcome via Paypal at info@0161festival.com, anything extra will go directly to his family."
Upcoming events: there's a range of events happening throughout early October under the banner of "Solidarity Knows No Borders: Weekend of Action Against the Hostile Environment". This has already started with an event at the Manchester airport detention center, and will continue on Wednesday 7th, with a national day of action for international students, although I'm still not sure precisely what that will involve and where – hopefully more details will be confirmed over the next day or so.
On Thursday the 8th, Partisan Collective in Manchester will be holding an online discussion of the Angry Workers "Class Power" book. Also, the campaign to reinstate sacked IKEA rep Richie Venton has been continuing to hold protests at various stores, and they will be holding an online "public rally" event on the event of the 8th.
On Friday 9th, there's a vigil at the Oldham factory of the arms dealers Elbit.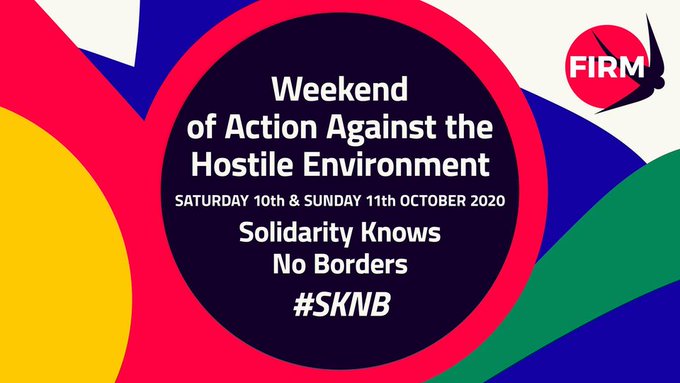 On Saturday 10th, Solidarity Knows No Borders events will include banner drops in Hastings, and protests against the hostile environment in Merseyside, Manchester, Bristol, and Wellingborough. That weekend will probably also see more protests for the IKEA/Richie Venton and Debenhams redundancy disputes, and there's another protest against Elbit's arms dealing in London.
On Sunday 11th, the action will continue with Solidarity Knows No Borders events in Cambridge, London, and Sheffield. There's also an international "memorial carnival" being organised in memory of David Graeber, which will be mainly happening on the 11th, so you might want to have a look at that if that's of any interest to you.
On Monday 12th, there will be in-person vigils in memory of those lives lost to the hostile environment in Sheffield and London, and online vigils organised by people in Sheffield and Merseyside. The International Workers' Association are also calling for the 12th-18th to be marked as an international week against unpaid wages.
On Thursday 15th, the Let's Get Rooted network are hosting an online discussion with comrades from Sao Paolo in Brazil, on issues such as the defeat of the left and the rise of Bolsonaro, with particular focus on the current situation since the covid crisis, the comrades' experiences with self-organised struggles, from schools and call centres to a recent national strike of delivery workers, and the question of how these struggles relate to the building of a wider political network. On the 19th, people who allegedly took part in a recent occupation of an Elbit site will be appearing in court in Stafford, so there'll be a protest outside supporting them.
Further ahead, this year's United Friends and Families Campaign memorial event for the victims of state violence will be happening online, with organisers asking for contributions to be sent in by the 20th, and the event itself happening on the 31st.