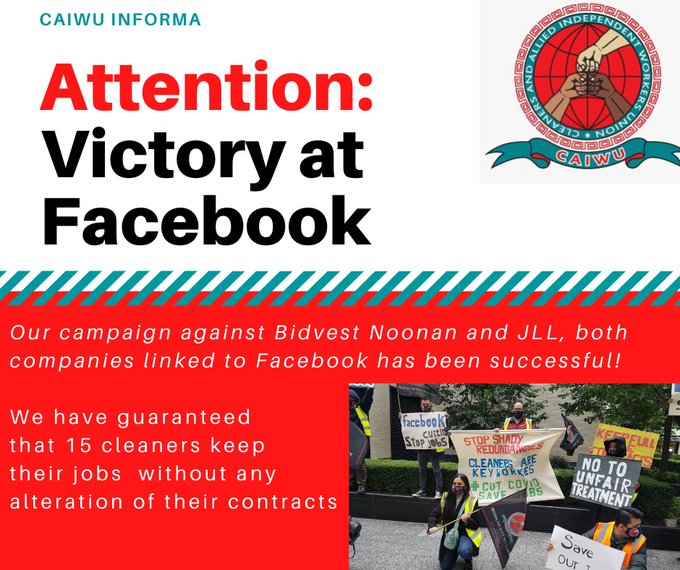 The struggle over cleaners' jobs at Facebook has ended in victory. Grassroots cleaners' union CAIWU report:
"We are pleased to say we received an email on Thursday evening from Bidvest Noonan informing us of their decision not to proceed with their restructuring plans.
This means that all the affected cleaners will revert to their previous roles with terms and conditions unaffected.
Sincere thanks to all who supported the cleaners in any way, however small. Your contribution was vital to this amazing success.
More to follow…
Solidarity!"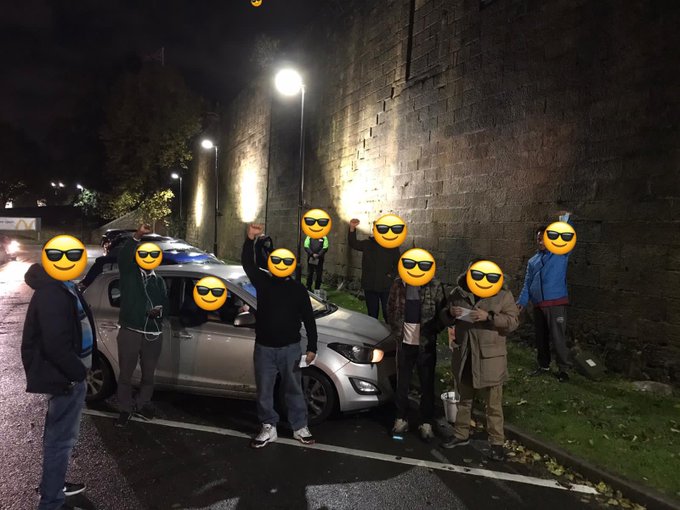 In Sheffield, a wildcat action by UberEats couriers won important concessions from a local McDonald's within an hour. South Yorkshire Couriers Network report that
"The manager agreed:
✊to meet the reps once a week to discuss issues
✊to treat them with more respect
✊to get the screen fixed that showed order times
✊to allow access to toilets at all times
✊to work to improve waiting times
Not a bad evening for the couriers!"
Over in York, a similar campaign by Deliveroo couriers at Five Guys attracted police attention, with couriers being threatened with fines for drawing on the pavement with chalk. Their campaign has now been suspended as Deliveroo has launched a consultation with their York riders about their experience of Five Guys, although further action is possible if it doesn't lead to real changes. There's no word yet as to whether Deliveroo riders have any plan for how to get Keir Starmer's SUV off the road, which sounds like quite an urgent health and safety issue for them.
Hospitality workers at a London nightlife venue who organised through the UVW union to challenge their bogus "self-employed" status have won two years of backdated holiday pay.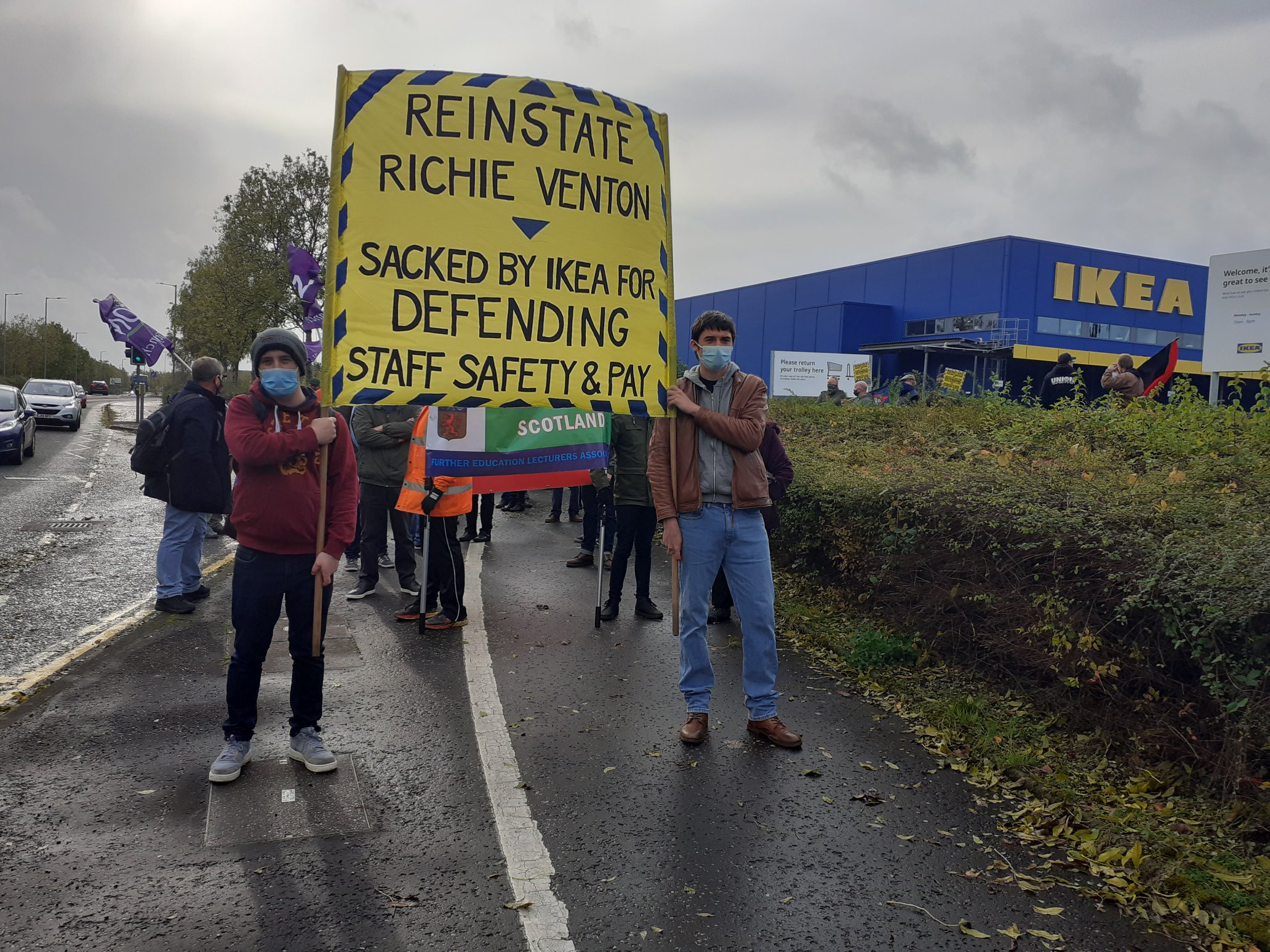 There's not much in the way of street action going on at the moment, because it seems like the entire country is an infection hotspot at the moment and it also seems to be constantly pissing it down, but the campaign to reinstate Richie Venton, sacked for defending sick pay at Ikea, continues to hold regular protests at Ikea stores. There doesn't seem to be much advance publicity I can find, but you might want to get in touch with the campaign to see if anything's planned near you, especially if you're based in Glasgow or Warrington.
In terms of online events, the Anarchist Communist Group's (suddenly very topical) "Labouring in Vain" meeting on the Labour Party is on November 4th, and the Manchester and Salford Anarchist Bookfair is scheduled for the 28th – they do have a physical venue booked, but I wouldn't put money on an indoor event being practical by then so that's likely to be online too. On that note, it's a bit depressing to see what feels like one of the longest-running and most dispiriting circular arguments in UK left politics heating up again, but on the other hand the virtual London anarchist bookfair managed to happen the other week and as far as I can tell the whole thing happened without any virtual punchups over people virtually handing out any virtual transphobic leaflets or anything, so perhaps there is some hope for us after all.