Continuing with the series of vaguely themed round-ups, a quick look at housing and education issues: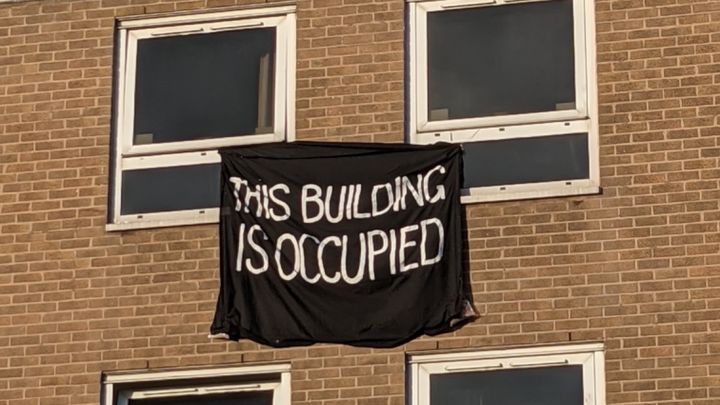 Recent weeks have been dramatic at the University of Manchester. The No Safety No Work campaign has a good overview:
"Staff at universities have questioned the whole logic of bringing students back to university during the pandemic. The have been proved right as bringing students back has not only put the safety of staff in jeopardy with the insistence of face-to-face teaching but also created an intolerable situation for students.
University authorities have been keen to get in this year's intake of students, putting collection of fees ahead over safety measures around COVID-19.
On Thursday 5th November at the Fallowfield halls of residence at Manchester University students erupted in anger over fences being put up around the halls, without warning or notice. These fences blocked entry to the campus and to green spaces for exercise. Hundreds took part in tearing down the fences, expressing outage at the lock-in. The vice-chancellor Dame Nancy Rothwell was forced to back down and issue an apology.
The university cynically took the money from students, then offered little or no support to self-isolating students in the halls, climaxing in the fence-in, demonstrating their contempt for students. The authorities spent £11,000 on putting up the fences and laying on security staff.
In October students responded by starting a rent strike, with 300 taking part. They demand a reduction in rent for the academic year and that more support should be provided to students in accommodation.
A week after the tearing down of the fence. 15 student rent strikers occupied the Owen Parks tower block on campus. This followed the increasing of security staff presence by the university authorities, and by their threat of police action if rent strikers staged a protest on Thursday 12th November. The occupation was met with harsh measures by security and police, who prevented food being taken in to the occupiers. Police filmed students moving around the campus.
The university then cut off internet access to the block, with compulsory online lectures the following day, in an effort to intimidate.
Student occupiers tweeted: "Students have been left behind in this pandemic: Forced into cramped overpriced accommodation, blamed for our government's failings, and paying extortionate uni fees for substandard online learning. We demand more…"
Meanwhile Manchester University has arranged 31 charter flights for more than 7,000 Chinese students, who will end up in cramped conditions on campus, with little support, after their tuition fees of between £18,000 and £46,000 have been trousered by the university authorities.
Students and staff need to unite in their demands for an end to face-to-face teaching, no return to the university after Christmas, and a refund of fees and accommodation costs (see the article on the French school strikes)."
The MancUnion and Meteor sites are likely to continue providing further updates as that situation develops. The rent strikers have various sites listed here, and you can donate towards any legal costs for the occupiers and rent strikers here. For more updates, twitter accounts set up by students involved in the struggle include rentstrikeUoM, 9k4whatMCR, and asaferMCR.
A similar rent strike is also taking place in Bristol. Safer MCR are also calling for a demo on December 4th.
Elsewhere in Manchester, Greater Manchester Housing Action have been busy – as well as interviewing the rent strikers, they've also recently published articles such as "picketing landlords is good, actually" and "Organising tenants amidst the pandemic: how direct action still delivers".
They're also running a series of online discussions – the first one, "Is there power in a tenants union?" has now happened and can be watched on their fb page, and the other two are still upcoming:
Who Profits From the Crisis?
Thursday 3rd December 2020 7pm-8.30pm
A World Without Landlords
Thursday 10th December, 2020, 6-7.30pm
Down in Bristol, Freedom News has a report from a traveller site that successfully resisted an eviction. Also in housing news, Acorn are currently fundraising for their anti-eviction organising. You can read a bit of what they've been up to recently in the "Organising tenants amidst the pandemic" article mentioned above.