A quick round-up of workplace and other news:
Security guards at Royal Berkshire Hospital in Reading are taking strike action over a pay dispute, and are due to be out from Monday 8th February to Sunday 7th March. In Hackney, two separate sets of school workers are both due to strike from Wednesday 10th Feb to Friday 12th over job cuts, a one-off £500 payment and health and safety issues.
Up in Manchester, bus drivers at Go North West are balloting for further action in response to the company's attempt to push through a "fire and rehire" attack that would involve job cuts, longer hours and worse sick policies. In Liverpool, DHL supply chain workers have been taking extensive strike action over a long-running pay dispute.
Porters at Heartlands hospital in Birmingham have also been striking to resist an attempt to impose a new rota using "fire and rehire" tactics, and are currently asking supporters to email their MPs and to join a twitter storm for the evening of Monday 8th Feb. There's an online event in support of the dispute planned, currently scheduled for Feb 25th.
Probably the most prominent national dispute at the moment is the GMB British Gas strike, also in response to "fire and rehire" tactics, with twelve more days currently planned, happening as three sets of four-day strikes, starting on the 12th, 19th, and 26th of Feb. You can donate to their strike fund here, and use this online tool to email British Gas management in support of the dispute.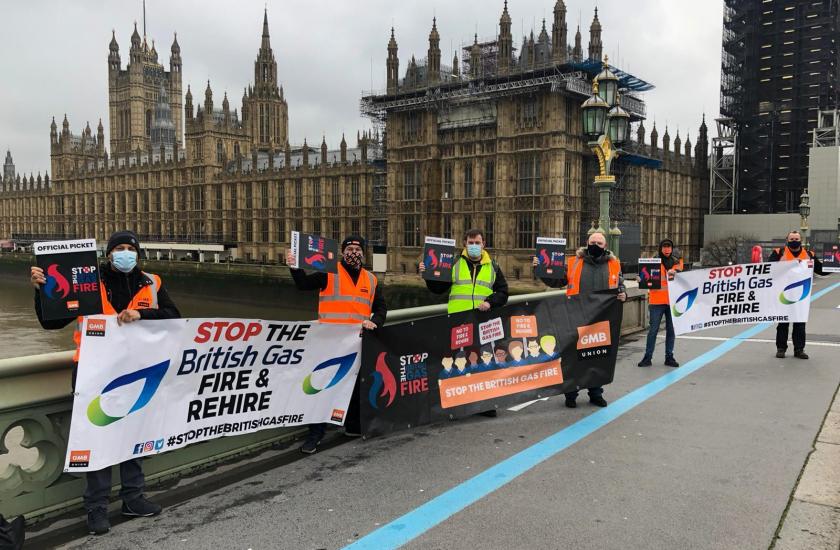 Another fire and rehire dispute is ongoing at Heathrow Airport, where workers are due to walk out on the 9th, 13th, 16th and 18th. For more analysis of that situation, see the Heathrow Workers' Power blog, and their new issue of the newsletter they've put out for the dispute. A similar dispute by BA cargo workers has now come to an end.
In the education sector, Brighton Uni UCU will be striking for a week from the 8th onward against proposed job cuts in the IT department, and similar disputes are looming on the horizon for a number of other universities. Universities are also seeing a wave of student rent strikes at the moment.
Over in the world of grassroots unions, the UVW dispute at Sage Nursing Home continues, with staff having struck from the 4th-8th February, and supporters are being asked to use a tool to email Sage bosses and to donate to their strike fund. Other UVW members working as cleaners at a Catholic school in South London are also balloting for action over hours, sick pay and related issues.
IWGB members at the University of London are demanding a total campus shutdown and furlough for all staff who can't work from home in response to the covid infection rate.
Cleaners' union CAIWU has successfully won an extension of furlough for cleaners at the BMA who were threatened with job losses, and are currently running a fundraiser to cover the funeral costs for one of their members. CAIWU also report that one of their members has been victimised and sacked at the University of East London, a move that seems to coincide with the sackings of two UCU reps at the same institution.
In general, the Strike Map project is a great resource for following workplace disputes in the UK, and they've now started a youtube channel producing weekly videos.
Meanwhile, over in Ireland, Dublin Deliveroo couriers have been organising and taking strike action repeatedly in recent weeks.
In legal/repression news, the Prisoner Solidarity Network are campaigning against the persecution of Welsh speakers at HMP Berwyn. Freedom have some critical analysis of the court decision that overturned the convictions of the Stansted 15. The Shrewsbury 24 campaign has finally reached the court of appeal, and you can read a bit more about the arguments that were made in court here.
Finally, as part of this year's Bloody Sunday commemorations, an online discussion was held about the case of the Craigavon 2 and the involvement of MI5 in sabotaging their appeal. ABC Ireland have also published a short summary of their case here.