A quick round up of class struggle news from the last week or so:
In workplace news, bus drivers employed by Go Ahead in Manchester will be launching an all-out strike from February 28th against the "fire and rehire" attempt to tear up their contracts. There's a petition in support of the workers you can sign here.
A number of reps are fighting victimisation attempts at the moment – CAIWU are continuing to campaign for the reinstatement of their member Carlos Rodriguez at UEL, and on London buses, Unite rep Judith Katera has just had an appeal against her sacking heard, while another, Moe Manir, has a disciplinary with a threat of the sack scheduled for February 23rd. I've not yet seen anything about the outcome of Judith's appeal. Education union NEU are asking people to sign a petition in support of Kirstie Paton, a NEU rep who's also facing disciplinary action.
Academic staff at UEL organised through UCU are also now threatening strike action against redundancies on the 22nd and 23rd of February, and Leicester UCU are actively organising against mass redundancies there. The planned strike action at Brighton University has now been called off after reaching a negotiated agreement.
At Hestia Housing and Support, workers organised through Unite have now won the London Living Wage for the whole workforce, after the employer first tried to make an offer only to the eight employees who'd filed a grievance.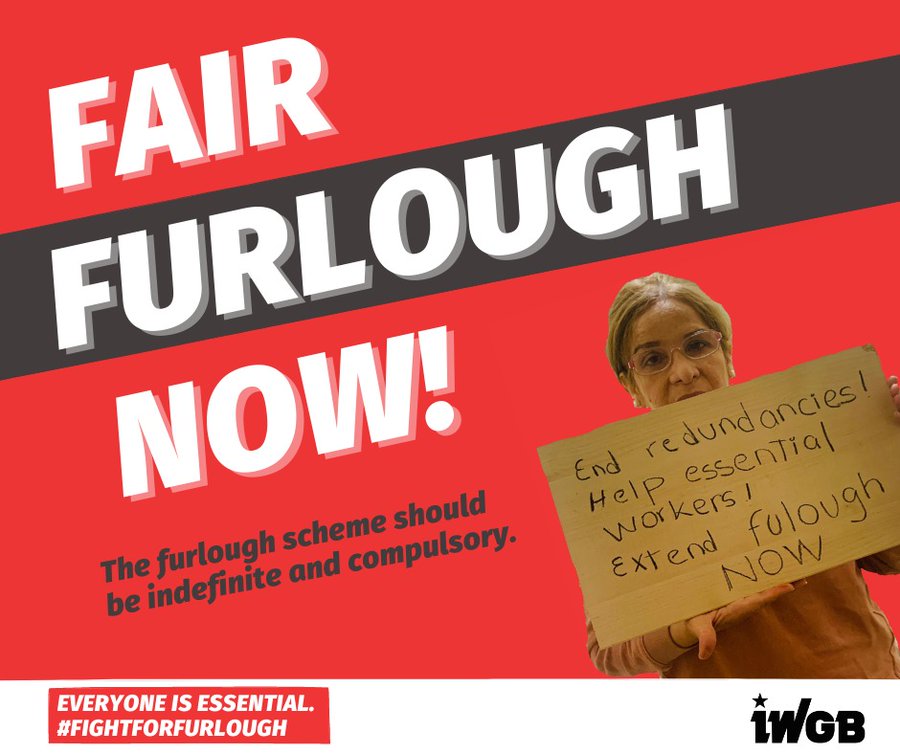 The IWGB's Cleaners and Facilities Branch is launching a campaign calling for indefinite and mandatory furlough, and they have an online rally planned for Wednesday 17th as part of the campaign.
The United Voices of the World union has an active dispute over hours and sick pay at a Catholic school in South London, with the latest news being that cleaners have returned a 100% vote for strike action on a 93% turnout. They're asking supporters to watch and share this video, and to send emails using this online tool in support of the dispute.
Closing out the workplace round-up, the TEFL Workers' Union of the IWW is filing a tribunal claim over Kaplan's use of rolling fixed-term contracts.
Onto more "political" groups/campaigns:
The No Safety No Work campaign is inviting people to an online "workers fight back against Covid injustice" meeting on February 24th. Speakers confirmed so far are a Birmingham UCU member, a NHS nurse from their pay campaign, a school support staff worker and GMB member, a gas worker and GMB member, a Coventry University rent striker, and someone from the Strike Map project.
Relatedly, new sticker designs are now available to help publicise both the No Safety No Work campaign and the Anarchist Communist Group.
Friends and comrades of Stuart Christie are now fundraising for a memorial archive to be hosted at May Day Rooms in London and accessible online.
The Notes From Below collective are hosting an online discussion on March 5th about newly-translated texts from Mario Tronti, looking at the importance of some classic autonomist/operaist writings from the 1960s.
The Angry Workers group are keeping busy: they've written a new general round-up of the state of the class struggle in the UK in recent months, they're hosting a health workers' meeting on March 11th, and they've launched a new podcast, with an episode discussing the recent Heathrow strike.
Also in March, there's a two-day online conference planned to mark the centenary of the Kronstadt Uprising over the weekend of the 20th-21st.
Finally, a few notes on general community organising and similar: Acorn have published a report on their struggle over heating bills at Sheffield's Park Hill flats, and are currently asking people to send emails in support of a Leeds family who are in dispute with their lettings agency. The Prisoner Solidarity Network is asking people to contact various authorities in response to a staff attack on a prisoner at HMP Berwyn. A mutual aid group in Bristol are fundraising to support asylum seekers held at a disused barracks in Penally, and 0161 Community in Manchester are raising money for shipping containers to increase their capacity when offering community support.
A closing round-up of relevant dates:
Feb 17th – IWGB Fair Furlough Now online rally
Feb 22nd – UEL UCU due to start strike action over compulsory redundancies
Feb 23rd – London bus driver and Unite rep Moe Manir's disciplinary
Feb 24th – No Safety No Work meeting
Feb 28th – Manchester Go Ahead bus drivers due to go on all-out strike against fire and rehire
March 5th – Notes From Below discussion on "The Weapon of Organization: Mario Tronti's Political Revolution in Marxism"
March 11th – Meeting for angry health workers
March 20th – Kronstadt as Revolutionary Utopia conference