There's been a fair few events over the last week that it'd be wrong or impossible to ignore. Rather than try to summarise them myself, here's a few relevant articles:
Sisters Uncut declare victory at halting police powers bill in Parliament
Reports from the Everard and Policing Bill protests (Freedom)
The Police and Violence against Women (Anarchist Communist Group)
Priti Patel pulls the strings of Cressida Dick puppet (ACG)
Anyway, some other stuff going on at the moment:
The regular sparks' actions targeting construction companies involved in the de-skilling/No to ESO dispute continue, and this week they turned up at the Royal Opera House in London, which has a contract with NG Baileys:
They also had a presence at other sites in Merseyside, Swansea and Scotland, and have just paid a follow-up visit to a Balfour Beatty site at Manchester Metropolitan University.
A few other important ongoing disputes at the moment include the indefinite strike by workers in the referencing department at lettings platform Goodlord, the ongoing struggle against fire and rehire at British Gas, the all-out strike action against fire and rehire tactics by Manchester bus drivers at Go North West, and the South London school cleaners organised through the base union UVW who are starting a 40-day strike for sick pay.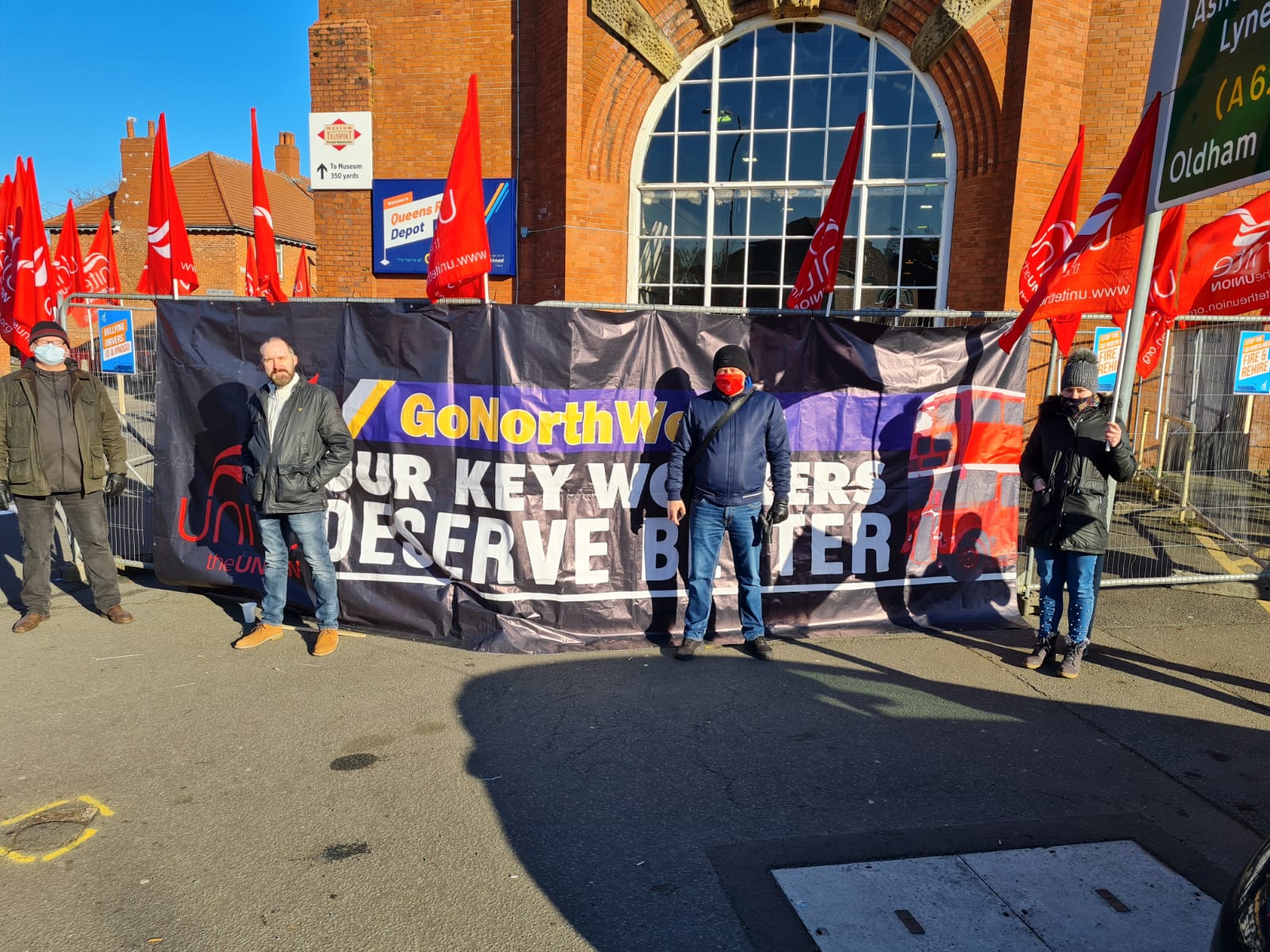 Meanwhile, the police have broken up another picket, this time at SAICA Packaging in Edinburgh.
A few important fundraisers at the moment: there are fundraisers running for Declan Clune and Moe Manir, two bus drivers who've been sacked in retaliation for their union and organising activity. Messages of solidarity and support for Declan and Moe can be sent to southamptondbc@rmt.org.uk and defendmoe@gmail.com, respectively. Meanwhile, Judith Katera, another bus driver and union rep who'd been victimised, has now been reinstated.
On an international note, UVW are running a fundraiser for workers in Myanmar who are out on strike to resist the coup there, and former antifascist prisoner Jock Palfreeman is raising legal funds for a court battle against an attempt by the Bulgarian government to ban him from the EU.
A few upcoming events:
The Free Siyanda campaign is running an online tour of events to publicise and explain Siyanda Mngaza's case, with events on March 20th and 27th (technically supposed to be in London and Stoke respectively, but that's all a bit abstract when they're online anyway).
The weekend of the 20th-21st also sees the Kronstadt as Revolutionary Utopia conference, and various locally-organised protests against the Policing Bill, including ones in Manchester, Brighton, Bristol, Birmingham and Norwich. On Monday 22nd, there's a public zoom rally in support of victimised NEU rep Kirstie Paton (registration here, you can watch a video about the case here), and on Wednesday 24th there's another event about trade unionists under attack, with sacked union reps Declan Clune, Moe Manir and Gary Carney.