It's been a busy few days. As far as recent events in Bristol go, coverage worth reading includes "Bristol riot: what do they expect?" from the Anarchist Communist Group, "Reflections on the riot in Bristol" from Freedom, and the Anarchist Federation's "What actually Happened in Bristol – and How a Narrative is Built".
Another big piece of news this week has been the overturning of the Shrewsbury Pickets verdict. You can read an official campaign statement on that here, and some thoughts from Ricky Tomlinson here. Next Wednesday, there's an online meeting to celebrate and learn from the victory, with speakers including Ricky Tomlinson (Shrewsbury Picket and jailed Trade Unionist), John McDonnell (Labour MP), Dave Smith (Blacklist Support Group), Piers Marquis and Annabel Timan (Doughty Street Chambers barristers).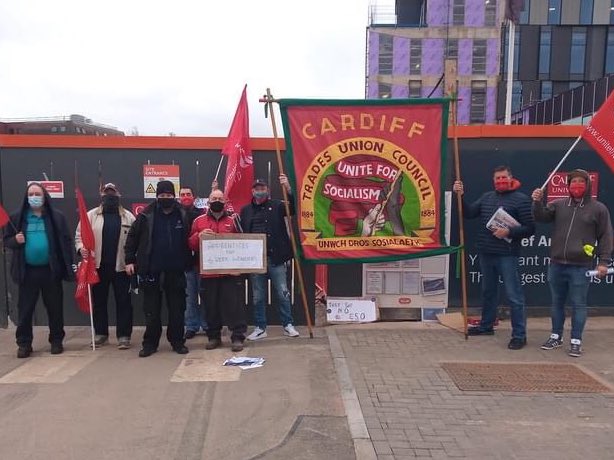 In more contemporary news, the spirit of rank-and-file militancy that the state tried to crush in the Shrewsbury case is still alive in the construction industry today, as is shown by the continuing resistance over the de-skilling ESO grade for electricians.
Reel News continue to provide great weekly summaries of the action:
They write:
"Management at NG Baileys head offices in London and the North East failed to turn up to work today … rather than face protests outside from sparks protesting over deskilling, they bottled it.
At least EDF, the client on the Hinkley Point C job at the centre of this dispute, were prepared to meet with UNITE reps this week and agree to drop the controversial ESO grade … but still no word from the contractors NG Baileys and Balfour Beatty, who are clearly too scared to talk to the skilled tradespeople whose livelihoods they are threatening.
Now they face pickets at Hinkley Point C itself from next week. Maybe it's time they dropped this outrageous – and highly dangerous – attempt to get unskilled labourers to do electrical installation on the cheap."
Finally, a few other upcoming events:
On March 25th, Left Book Club hosts Sarah Jaafe and Ashok Kumar discussing the book "Class Power on Zero Hours" with the AngryWorkers collective. On March 27th, there's a Free Siyanda campaign event (theoretically coming to Stoke, but actually online), as well as various local Kill the Bill events. On Wednesday 31st, as well as the Shrewsbury meeting mentioned above, there's also an event hosted by Strike Map: "Join a very special episode of Comrades featuring striking nurses from Massachusetts Nurses Association, NHS 15 pay campaign and others to be announced. Our unique organising call will bring together the struggles of healthcare workers and how the organised whilst protecting our societies during this pandemic. We will also discuss the future and campaigns that unionists are involved in."