A few quick updates:
On Friday 16th, cleaners organised through the grassroots union CAIWU will be protesting against sackings at Broadgate Estates in Central London. You can read more about the background to the dispute here.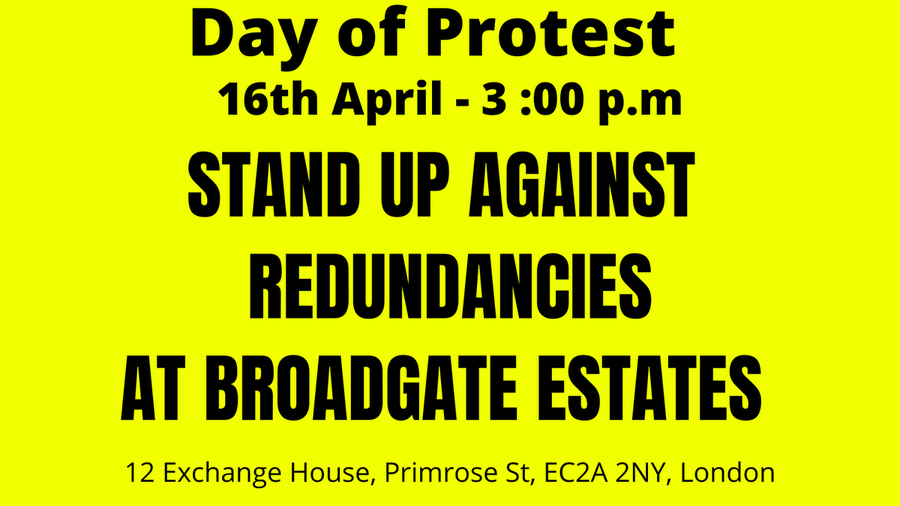 Over the weekend, there'll be more protests against the policing bill, with 38 planned at the time of writing. Currently the list stands at:
Saturday 12th April:
11am:
Dorchester Town Pump, Dorchester
12pm:
Lowestoft town centre opposite WH Smiths, Lowestoft
1pm:
Bournemouth Square, Bournemouth
The Leas Bandstand, Folkestone
Hanley bus station, Stoke-on-Trent
Police station, High Street, Winchester
1.30pm:
2pm:
Bute Park Stone Circle, Cardiff
Magistrate's Court, Cheltenham
Charles Cross Police Station, Plymouth
Southsea Bandstand, Portsmouth
6pm:
Sunday 18th:
2pm:
On Monday 19th, London Renters Union and grassroots union UVW are co-hosting a workshop about how to build power in both your workplace and neighbourhood.
Further ahead, May 1st will be another national day of action against the bill.
Other miscellaneous notes:
Royal Park attendants have voted to strike, with a 100% yes vote on a 90% turnout, over issues including sick pay and stolen holiday pay. The British Gas strike over fire and rehire has now become a mass national lockout as management have sacked workers who refused to sign new contracts. Regular actions across the country continue in the sparks rank-and-file dispute, Freedom Press recently republished an article by Liverpool Anarchists about the struggle and you can watch a video from this week's occupation of a Balfour Beatty site here: